16-Inch MacBook Pro vs Razer Blade 15 Studio: Photo Editing Shootout
Last month, we reached out to Razer to see if they would lend us a Razer Blade 15 Studio Edition for testing. With the 16-inch MacBook Pro just announced and on its way in as well, it seemed like the perfect time to see which top-of-the-line laptop would take the photo editing crown.
---
Editor's Note: For those of you who want to skip straight to the comparisons and performance testing, just scroll past the Introduction and go straight to Specs and Price Point.
For the rest of you, given that we don't typically test laptops in-house, we wanted to put this comparison in the proper context.
---
Introduction
There was a time when all new "creatives" naturally drifted towards Mac. In 2007, I was… Maccurious, and so I tried switching from a Sony Vaio to that iconic white plastic MacBook.
I was hooked, and for years you couldn't shake Apple off of my personal computing pedestal no matter haw hard you tried. The workflow was so seamless, and Windows wouldn't do anything resembling "catching up" on the usability front until 2015 when Windows 10 was released. Vista was crap, Windows 7 was okay, and Windows 8 was such a touchscreen-optimized train wreck it took Windows 9 down with it.
But then came Windows 10 in 2015, just as Adobe was moving over to the Creative Cloud and Apple was making a few "brave" design mistakes.
Since then, it's a been a painful waiting game for those of us who weren't sure what would become of Apple's "Pro" computing lineup. Windows laptops kept getting better and better, while Apple issued semi-apologies, reiterated that the SD card slot would never come back, and ran into increasingly frustrating performance issues by putting Intel's hottest chips in the thinnest MacBook Pro design yet.
Over the past year, Apple finally got serious again—releasing the iMac Pro, Mac Pro, and the much-improved 16-inch MacBook Pro—but so has their competition in the creative space.
Windows has been courting creatives more adamantly than ever before. Thanks, in part, to the sheer hardware demands (and crappy optimization…) of Adobe's photo and video editing apps, as well as the continued explosion of VFX and 3D rendering workflows, PC companies realized that the raw horsepower and cooling advantage they traditionally have on Macs had become more valuable.
Combine this with the evolution of Windows 10 into something approaching user-friendly, NVIDIA's rift with Apple, and a few years of Apple removing ports and snubbing pro users, and you've got an entire swath of Apple power users still relying on their mid-2015 MacBook Pros, unsure if their next laptop is going to be a Mac or Windows machine.
I am one of those users. For years, I've held on to my mid-2015 MBP with its usable keyboard, reasonably powerful specs, all the ports I want, and magsafe connector, unsure if Apple could lure me back with their next proper redesign. Now I'm at a crossroads.
The Razer Blade 15 Studio Edition is an almost blow-for-blow competitor for the brand new 16-inch MacBook Pro, with the same exceptional build quality, an almost identical price at a similar spec, more I/O, and (allegedly) more raw editing power. So I switched to the Razer as my daily driver for a solid month, before running both machines through a battery of tests that were suggested by professional photographers.
Can the Razer beat the MacBook Pro at its own game, or does Apple's latest redesign keep it in the top spot? Let's find out.
Specs and Price Point
Despite Apple's reputation for making "overpriced" laptops, the fact remains that you have to pay for the kind of build quality and quality hardware that you'll find in a flagship MacBook Pro. The Razer Blade 15 Studio Edition—or any of the Blade 15 laptop, really—is a good example of this.
The two computers we've been testing go blow-for-blow in almost every category. Both use an aluminum unibody design and exceptional glass trackpads, both pack 32GB of RAM and powerful graphics, and both feature impressive multi-core Intel CPUs that promise to churn through both single and multi-threaded workloads. Here's a spec breakdown of the Razer Blade 15 Studio and 16-inch MacBook Pro we'll be comparing:
Razer Blade 15 Studio Edition

CPU: 9th Gen 2.6GHz 6-Core Intel Core i7 (TurboBoost Up to 4.5GHz)
Graphics: NVIDIA Quadro RTX 5000 Studio Edition w/ 16GB GDDR6 VRAM
Display: 15.6-inch 4K OLED Touchscreen, 100% DCI-P3
Storage: 1TB SSD
RAM: 32GB DDR4-2667MHz
Battery: 80Wh
Price: $4,000

Apple 16-inch MacBook Pro

CPU: 9th Gen 2.4GHz 8-Core Intel Core i9 (TurboBoost Up to 5.0GHz)
Graphics: AMD Radeon Pro 5500M w/ 8GB of GDDR6 VRAM
Display: 16-inch 3072 x 1920 IPS Display, 100% DCI-P3
Storage: 2TB SSD
RAM: 32GB DDR4-2666MHz
Battery: 100Wh
Price: $3,900
That's right, the Razer is more expensive than the MacBook Pro despite offering half the storage, a 6-core i7 instead of an 8-core i9, and a smaller battery. In fact, if you drop the MacBook Pro down to the same 6-core i7 used in the Razer and match the storage, the 16-inch MBP comes out even further ahead at just $3,200… albeit with a weaker GPU.
If you're willing to lose the SD card slot, cut your RAM in half, downgrade the storage to 512GB, and downgrade your graphics card to an NVIDIA RTX 2080 Max-Q with 8GB of VRAM, you can drop the price of the Razer down to $3,000 (sale price) by getting a fully loaded Razer Blade 15 Advanced GForce Studio Edition… but now you're competing with a 16-inch MBP that costs just $2,600 if you match the two computers spec-for-spec (again, except graphics).
No matter how you slice it, the Apple computer is actually the cheaper option here.
Build Quality
I can confidently say that there is no significant difference in build quality between these two machines. In fact, since the Razer Blade 15 Studio Edition is only available in the Mercury White variant, they even look extremely similar.
Both use an aluminum unibody design that's rigid and stands up well to scuffs and finger prints, both look sleek and professional, and both are pretty hefty—an understandable drawback thanks to the 80Wh battery in the Razer and the 100Wh battery in the MacBook Pro.
While the 16-inch MacBook Pro is a bit longer in one dimension, it's also thinner than the Razer, and both will slot into the majority of "made for 15-inch laptop" sleeves you'll find in backpacks or messenger bags.
This category is a dead tie.
Usability
We'll discuss operating systems shortly. For now, when I say "usability" I'm talking about the design elements that affect the day-to-day use of each laptop. In other words: what ports do you have, how do the keyboard and trackpad function and feel, how do the displays compare, and what kind of battery life can you expect.
I/O
In terms of I/O (ports) the Razer is the clear, breath-of-fresh-air winner. You've got multiple USB-A ports, you've got a Thunderbolt 3 port, you've got a Mini DisplayPort, and Razer has put an SD card slot back into this specific top-of-the-line Studio Edition variant of the Razer Blade 15.
While Apple's Phil Schiller is adamant that pros don't need an SD card slot, our recent deep dive into that question disagrees, and we're glad Razer is listening to creatives who don't want to live "that dongle life."
The tradeoff, of course, is the versatility of the ports you do have. Any of the four USB Type-C ports on the MacBook can be used for charging the device and give you full Thunderbolt 3 transfer speeds. By contrast, there is only one USB Type-C port on the Razer, and while it is Thunderbolt 3, it cannot be used to charge the device.
Still, Razer takes this category by a landslide.
Keyboard and Trackpad
Before receiving the Razer Blade, I'd heard a lot of complaining online about the keyboard. I assumed it was misguided nitpicking. I was wrong.
They keyboard layout is a travesty. In order to fit in full-sized arrow keys (ostensibly for RGB and key customization purposes?) Razer has put the up arrow right next to the right-hand Shift key and slapped a function key at the very bottom right. I used the laptop exclusively for a month and never stopped making mistakes because of this.
If I press Shift>Up one more time when I mean to type a question mark, I'm gonna lose my mind.
In terms of feel, the keyboard is okay, but it's mushier and less pleasant to type on than the new (read: old) scissor-switch keyboard on the new MacBook Pro. It's a shame Razer didn't put their new optical keyboard onto this laptop, but that's only available in the Razer Blade Advanced.
The trackpad, on the other hand, is the best I've used on a PC. Apple is the undisputed king of high-quality trackpads thanks to their fantastic feel, responsiveness, and the intuitive feel to the multi-touch gestures, and Apple still beats the Razer's version today, but the Blade Studio edition has nearly closed this gap. The feel of the Razer's glass-topped trackpad is almost identical, and undeniably premium.
Apple's new-old keyboard takes a resounding win here, and the company maintains its crown as the trackpad to beat… but not by much.
Display
Both of these displays are fantastic. Both cover the P3 color gamut, both are very bright, and both are more-than-high-enough resolution for high-end photo editing. That said, Razer's panel with "retina shattering accuracy" takes this round for three important reasons:
It's uses an OLED panel, where the MacBook Pro is IPS, earning this display an HDR 400 certification and extremely crisp contrast ratio.
It's 4K, where the MacBook Pro is 3072 x 1920.
It's a touchscreen.
The win goes to Razer, no question. Both displays look great, but the additional resolution and higher contrast ratio made possible by the OLED display gives Razer a noticeable edge, and the touchscreen functionality is a nice touch.
Battery Life
The 100Wh battery in the 16-inch MacBook Pro—the FAA limit for taking on planes in the United States—lives up to its wattage and pulls the Mac way ahead here.
The MBP regularly provided me with between 4 and 5 hours of high-productivity time. That means two Chrome windows with 10-15 tabs each, Photoshop, Slack, Email, Feedly, a notes app, and Spotify all actively used, with other apps coming and going as I work. By comparison, the Razer would crap out on me in 1.5 to 2 hours.
The Mac also offers a much more convenient 96W power adapter that can be used as a generic USB Type-C power brick and can power your laptop from an airplane's A/C port. The Razer's massive (in comparison) 230W power adapter uses a dedicated charging port on the laptop and more than doubles the average power that can be delivered to each outlet on an airplane.
Sure, the Razer charges more than twice as fast when you're hooked up to the mains (on the ground), but it drains twice as fast and may not be able to pull enough juice to last you through a long flight, even plugged in.
This is a clear win for the Mac.
Operating System
This is, admittedly, a highly-subjective topic that people will yell at me about in the comments, but it's hard to argue that Windows is clunkier than macOS when it comes to basic usability. That's why 90% of die hard Mac users, even the pissed off ones, won't switch.
While I disagree with silly statements like "All PCs suck because they run Windows," I have to admit that most of the redeeming qualities I find in Windows 10 are a version of something on macOS: like Virtual Desktops in their version of Mission Control, or the recent decision to make taking Screenshots a three-key shortcut instead of using the inane Print Screen system.
I also have to mention that the Razer has locked up on me at least once every few days: either a single app like Photoshop would freeze completely, or the whole system would jam. At one point, Photoshop froze, and every time I opened Task Manager to try and kill it, Task Manager would freeze. Seriously. I tweeted about it:
TFW your Photoshop freezes, so you open Task Manager to close it, and Task Manager freezes… over and over (and over) again. Windows fanboys, this is why Mac fanboys laugh at you when you talk about how "powerful" that spec sheet in your backpack is.

— DL Cade (@dlcade) December 4, 2019
I would have taken a screenshot, but that wasn't working either. Awesome…
Windows 10 has come a long way, and Razer's bloatware-free implementation is the best I've used. Credit where credit is due. At times I would even forget that I was on Windows for stretches of time… until some part of the system would lock up or some incredibly simple feature would jolt me out of my workflow. Even with all of its bugs, macOS Catalina hasn't caused me nearly as much frustration in the months since it came out.
Disagree if you must (and you will) but Apple takes this category.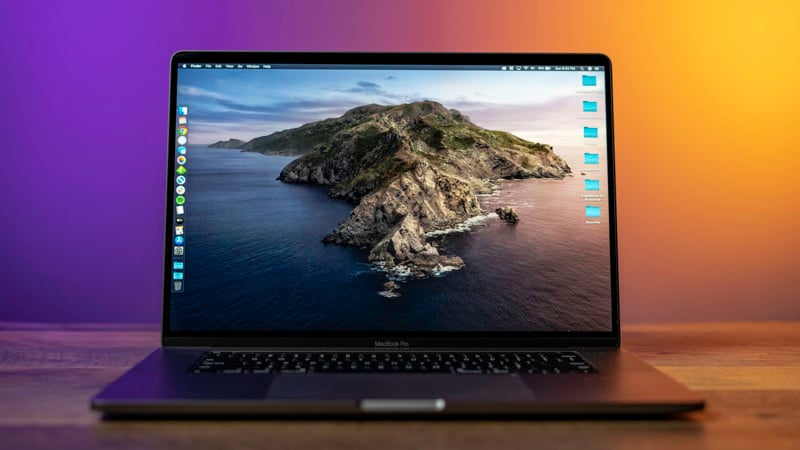 Performance
Given the recent GPU Acceleration improvements that Adobe made to Lightroom Classic, we were very curious to see how these tests turned out. Would the 8-core CPU in the Mac win out, or would the more powerful GPU (with twice the VRAM) in the Razer take down Apple? The CPU/GPU distinction wound up being very important…
But first, let's cover some housekeeping.
All of the tests were run with both computers fully charged and hooked up to A/C power, with no other applications running, using the exact same images and (where applicable) identical edits on the latest versions of Lightroom and Photoshop.
We went into the settings on both computers and make sure GPU acceleration was on for both Lightroom and Photoshop, and ensured Photoshop was able to take advantage of the maximum amount of RAM available. Finally, we also went into the Razer's performance settings in the brand's Synapse app and put both CPU and GPU performance at max.
Lightroom Import
We ran two import tests on each machine, throwing the biggest files we could at Lightroom Classic and timing how long it took for the program to import the files off of the computer's own hard drive and generate Standard Previews.
First, we imported 110 RAW files from the 61MP Sony a7R IV, and then followed up with 150 RAW files from a 100MP PhaseOne XF. Here are those results:
Lightroom Export
We ran six export tests in all. For each batch of photos, we performed heavy global edits, copied that same edit across the whole batch, and then exported all of those images as 100% quality JPEGs (sRGB), uncompressed 16-bit TIFFs (Adobe RGB), and DNGs with Medium JPEG previews.
Here are the results when exporting 110 61MP Sony a7R IV files:
And here they are when exporting 150 100MP PhaseOne XF files:
HDR Merge
Next up, we ran two different HDR Merges. Both were shot with the Sony a7R IV: the first was a traditional 3-shot bracket, while the second was six identical frames shot in a dark cave, with the lighting moved around in order to try and capture a fully-lit composite.
Photoshop Benchmark
Photoshop is incredibly hard to benchmark. While many of the filters do take some time, the difference between these two machines when, say, merging a panorama or applying a GPU accelerated filter is only a few seconds here or there. Added up, though, it makes a difference.
That's why we chose to use this Photoshop benchmark released by Puget Systems. A huge shoutout to them for putting this benchmark together, because it saved us hours and hours of work timing each of these things together. The benchmark tests 21 different tools in a row, timing each task, and then runs that same benchmark three times before assigning an overall score, a GPU score, a General score, a Filter score, and a Photomerge score.
You can learn more about the benchmark at this link.
This is where we expected the Razer to beat Apple. It was on the latest drivers, has 8GB more VRAM, and a GPU that should eat the AMD Radeon Pro 5500M for lunch. We … were surprised. We ran each benchmark ten times in a row. Here are the top PugetBench scores for each machine.
The Mac:
The Razer:
And here are the average results from all ten of those runs:
The only category that the Razer won was Photomerge, which really surprised us. Filters are GPU accelerated, but apparently not enough to overcome the CPU limitation. It wasn't a slaughter by any means, but the Mac finished the benchmark sooner and scored better every single time–a result we did not expect.
A Story of GPU vs CPU
By this point, you've probably got the performance picture: while the GPU advantage of the Razer and other PCs might give them an edge in 3D rendering or some video editing tasks, it does very little for photographers. Whether you're exporting hundreds of edited files for a client or editing hundreds of layers together in Photoshop, the Mac wins in almost every single category, losing only in the Photomerge test, and even then the difference is about 10 seconds total.
Conclusion
For Windows Users
If you're a long-time Windows user looking for a well-built, exceptionally powerful machine with zero bloatware, the Razer Blade 15 Studio Edition is a fantastic choice. Don't let the company's gaming history and three-headed snake logo deter you: with its industry-leading graphics, I/O for days, a display to die for, and the cleanest possible install of Windows, this is the best PC laptop I've ever used.
HOWEVER
If you're willing to sacrifice on the overall build quality, you will get better (read: faster) overall photo editing performance from a machine with a better CPU and worse GPU… and you'll save money, too.
Take a look at the top spec Asus Zenbook Pro Duo or the Dell XPS 15 7590—both come with the same 8-core Intel i9 CPU that the MacBook Pro has, which means faster exports and faster file handling than the Razer, and you can get the Asus specced with a GPU that will more-than-keep-up with the 5500m in the MacBook Pro.
For Mac Users
If you're a long-time Mac user wondering if now is the time to switch, you can rest assured that Apple saved themselves with the new 16-inch MacBook Pro.
Apple knocked this redesign out of the park. Sure, the Touchbar is still lame and I wish they'd thrown the SD card slot back on the machine (or at least another Thunderbolt 3 port), but all of my biggest complaints about the previous MacBook Pros have been addressed: keyboard, cooling, escape key… in that order.
As tempting as some of the NVIDIA Studio Edition laptops are—and the Razer Blade 15 is near the top of that list–there are simply too many drawbacks and not nearly enough advantages if you're talking about a PC with similar specs and equivalent build quality. Even if you're fairly familiar with Windows, it'll slow you down in a million, mind-numbing little ways that will eat away any performance advantage you do get, and the performance boost that these laptops boast come with a big fat asterisk for photo editors: the most time-consuming task for most professional photographers, batch exporting, doesn't even use the GPU in the first place.
Buyer beware: specs and marketing hype that targets "creatives" won't have the same impact for photographers as it does for YouTubers.