At a glance
Expert's Rating
Pros
The hardware is extremely powerful – expect high FPS scores
The QHD+ display is large, produces brilliant color and is remarkably smooth
The port selection is very decent
Cons
The styling could be more original and gamer-centric
It's quite heavy
The battery life is short
Our Verdict
The Acer Predator Triton 17X is an incredibly capable 17-inch gaming laptop benefiting from the tremendous power of its Intel i9-13900HX CPU and RTX 4090 GPU. But that's not all… this laptop is also as tough as nails, has an excellent port selection, and an absurdly fine QHD+ mini-LED display with 240Hz refresh rate.
Price When Reviewed
3599.99
Best Prices Today: Acer Predator Triton 17X
$3,349.99
$3599.99
Acer Online Store
$3799.99
$3799.99
Acer's 2023 Predator 17X makes a bold statement from the moment you turn it on.
A futuristic sound hits your ears a few seconds after booting, followed by a blue flashing RGB light display that dances around the keyboard keys and finally ends in a rainbow RGB configuration. While all that razzle dazzle is just for show, it totally fits the bill on Acer's most powerful gaming laptop, which benefits from the formidable combination of an Intel i9-13900HX CPU and Nvidia GeForce RTX 4090 GPU.
The Predator Triton 17X is Acer's latest successor to the Acer Triton 700 – a forebear which was one of the first truly slim and powerful 17-inch gaming laptops. This new version sports a host of drool worthy features, none as enticing as its 240Hz QHD+ mini-LED display. In a nutshell, it's powerful, but also very practical; it optimizes visuals with its display's tall 16:10 aspect ratio, has a useful array of ports, and boasts one of most compact chassis of any 17-inch or larger laptops that I've reviewed this year. Read on to find out more.
Looking for more options? Check out PCWorld's roundup of the best gaming laptops available right now.
Acer Predator Triton 17X: Specifications
The Triton 17X comes with an Intel Core i9-13900HX processor and Nvidia RTX 4090 GPU as standard. Acer's website currently shows two seemingly identical versions of the Acer Predator Triton 17X with different model numbers, both featuring 2TB SSD storage and 64GB RAM, but one model costs $200 more. It's not clear why that's the case, other than you can purchase the cheaper version for $3599.99 from the retailer Micro Center. The specifications of our review unit are as follows:
CPU: Intel i9-13900HX
RAM: 32GB DDR 5 / 5600MHz
GPU: Nvidia GeForce RTX 4090
Display: 17-inch QHD+ (2560 x 1600) mini-LED, 3ms response, 250Hz refresh rate, 100 % DCI-P3 color gamut, Nvidia G-Sync, HDR 1000
Storage: 1TB Gen 4 PCIe NVMe SSD
Ports: 2 x USB-A 3.2 Gen 2, 2 x Thunderbolt 4 (USB-C), HDMI 2.1, SD card reader, 3.5 mm combo audio Jack, 2.5 Gigabit Ethernet port, Kensington lock
Networking: Wi-Fi 6E (802.11ax), Bluetooth 5.3
Weight: 6.61lbs (2.99kg)
Dimensions: 14.97 x 11.0 x 0.86 inches
Battery capacity: 99.9Whr
Price: $3,599.99 for a configuration with 64GB RAM and 2TB SSD at Acer
Acer Predator Triton 17X: Design and build
If laptops were tanks, the Acer's Predator Triton 17X would be right up there with the biggest, toughest and meanest you could find – it's an impressively large laptop but that makes it fun to use.
The fun revolves around the Triton's huge slab-like chassis which is CNC-milled from a single block of aluminum. The metal is obvious in the build, and it feels exceptionally tough around the base – you can mash all day on it and treat it harshly and it will be completely unchanged. You'd be really hard pressed getting any flex from the lid either.
That brings me to a big point I'd like to make about this laptop's design: in just about every way – not just its exceptional robustness – it reminds me of a Razer Blade laptop. It's hard to overlook features like its all-black rectangular shape, sharp angles, thin bezels and tall display with 16:10 aspect ratio – which all convey that impression.
This kind of design is a new direction for Acer's 17X which has traditionally enjoyed far more out-there designs. Indeed, some users may have wished to see a return of the gamer-centric style we saw in the 2016 Acer Predator Triton 17X back again in this year's model, which boasted a cut out lid, transparent WASDF and arrow keys and a trackpad that skewed a lot to the left of the laptop's center.
Yet it's hard to resist the blatant unadulterated utility of this new model. The large rectangular display with ultra-thin bezels provides so much space for viewing. I found the centralized trackpad immeasurably easier than previous iterations for gaming too, there being less of that hand/brain confusion I sometimes get when trackpads are moved too far to the left.
The laptop's sheer size doesn't retract from that practicality either. It's still undoubtedly a desktop replacement, but it's one of the more compact and maneuverable ones I've used this year. It measures 14.97 x 11.0 x 0.86 inches, which makes it surprisingly more compact and a whole lot easier to pick up than its main rival the MSI Titan GT77 HX 13V.
The Razer Blade 18 and Asus Strix Scar 18, being both 18-inch laptops, are understandably bigger and even more unwieldy – yes that's where the 17X shines – it's big, but not too big.
The most impressive of the three dimensions for me, however, is the Triton's mere 0.86-inch thickness. Any laptop that manages to get away with less than an inch thickness is impressive in my book.
But for a 17-inch laptop to be one tenth of an inch slimmer than a 16-inch laptop like the Razer Blade 16 – now that's even more impressive. Alienware's X16 is notably slimmer still, but it does suffer from overheating, which leads me to think Acer has really hit a sweet spot of thickness with the 17X.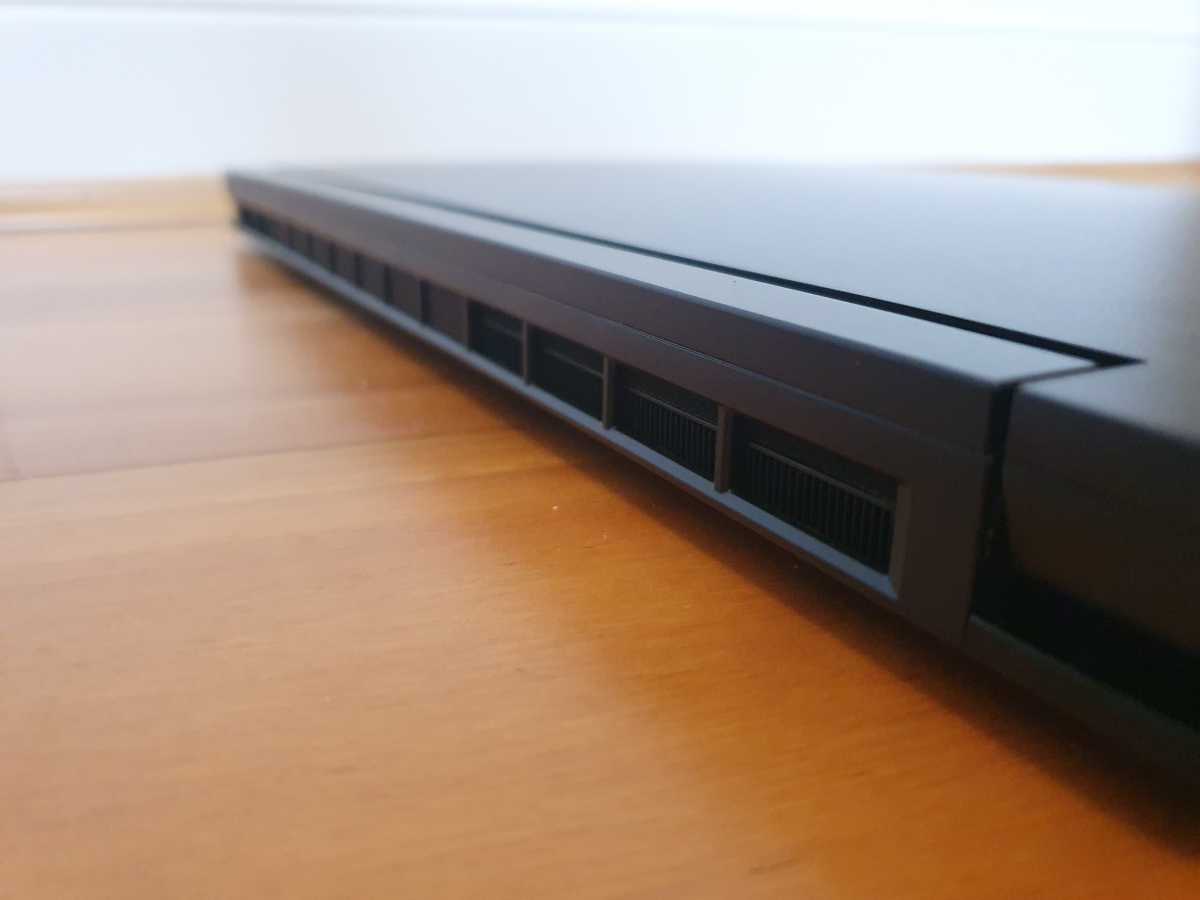 Dominic Bayley / IDG
Speaking of heat, the Triton 17X's cooling hardware did a fine job keeping a lid on overheating. It includes a vapor chamber and Tri Fan System that includes 5th generation Aeroblade 3D fan technology. The cooling system also boasts rapid-cooling Liquid Metal Thermal Grease. There's no shortage of air vents dotted around the back and sides of the laptop either.
To style, and despite my comparisons to Razer laptops, the Triton 17X still excludes plenty of Acer flair. For me that meant the predator logo on the top of the lid and the RGB micro etched predator logo on the right hand of the laptop's base.
These are both discreet, the kind of detail you'd easily get away with in work meetings if you dare to cart the laptop to work. Still, the Triton is pretty hefty, weighing in at 6.61 pounds, so you might not want to do that too often.
Acer Predator Triton 17X: Keyboard
Keyboards in gaming desktops of this size need to be a little more refined than in most 13-to-16-inch laptops, if only to validate the choice of buying one over a comparatively inexpensive gaming desktop. Thankfully the 17X's keyboard is a cut above most.
For starters, it's large and spacious with ample room for both your hands to stretch out. The keyboard has a generous selection of options to choose from, including some really useful hot keys that saved me a ton of time fussing about in menus. Two worthy mentions are a Mode key that switches the laptop between Eco, Balanced and Turbo laptop Modes and key that opens up the PredatorSense utility app where you can make these and other settings changes yourself.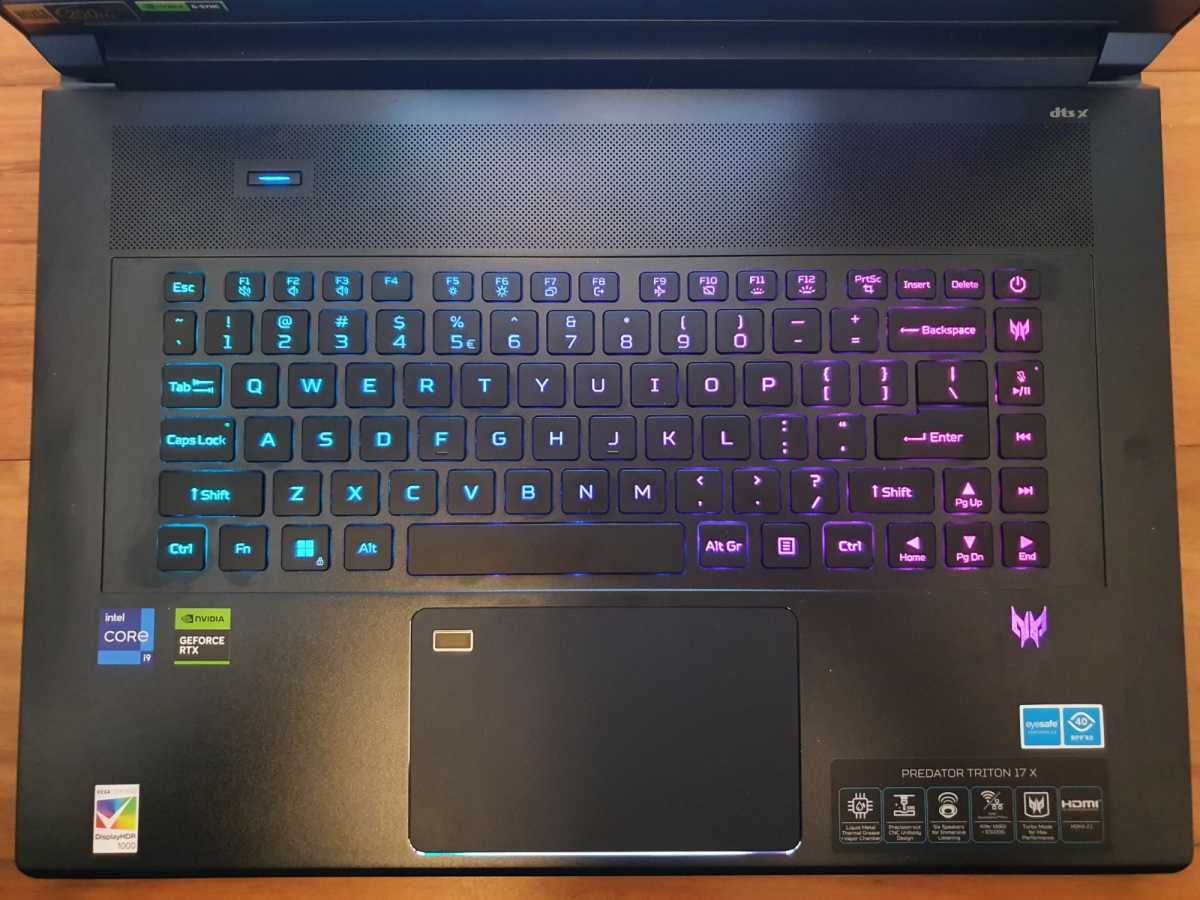 Dominic Bayley / IDG
The Per-Key lit RGB keys aren't the largest I've seen in a 17-inch laptop, but they're big enough to get the job done. They're noticeably bouncier than in the Razer Blade 18 and the Asus ROG Strix Scar 18, which I found makes for a less fatiguing typing experience.
You can program the RGB key lighting exactly how you like it in PredatorSense, which gives you up to 16.7 million colors to play with. There are some very cool dynamic light patterns to enjoy too. If fine-tuning macros is your jam, this is definitely one keyboard you can do that on.
Acer Predator Triton 17X: Connectivity
Acer seems to be making all the right moves when it comes to connectivity. Back when I reviewed the Acer Helios Neo 16, I was impressed to see it undercut most other 16-inch laptops in price yet backed up with no less than five USB ports, two of which were the very useful Thunderbolt 4 kind.
The 17X too follows that trend. You get four USB ports all up, including 2 x USB-A Gen 2 ports and 2 x Thunderbolt 4 ports – a combination which proved enough for my gaming peripherals needs. Having Thunderbolts of course means the 17X has multiple display options – but you also get the luxury of a HDMI 2.1 port.
Setting up games with friends was super easy thanks to low latency Wi-Fi 6E connectivity and an old-school Ethernet port. But the icing on the cake for me was the SD card reader. As an avid photographer, it just made life a lot easier – sure I could do without one and carry around one of those adapters, but nothing beats being able to plug my cards straight into my laptop to save time – especially when I'm frequently filling them up.
Acer Predator Triton 17X: Display and audio
Earlier this year we saw the 17-inch MSI GT77 HX 13V ship with a 4K mini-LED display with a 144Hz refresh rate. The Acer Predator Triton 17X has a QHD+ (2560 x 1600) mini-LED display with 240Hz refresh rate, which is a step down in resolution from the MSI, but a step up in refresh rate speed. This combo feels just right for gaming – it dished up perfect motion clarity with crisp detail in my playtesting, helped along by Nvidia G-Sync.
Being a mini-LED the display has 1000 local dimming zones and is exceptionally bright – I measured a maximum brightness of 889 nits in SDR mode, which was almost enough to warrant me wearing ray bans. The Triton 17X also has some of the best contrast I've seen in a laptop panel of this size, with darks appearing deep and commanding, even towards the periphery of the display.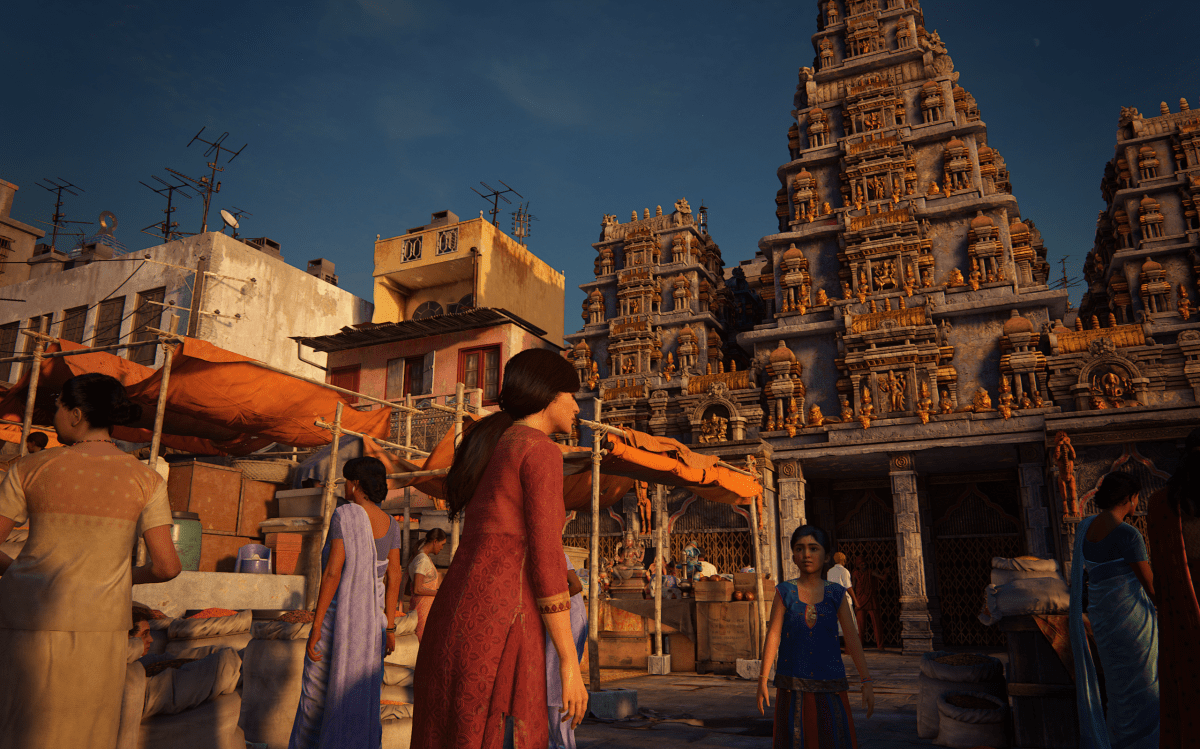 Dominic Bayley / IDG
Switching on HDR proved the 17X's display can still easily be viewed in Windows. Even though it ramps up the brightness, the display retains a relatively natural color without the red or blue hues you often see with HDR. Color saturation is also worthy of praise – I measured 99.2 percent DCI-P3 color gamut, which matches Acer's claims down to less than 0.8 percent deviation.
For audio, the Triton 7X boasts six speakers, all of which point at you the listener, rather than to the desktop below. They produce a respectable ensemble of tones – from commanding bass tones right through to clear and defined highs. Acer has dedicated a fair amount of the top strip of the keyboard to speaker grilles and it really makes a difference judging by the pristine clarity sound I got reverberating back at me.
Acer Predator Triton 17X: CPU performance
The Acer Predator Triton 17X's i9-13900HX CPU belongs to Intel's mobile HX Series of processors and its essentially an Intel i9-13900K desktop processor crammed into a laptop. In other words, it's about as close as you can get to serious desktop gaming silicon in a laptop.
This no-nonsense chip features 8 Performance Cores and 16 Efficient cores with a total of 32 threads. Together the cores operate at a combined maximum turbo frequency of 5.40GHz. As far as power for gaming is concerned, this processor is 'leet' – that is, as long as it's in a laptop that can harness its tremendous power.
To gauge the Triton 17X's ability to do just that, I ran our usual duo of PCWorld CPU tests and compared the results against a selection of rivals from our charts. These were all gaming giants in their own right – the crème del a crème of large gaming laptops that included the Razer Blade 18, Asus ROG Strix 18 and the MSI Titan GT77 HX 13V.
Almost all of my comparisons boasted similar 13th generation Intel i9 CPUs and were the kind of premium laptops gamers would have to dig deep to afford – but having done so, they'd also expect extremely high-level performance – just like I was expecting from my review unit.
First up I ran Maxon's Cinebench Multi-Threaded benchmark. This test flexes all the cores of a laptop's CPU to give an indication of how well it performs in load-heavy CPU tasks. Here, our results show the 17X's i9-13900HX CPU is an outstanding performer. It placed among the three top laptops in the field, proving it has plenty of muscle for AAA gaming.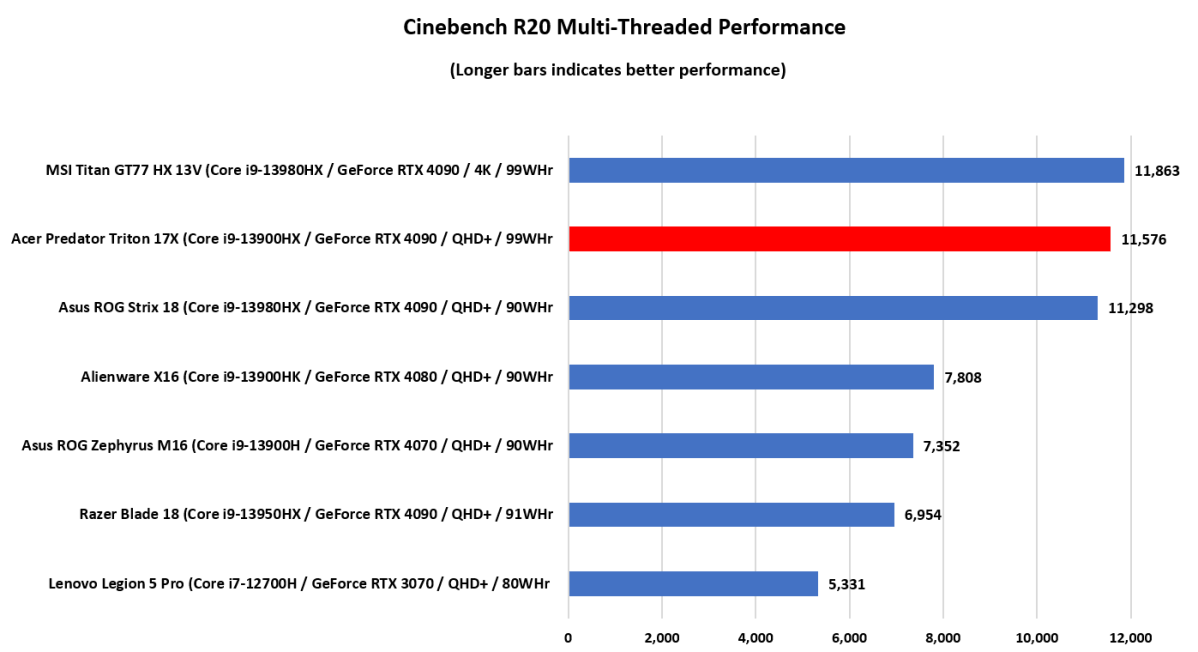 Dominic Bayley / IDG
While the Cinebench test proves the 17X has the muscle, our bespoke PCWorld HandBrake test is needed to prove it also has the legs to power on through difficult tasks without throttling performance. In this test, I tasked the laptop to encode a 30GB MKV file to MP4 using the Android Tablet preset, with a shorter duration indicating a better result.
As you can see in the graph I generated, the Triton 17X kept a lid on thermal throttling to finish the test in a very quick time of 611 seconds. This is an admirable result that proves it can quite easily chug on through difficult tasks to finish at breakneck speed.
Dominic Bayley / IDG
These are both really positive results from the Triton 17X that proves the efficacy of its CPU for the most demanding AAA games. With only a very small difference in performance between the MSI GT 77 and the Triton 17X, I can confidently say this laptop's CPU can trade blows with some of the best in the business.
Acer Predator Triton 17X: Gaming performance
Although Nvidia's mobile RTX 4090 bears little resemblance to the desktop equivalent with the same name, it still enjoys top dog positioning in Nvidia's hierarchy of GPUs. This GPU features 304 Tensor Cores and 76 Ray Tracing Cores. Additionally, it boasts 9728 shader units – which is the same number as in the desktop RTX 4080 GPU.
My review unit's GPU was tuned to an impressive 175 watts Total Graphics Power (TGP), which is a tremendous wallop of power in anyone's playbook. Still, I set out to see how it could perform in our PCWorld graphics tests. The Razer Blade 18, Asus ROG Strix 18 and MSI Titan GT77 proved useful comparisons yet again, since each sported the same Nvidia RTX 4090 GPU as my review unit.
For an eagle eye view of the kind of graphics power the 17X could muster I ran UL's 3DMark Time Spy 1.2 benchmark. This DirectX12 benchmark uses a weighted harmonic mean to calculate an overall score based on GPU and CPU tests, with a higher overall score considered a better result.
Here the Triton 17X once again proved its mettle, outperforming the good majority of the field of comparisons. Although, it's worth noting that it scored slightly lower than the MSI Titan GT77 HX 13V in this test.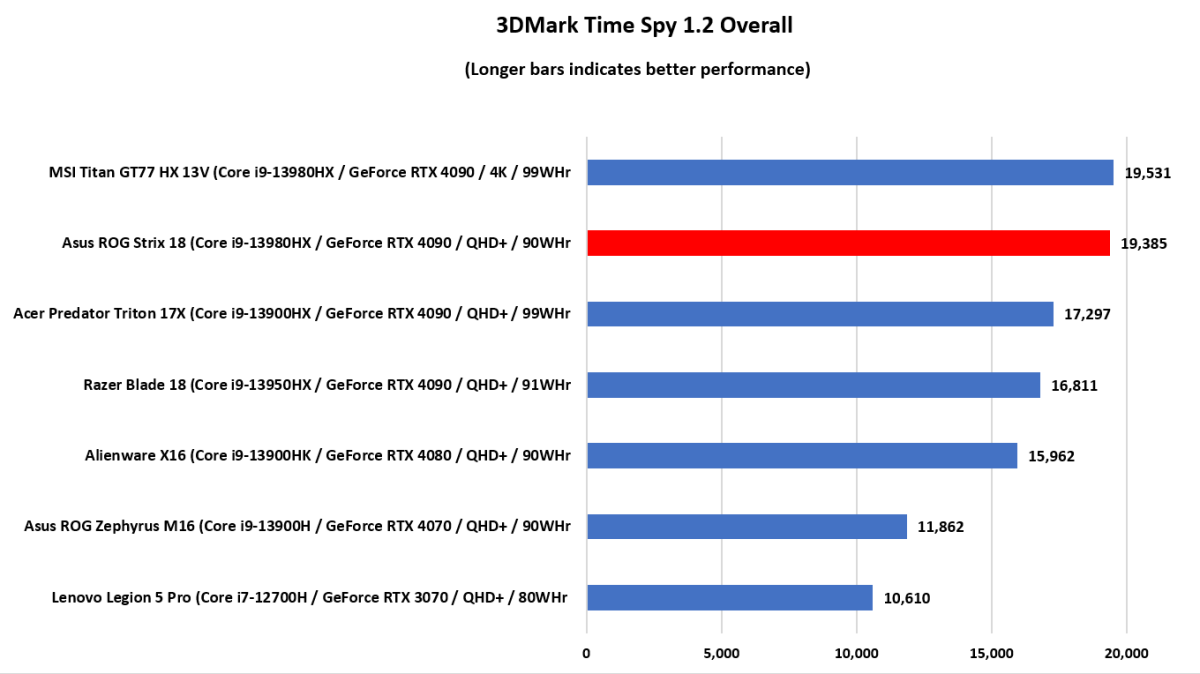 Dominic Bayley / IDG
On to the gaming benchmarks and in the Rise of the Tomb Raider benchmark, the Triton 17X trailed the Asus ROG Strix 18 only slightly, yet it beat out all the rest of the comparisons – including the MSI Titan GT77 HX 13V.
Dominic Bayley / IDG
For my second gaming benchmark I ran the Shadow of the Tomb Raider benchmark. In the results (below) you can see that the 17X again proved too good for most of the group of comparisons, except for the Asus ROG Strix 18.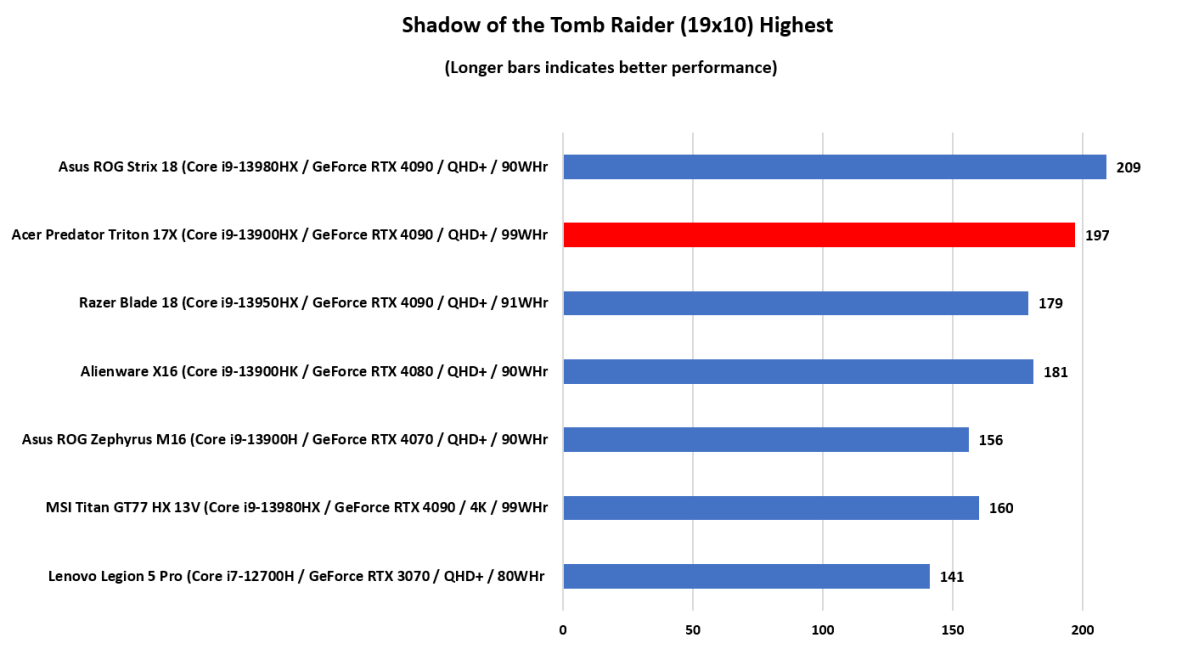 Dominic Bayley / IDG
These results bide extremely well for the Triton 17X. With frame rates reaching in excess of 200 FPS (frames per second) in RoTTR, the Triton 17X is the second fastest laptop in our PCWorld charts to date – which more than qualifies it as a performance juggernaut for running AAA games.
The 3DMark Time Spy Overall benchmark result is also extremely encouraging – it indicates this laptop will rip through other graphics based tasks as well as games – like 3D modelling or video editing and do so faster than most other gaming laptops available today. All in all, this laptop can breeze through whatever graphics-based task you need it for.
How does the Acer Predator Triton 17X compare to rivals?
We've seen the results of the above performance testing which shows the Triton 17X fares extremely well against its three biggest rivals. To summarize, it appears the Asus ROG Strix 18 has a slight edge on the Triton 17X, but the Triton 17X can hold its own against the MSI Titan GT77 13V and Razer Blade 18. But how does it hold up when it comes to price?
A search for close configurations in these laptops shows you can currently buy an MSI Titan GT77 HX 13V with Intel i9-13980HX, RTX 4090 GPU with 64GB RAM for $4,699.99, while a Razer Blade 18 with i9-13950HX, RTX 4090 GPU and 32GB RAM ships for $4,499.99. Alternatively, an Asus ROG Strix 18 with i9-13980HX CPU, RTX 4090 GPU and 32GB RAM currently costs $,3,899.99.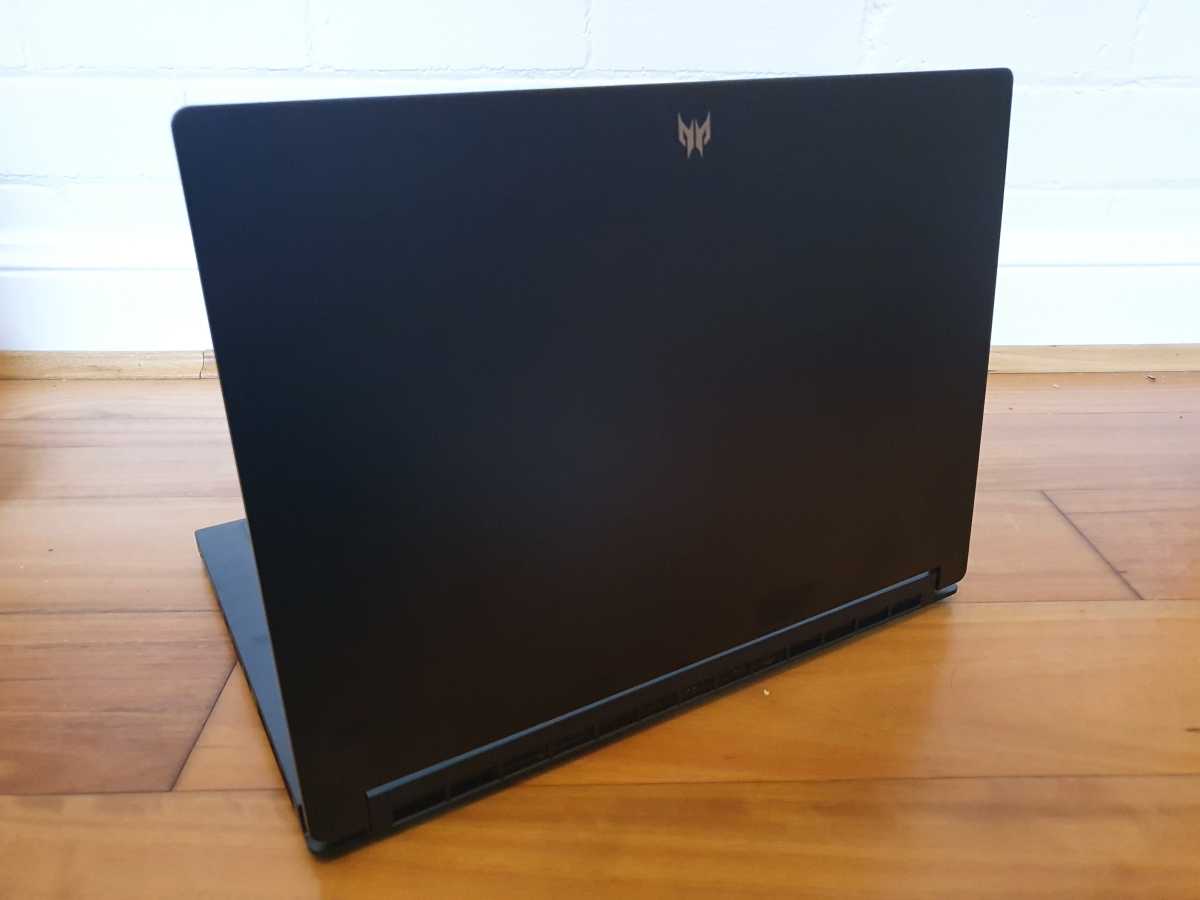 Dominic Bayley / IDG
Since RAM and other hardware differ among these comparisons, they're not exactly on an equal footing for price. Yet the Triton 17X with its 64GB RAM is still the cheapest option in the bunch at $3,599.99. It is smaller than all three of these laptops, though, which again you should really take into consideration when looking at price differences.
Acer Preator Triton 17X: Battery performance
Battery life in desktop replacement gaming laptops is rarely much chop, and despite its large 99.9WHr battery, the Triton 17X doesn't buck that trend. To test the battery life, I set a 4K Hollywood movie to repeat in Microsoft's Movies & TV app.
Before that, I setup the laptop for the test by plugging in a cheap pair of headphones and turning the sound down to 50 percent. I also switched from Wi-Fi to Airplane Mode. Finally, I timed how long it took the laptop to run out of juice. The result? The Triton 17X lasted 4 and a half hours before switching itself to Standby Mode.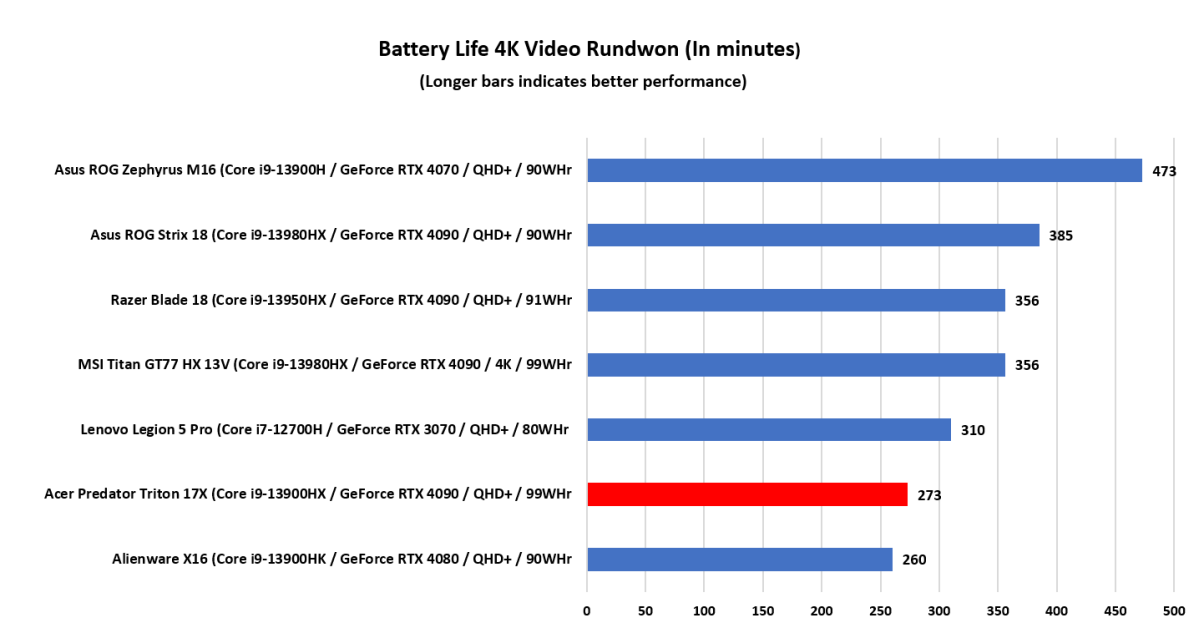 Dominic Bayley / IDG
This suggests you can expect approximately 2 hours of battery life while gaming on the Triton 17X unplugged from an outlet. That just means you'll ideally want to keep it plugged in whenever you can, to avoid any unwanted interruptions to your gaming.
Acer Predator Triton 17X: Should you buy it?
Although it sits between the larger 18-inch and smaller 16-inch gaming laptops in the size department, the 17-inch Acer Triton 17X is clearly one of the most powerful gaming laptops you can buy. And, while our benchmarking shows the Asus ROG Strix 18 does have a performance advantage over the Triton 17X, there's still a ton of reasons you might choose the Triton 17X over this laptop – two being the toughness of its chassis and its superior display.
If you're looking for an extremely powerful desktop replacement that's big, but not unwieldy, is absolutely maxed out with premium features, and is as tough as nails, then the Acer Predator Triton 17X should be right up there on your wish list.