At a glance
Expert's Rating
Pros
Zigbee hub and Thread border router 
Stereo drivers with spatial audio
Adaptive display content that zooms and shrinks 
Screen centering for video calls 
Cons
New photo frame features only work on a pricier "Photos Edition" model, and will eventually require a subscription 
Alexa Guard is going behind a paywall 
Still no YouTube or YouTube Music support 
Amazon and Wi-Fi credentials must be keyed in manually 
Our Verdict
With its new smart home hub and spatial audio capabilities, Amazon's mid-range smart display is more powerful than ever, but it's still shaky as a photo frame.
Price When Reviewed
$149.99
Best Prices Today: Amazon Echo Show 8 (3rd Gen, 2023)
$149.99
Amazon's eight-inch smart display gets a lot smarter—and sounds better—with the arrival of the third-generation Echo Show 8, a revamp that adds new smart home hub and spatial audio functionality to an already winning mix of features. 
The addition of both a Zigbee hub and a Thread border router turns the new Echo Show 8 into a full-fledged smart home hub, with the display's Thread capabilities allowing users to easily jump into Matter, the new barrier-busting smart home standard. Then there's the Echo Show 8's spatial audio support, which gives the display a welcome sonic boost, while Adaptive Content scales on-screen content depending on your proximity to the device. Taken together, that's a solid trio of new features, even if they're not game-changers on an individual basis. 
On the other hand, the Echo Show 8 remains a flawed digital photo frame, and a new Amazon service that's intended to smooth out that experience will only work with a pricier "Photos Edition" version of this device—and even then, it will eventually require a subscription. Also vexing is Amazon's decision to move another key Alexa feature–its ability to detect smoke alarms–behind a paywall, too. 
Still, the new Echo Show 8 is certainly the best version of Amazon's eight-inch smart display, packing in plenty of functionality and value. It's also a massive upgrade for owners of the first-gen Echo Show 8, which comes saddled with a much lower-resolution camera. The proposition for users of the second-gen Echo Show 8 is a little dicier, especially for those who already have a Thread border at home.  
Design & build 
Measuring 7.9 x 5.5 x 4.2 inches (WxHxD) and weighing 36.6 ounces, the third-gen Echo Show 8 ($149.99) is precisely the same size and weight as the second-gen model, but there are some clear if minor design differences.  
This review is part of TechHive's in-depth coverage of the best smart speakers.
The biggest physical difference concerns the screen, which now has an edge-to-edge glass surface that makes it look sleeker while making it easier to wipe the display clean. Also, the fabric-covered sides and back of the Echo Show 8 are more rounded this time around, allowing the rear of the screen some lip rather than meeting the edges flush. 
Ben Patterson/Foundry
More differences include the lens for the 14-megapixel camera, which now sits centered on the top (and still somewhat chunky) bezel rather than being pushed off to the right corner, helpful for keeping your eyes focused on callers during video chats. The new position of the camera means the slider for the physical lens shutter has been moved to the middle of the top edge of the screen, requiring the volume and mic mute buttons to be shunted off to the sides, thus flanking the privacy shutter.  
In the rear of the Echo Show 8 is a barrel-shaped port for the power cable, which terminates in a chunky wall wart. The mysterious micro-USB port on the back of the second-gen Echo Show 8 (which was apparently never meant for use by end-users, but that some users found they could use with a micro-USB-to-ethernet adapter) is now gone, and likely won't be missed. 
Setup 
Getting the Echo Show 8 up and running took me about 10 minutes. The setup screens are friendly and helpful, stepping you through the process of naming the device, setting the proper time zone, and picking what photos you want shown when the display is in picture-frame mode (Seasonal, Nature, and Travel are among the choices, or you can pick photo albums or automatically curated collections from your Amazon Photos library).  
You can also set up user profiles for household members that will personalize the display's content depending on who is nearby. Besides asking how you'd like to be addressed, the Echo Show 8 will scan your face with its camera, prompting you to look up, down, and to the sides, a process that will be familiar to anyone who's ever set up Face ID on an iPhone. These "visual ID" images are stored on the Echo Show 8 itself, not in the cloud, and you can delete visual ID data later or skip the step altogether.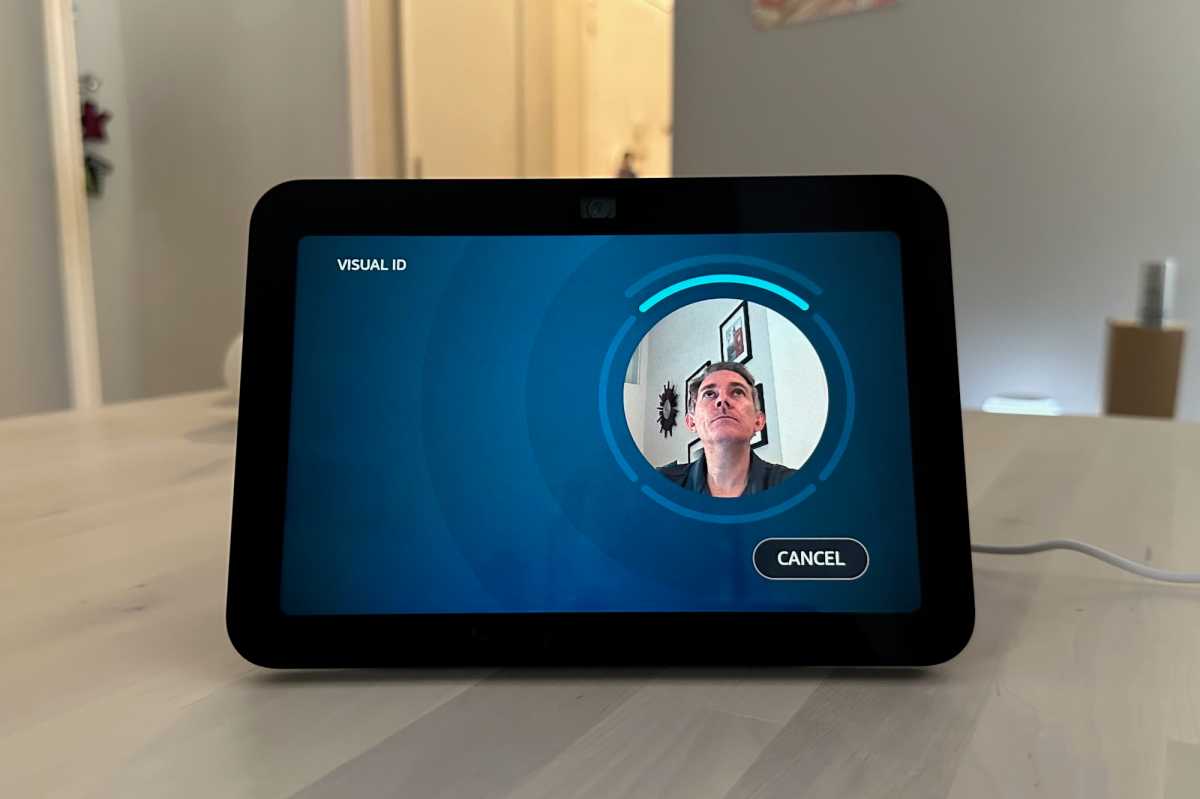 Ben Patterson/Foundry
Other setup steps including the option to turn the Echo Show 8's camera into a simple security cam (no, it's not a replacement for an actual Ring camera, as I'll describe later), as well as whether you want to enable Sidewalk, a feature that turns the display into a node for Amazon's Sidewalk neighborhood network (more on that later too).  
The most annoying parts of the Echo Show 8 setup process come at the beginning, when you must key in your Wi-Fi and Amazon credentials using an on-screen keyboard. Luckily, you only have to do it once, but it would be better if the Alexa app could handle Wi-Fi and Amazon authentication automatically, without having to manually type in lengthy strong passwords. 
User interface, Adaptive Content, and photo frame functionality  
As I just mentioned, the third-gen Echo Show 8 has its rejiggered physical controls sitting on the top edge of the display, including the volume buttons, the mic mute button, and the physical camera shutter, If you swipe down from the top edge of the screen, you'll get an overlay with even more controls, including the Settings button and shortcuts to other functions, including music, smart home controls, and routines. 
As with Amazon's other Echo Show devices, the Echo Show 8 interface serves up an ever-rotating carousel of content, topped by a digital clock in the upper left-hand corner and a series of on-screen buttons in the upper right.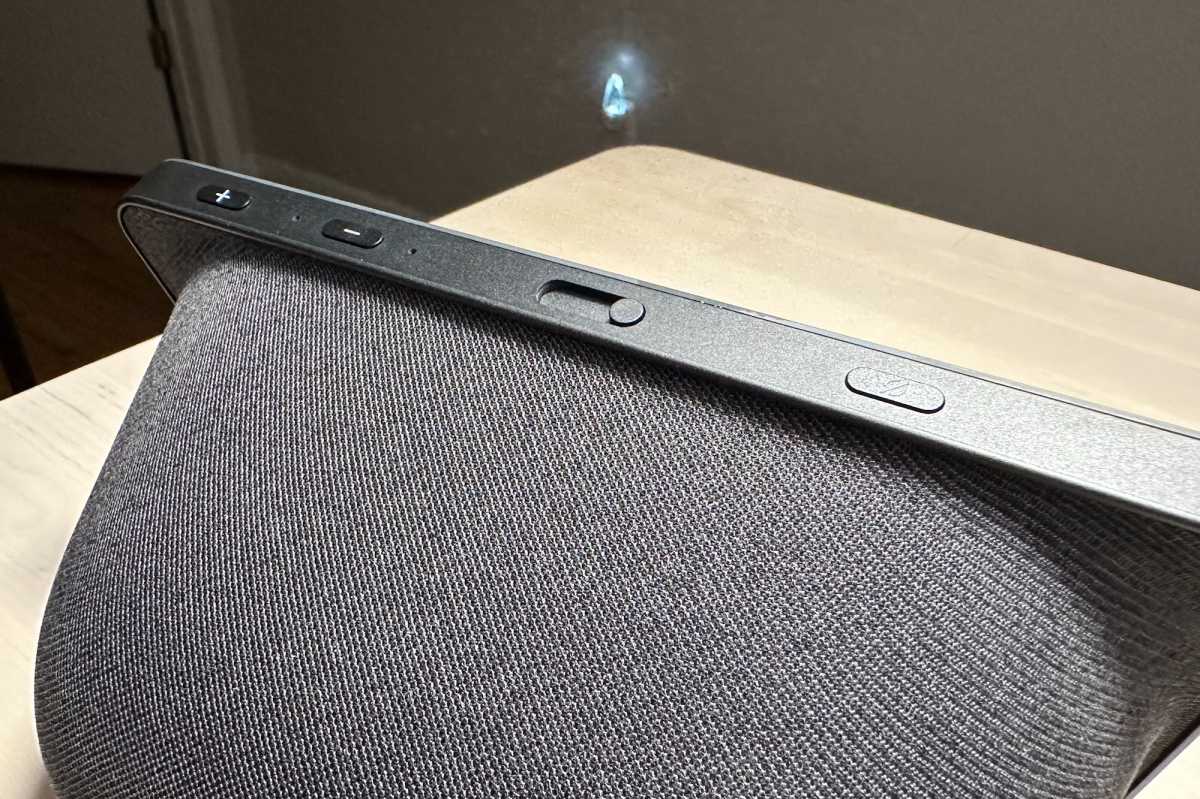 Ben Patterson/Foundry
The slideshow of content runs the gamut from weather updates and news headlines to podcast suggestions, recipe ideas, random pop-culture polls, trending Alexa skills, and more, all interspersed with the photo frame images that you configured during setup. These slides fade in and out about every 10 seconds or so, and while you can dive into the Echo Show 8's settings and opt in or out of specific content categories (for example, you can turn off the news, the recipe suggestions, or the Alexa tips), you can't alter the overall behavior of the display—so like it or not, those content slides will change at the same 10-second clip. 
A new feature for the third-gen Echo Show 8 is Adaptive Content, which boosts or shrinks the screen content depending on your proximity to the display (as sensed by the camera). For example, if you're across the room when the Echo Show 8 is displaying a weather report, you'll see jumbo-sized digits of the day's high and low temperatures, plus a large icon (like the sun) for current conditions. Once you get closer, the display will adapt, shrinking the content to show an hourly weather forecast. It's a neat trick, although Google's Nest Hub displays have long offered similar functionality. 
It's also worth noting that unlike Google's Nest Hub displays, the Amazon's Echo Show won't obediently turn into a full-on photo frame. While you can ask Alexa to turn switch the Echo Show 8 to photo frame mode ("Alexa, start photo frame"), the mode will only last for three hours before reverting to the standard Echo Show carousel. 
If you really want the Echo Show 8 to act as a true digital photo frame, you'll have to wait for the arrival of Echo Show 8 Photos Edition, which is slated to arrive later this fall for $159.99, a $10 premium over the standard Echo Show 8. That additional 10 bucks will cover six months of PhotoPlus, a new Amazon service that will serve up galleries of curated or personal photos as the "primary content" on the device (you also get 25GB of photo or video storage on Amazon Photos, while Prime members get unlimited photos and 5GB of video storage). After six months, PhotoPlus will cost $1.99 a month. Also, PhotoPlus will only work on the Echo Show 8 Photos Edition, not the regular Echo Show 8–puzzling, given that the two devices appear to comprise exactly the same hardware.
Alexa, smart home, and home security features 
Some of the biggest changes in the third-gen Echo Show 8 concern its smart home capabilities—namely, the revamped display now qualifies as a full-on smart home hub. 
Specifically, the new Show 8 adds a Zigbee home hub, same as on the larger Echo Show 10, the new Echo Hub wall-mountable display, and the flagship Echo speaker. That means the Echo Show 8 can now directly control Zigbee-enabled lights, sensors, and other smart devices.  
Even better, the Echo Show 8 is a Thread border router, meaning it can connect to, control, and act as an internet gateway for smart products that adhere to the Matter standard, which promises to (eventually) break down the barriers between Alexa, Apple Home, Google Home, and Samsung SmartThings. If you don't already have a Thread border router at home (many existing smart devices serve that function, including the aforementioned Amazon Echo, Google's Nest Hub displays, and Apple HomePod speakers, among others), the Echo Show 8 will do the trick. 
Then there's Sidewalk, Amazon's budding neighborhood network that aims to bolster the connectivity of long-range, low-power smart devices, such as motion sensors, smart water sprinklers, and pet locators. Like many other Echo devices, the Echo Show 8 can act as a Sidewalk bridge, allowing it to boost the range and bandwidth of a local Sidewalk network. Sidewalk shows promise but, like Matter, it's still getting off the ground, and because it involves sharing a small amount of your internet bandwidth with other nearby Sidewalk participants, it has generated some controversy. If the idea of joining a shared Sidewalk network makes you squeamish, you can always opt out during the Echo Show 8 setup process, or turn Sidewalk off later in the Settings menu. 
Ben Patterson/Foundry
Beyond Zigbee, Matter, and Sidewalk, there is (of course) Alexa, who remains a loyal and capable—if sometimes longwinded—voice assistant. As always, you can ask Alexa to set timers and alarms, tee up music playlists, control smart home devices, create and manage to-do lists, give you weather and traffic updates, tell jokes, and run smart automations (or "routines," in Alexa's parlance). According to Amazon, Alexa on the Echo Show 8 is up to 40 percent faster when responding to smart home requests thanks to a new local spoken-language model (not to be confused with Alexa's upcoming LLM that promises ChatGPT-like interactions). Indeed, when I asked Alexa to turn on a smart light or control a smart switch, she did sound a tad quicker on the uptake, if still prone to annoying "by the way"-style digressions. 
Home security features 
The Echo Show 8's camera can act as a security cam, but with only the most rudimentary features. You (or any designated household members) can view a live feed of the Echo Show 8's camera from the Alexa app, and there's two-way chat, but that's pretty much it—there is no motion detection or alerts, no object detection, nor is there a video history. In other words, the Echo Show 8 won't double as a Ring camera in the way that, say, Google's Nest Hub Max can act as a Nest cam.  
Meanwhile, one of Alexa's coolest home security features—its ability to detect the sound of smoke alarms and breaking glass—will soon go behind a paywall. Those sound-detecting abilities are part of the free Alexa Guard, which will soon be discontinued in favor of Amazon's new $5.99-a-month Alexa Emergency Assist service. Besides allowing Alexa to detect suspicious sounds, Alexa Emergency Assist will also connect you with 24/7 emergency response agents if you ask Alexa for help. Nice, but that's yet another monthly fee to pay, and we preferred it when Alexa's sound detection features were free. 
Communication and video calling 
The third-gen Echo Show 8's calling features are essentially unchanged from the previous version, aside from the fact that the 13-megapixal camara for video calling is now centered in the top bezel rather than scooched over to the right. 
While the 13MP camera is fixed in the bezel, the Echo Show 8's software will keep you centered in the frame even as you move around the room. You can designate a speaker on a call as the primary caller, meaning the camera (or rather, the camera software) will keep that particular person centered if there's a group of people in the room.  
Meanwhile, Alexa "reactions" will spawn animations like floating hearts and confetti (just tap the smiley face in the corner of the screen during a call), and "AR Effects" give you a Zoom-like artificial background (these effects are only for Echo-to-Echo video calls, mind you). Speaking of Zoom, you can participate in Zoom calls on the Echo Show 8, as well as Skype video calls. 
Besides video calls, you can also call or drop-in on any Echo speaker by asking Alexa, and in a nifty bonus, you can ask Alexa to call any number in the US, Canada, or Mexico for free. You're limited to just 10 contacts for free Alexa phone calling, however, so choose your favorites wisely (you can always swap in new favorites). 
You can also connect Alexa to your AT&T, T-Mobile, or Verizon number. That means you can make hands-free mobile calls just by asking Alexa, who will also announce callers and can answer or hang up on incoming calls. 
Video and music 
With its 8-inch display, the third-gen Echo Show 8 is a natural for streaming video. Unsurprisingly, Amazon Prime Video is present and accounted for on the Echo Show, while Hulu, Netflix, Tubi, and other streaming services also offer native Echo Show support.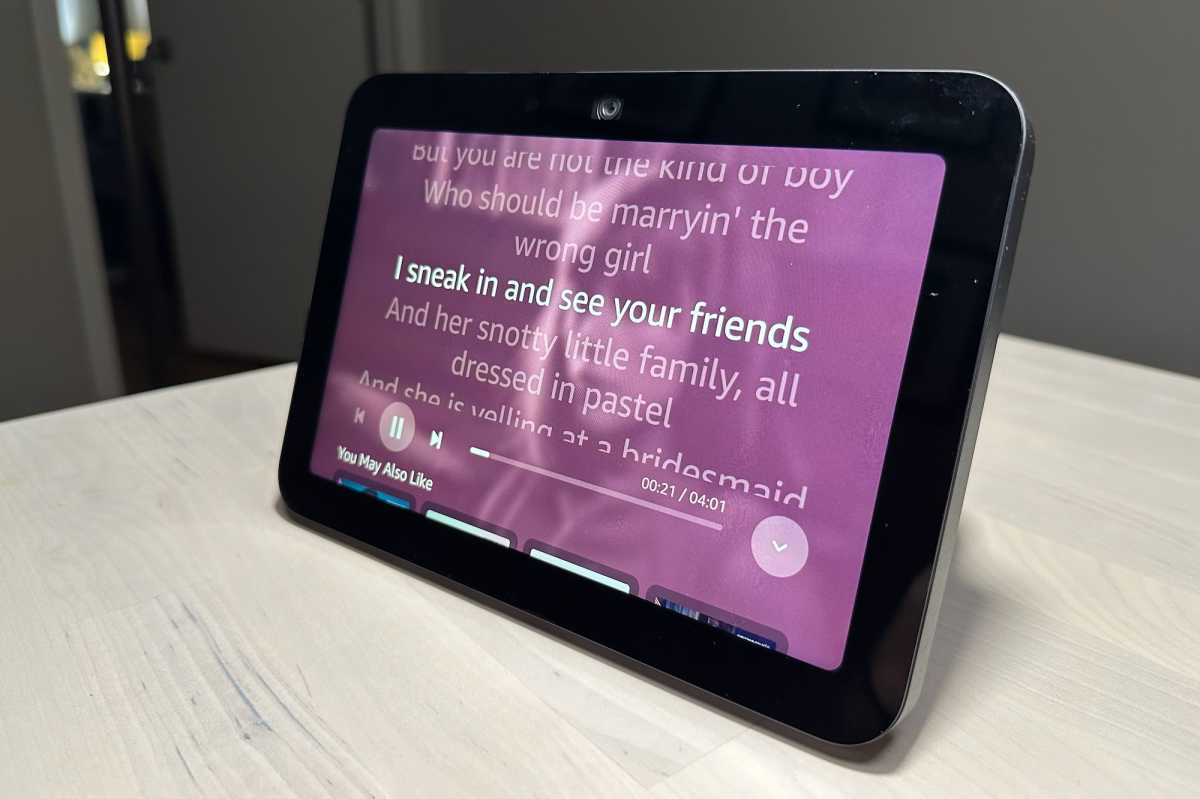 Ben Patterson/Foundry
There are some notable exceptions, however. You can't stream YouTube natively on any Echo Show display, including the Echo Show 8, and same goes for Disney+ and Max. You can try streaming YouTube and other non-native video services using the Echo Show's Silk browser, but it's a clunky workaround. 
For music, you get Amazon Music, Spotify, Apple Music, Deezer, Pandora, iHeartRadio, Tidal, TuneIn Radio, and Sirius XM all natively supported on Echo devices, including the Echo Show 8. Again, there's a notable holdout: YouTube Music. 
Audio performance 
As I previously mentioned, the third-gen Echo Show 8 arrives with a new internal audio system, including a pair of angled 2-inch neodymium tweeters and a passive bass radiator. Even better, the new Echo Show 8 supports spatial audio, which promises to widen the soundstage and provide greater stereo separation. 
While the new Echo Show 8 can do spatial audio, Amazon isn't making any claims about native Dolby Atmos or Sony 360 Reality Audio support (which Amazon's Echo Studio speaker does offer, on both counts). An Amazon rep confirmed that the display uses Amazon's own in-house spatial audio technology, which is applied to all music tracks and cannot be turned off.
In any event, I was impressed by the Echo Show 8's audio performance. Teeing up Taylor Swift's "Lavender Haze" on Midnights, the Echo Show's passive radiator managed to pump out impressively deep bass for a smart display, while spatial audio did a solid job of adding more depth to the sound—we're not talking mind-blowing 3D audio here, but rather making the display's soundstage feel significantly wider than it has any right to be. In short, the latest Echo Show 8 sounds much better than I expected. It can't compete with Amazon's pricier Echo Studio smart speaker, but you can pair either speaker with an Amazon Echo Sub for deep bass reinforcement. 
Should you buy the Amazon Echo Show 8 (third gen)?
Quibbles aside, the third-generation Amazon Echo Show 8 packs a tremendous amount of tech into a compact shell, and it's a terrific value for just $150. This smart display can control your smart home devices, stream video and music, and perform video chats and field voice calls, while Alexa can manage your schedule, add items to shopping lists, help your find recipes, deliver weather reports, and much more. If you're sold on Alexa as a smart home ecosystem, then the Echo Show 8 is a great buy.
If you already own an older Echo Show 8, should you upgrade? If you own the first-gen Echo Show 8, which has a much lower resolution camera and no auto-centering functionality, then yes. For the second-generation Echo Show 8, it's a tougher call. Both the second- and third-gen Echo Show 8 displays have the same camera resolution and features. And while the new eight-inch Show is the first with a Zigbee hub and a Thread border router, you may already have smart devices in your home that serve those functions (such as a Zigbee-enabled Hue Bridge or a Thread radio-equipped Echo speaker). That leaves the edge-to-edge glass screen and spatial audio, which are both nice-to-haves but not essential. In other words, owners of the second-gen Echo Show 8 should consider staying put.