AMD's powerhouse Threadripper chips are back for desktop PCs! Despite declaring the end of consumer Threadripper chips last generation, AMD announced three new Ryzen Threadripper 7000-series chips on Thursday, with up to 64 cores and 128 threads — and the option of installing a "Pro"-class Threadripper 700 WX series for a massive 96 cores and 192 threads, too.
Take a deep breath, though. The underlying message is the same as when AMD released the Threadripper 3970X back in 2019: these chips are for those who live and breathe video editing and content creation, and are optimized for such. Nevertheless, they almost certainly represent the most powerful CPU you can buy on a desktop, and they'll cost a ton.
The key differences between the older workstation-class Threadripper 5000 series and these new 7000-class processors are simple: AMD has brought forward its Zen 4 architecture into Threadripper alongside a higher core count, faster boost frequencies, and a generational leap ahead to PCI Express 5.0. Consumers will need new motherboards, though, as the new "TRX50" consumer Threadripper platform uses the new AMD TRX50 HEDT (high-end desktop) chipset and sTR5 socket. And did we mention they consume (gulp) 350W of power?
In some ways, though, the new Threadripper 7980X, 7970X, and 7960X consumer Threadripper offerings are familiar. They stick with AMD's tried-and-true 64-core configuration, the same as the Threadripper 5000 series, moving down to 24 cores. The 12- and 16-core configurations have been trimmed off from the prior generation.
AMD
"We had thought we could give the market the coverage it needed, just by simplifying it down to a single platform," said Donny Woligroski, senior marketing manager for consumer processors at AMD. "There was a lot of feedback a lot from consumers who needed specific solutions, and a lot from just fans who wanted access to a high-end desktop platform. We heard you; we are bringing it back. It's as simple as that."
Here are the configurations of the new chips, which will be available to buy on Nov. 21. Note that AMD disclosed the prices of its new Threadripper chips at press time — you may need to consider delaying your rent or mortgage for a month to cover the costs.
AMD Ryzen Threadripper 7980X: 64 cores/128 threads, 3.2GHz base/5.1GHz boost, 256MB L3 cache, 320MB cache total; $4,999
AMD Ryzen Threadripper 7970X: 32 cores/64 threads, 4.0GHz base/5.3GHz boost, 128MB L3 cache, 160MB cache total; $2,499
AMD Ryzen Threadripper 7960X: 24 cores/48 threads, 4.2GHz base/5.3GHz boost, 128MB L3 cache, 152MB cache total; $1,499
All of these new consumer-class Threadrippers 7000 processors consume 350W and allow for overclocking. (OEM systems probably won't allow overclocking, AMD executives said.) They also include 4 channels of DDR5 RDIMM memory with error-checking and 48 lanes of PCI Express 5.0 I/O. (A total of 88 usable PCIe lanes, including PCIe 3, appear on the platform.)
The four channels of memory are significant, as AMD's previous Threadripper offerings provided eight, probably overkill for a consumer design.
The new Threadripper platform tweaks the older design. The Threadripper 5000 platform collected eight cores within a single CCD, sharing 32MB of cache, with a total of up to eight CCDs (for 64 total cores). The Threadripper 7000 platform maintains the eight-cores-per-CCD design, but increases the shared cache to 32MB per CCD. The increased number of cores also necessitated more CCDs: up to 12 in all with the Pro chips (for 96 total cores). AMD's Infinity Fabric Gen 3 helps tie them all together.
Interestingly, AMD's new Threadripper Pro lineup uses the same sTR5 socket as the desktop models, though the Pro lineup is flexible: those chips can either use what AMD calls the Pro platform, or the HEDT platform. A deep-pocketed enthusiast could conceivably buy one of the new four Threadripper Pro models for use in a consumer system, but they'll lose out on the Pro platform advantages: 8 channels of memory up to DDR5-5200 (for a total of up to 2TB of memory), 128 PCIe 5 lanes (or 144 usable PCIe lanes in total) and AMD's manageability features.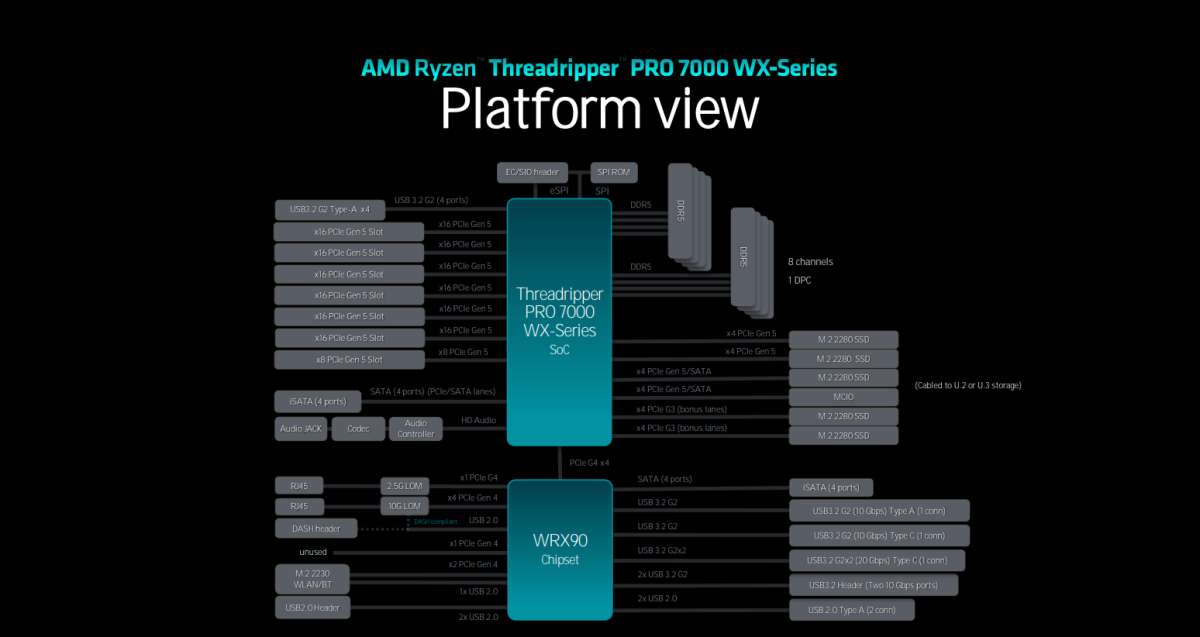 AMD
The new, larger socket will require new cooling solutions, too. AMD said it would have a list of approved cooling solutions closer to launch.
Threadripper performance: awesome, as expected
The move to AMD's Zen 4 architecture will include a generation-to-generation performance improvement of about 13 percent in terms of instructions per clock, AMD executives said, along with support for AVX-512 instructions. Naturally, AMD is comparing its new Threadripper 7980X chips to the Intel Xeon, and not a Core chip, where it's claiming between 4 percent (Keyshot) to 94 percent (Metashape) improvement over the 56-core Intel W9-3495X.
AMD
While AMD is primarily focusing on content creation as the chief selling point for the Threadripper family, executives did suggest an alternative: AI training. When we talk about consumer AI, we usually talk about "inferencing," testing an AI large language model by asking it to construct a short story or piece of AI art. But the other component of AI is training, or teaching the algorithm.
Though a university exam can be completed in an hour or so, actually learning the material is much more time- and resource-intensive. So it is with AI — and this machine learning usually takes place behind the scenes, with server farms over long periods of time. Machine learning is usually associated with powerful server processors backed by gobs of memory capacity, capabilities that the new Threadripper chips approach. AMD is claiming that users can achieve 189 percent more accuracy when using the Meta's LLama-2 model with 70 billion parameters.
We've included AMD's summary of both its Threadripper 7000 and Threadripper Pro 7000 processors, below, along with AMD's own summary of how they compare to Intel's Xeon chips.
AMD
Should you expect to see a Threadripper system in your local electronics store? Probably not. But if you've been saving your paycheck for a year or two, who knows? You may be able to pick one up when they start shipping on Nov. 21.
This story has been updated to add consumer Threadripper pricing and to correct the ship date, which is Nov. 21 instead of Nov. 19.