We don't often see high-resolution Bluetooth codecs making their way to sub-$200 headphones, but that's what Anker is delivering with its latest Soundcore true wireless earbuds. 
Available now for $169.99, the Soundcore AeroFit Pro mark the brand's first pair of open-ear earbuds, complete with a hook-style design that makes them well suited for workouts. 
Somewhat surprisingly, the AeroFit Pro supports not only Sony's high-resolution LDAC codec but also head-tracking spatial audio. We generally don't see those kinds of features in true wireless earbuds at the AeroFit Pro's $170 price point, much less in buds with an open-ear design. 
This news story is part of TechHive's in-depth coverage of the best headphones.
Available in four colors (Dynamic White, Frost White, Aqua Blue, and Electric Purple), the AeroFit Pro arrives with 16.2mm titanium-coated dome drivers, along with acoustic ports designed to direct audio to the user's ears without leaking sound to those nearby, Anker says.  
Anker
The buds have an IPX5 rating, denoting resistance to low-pressure jets of water, while an aerospace-grade 0.7-mm thick titanium wire embedded in the flexible earhook of each bud helps to maintain a secure fit. A detachable and adjustable neckband is also included. 
Naturally, the open-ear AeroFit Pro don't offer active noise cancellation; instead, you get "Open Air Transparency," which is a fancy way of saying that the buds are open to ambient sound. That could be a plus for athletes who want to maintain situational awareness while exercising outdoors, but it could also make it tougher to appreciate high-resolution LDAC tracks. We'll have more to say on this issue once we've heard the AeroFit Pro out in the wild. 
The AeroFit Pro supports Bluetooth 5.3 with multi-point connectivity for simultaneous connections to a PC or hi-res mobile audio player and a phone, while a quartet of microphones backed by an "enhanced" AI algorithm are designed to boost the clarity of voice calls. 
The buds offer up to 14 hours of battery life on their own, or up to 46 hours with the 2.26-ounce charging case. A 10-minute charge will yield up to 5.5 hours of playback time, Anker says. 
Debuting alongside the AeroFit Pro is a step-down model, the $129.99 AeroFit, which jettisons LDAC and spatial audio support but boasts beefed-up IPX7 protection, meaning they should survive a 30-minute dunk in up to a meter of water.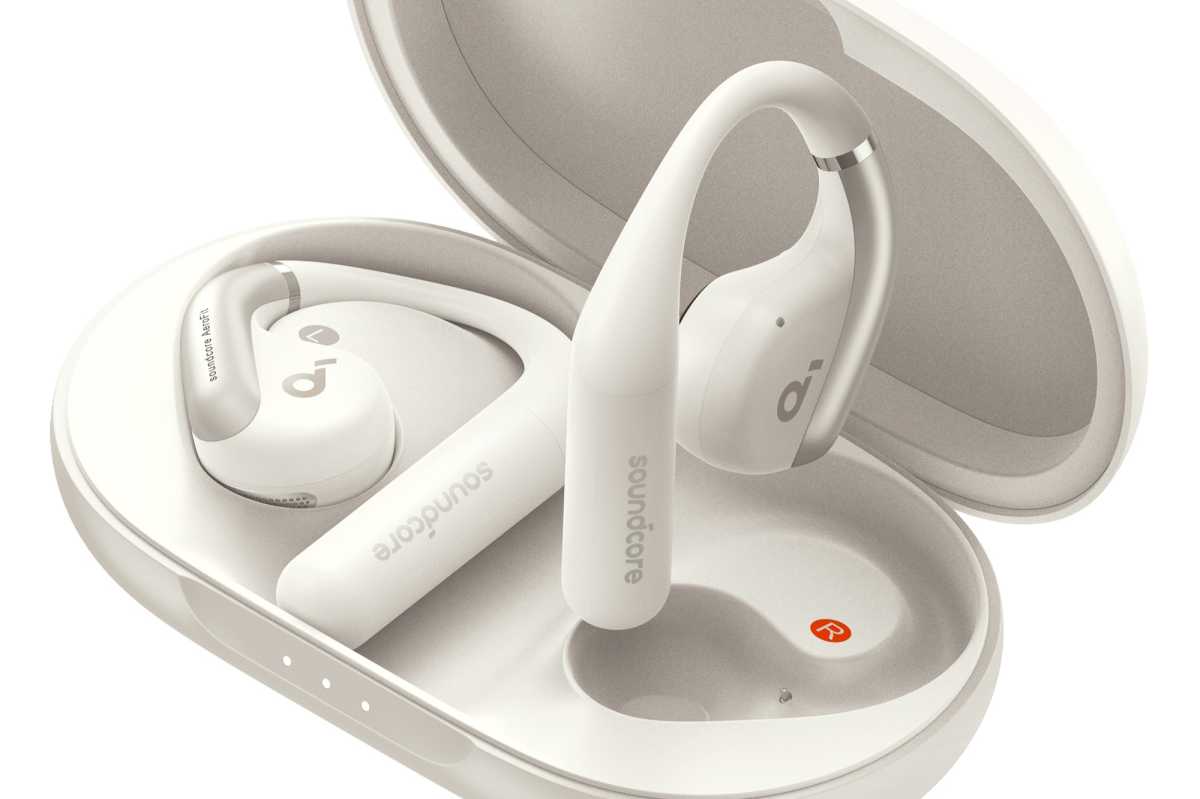 Anker
The AeroFit buds also come with smaller (14mm) drivers than the AeroFit Pro, plus shorter battery life (11 hours for the earbuds, or 42 hours with the case). 
We'll have full reviews for both the AeroFit Pro and AeroFit earbuds once we test out some review units.