At a glance
Expert's Rating
Pros
Attractive and ergonomic design
Sharp, bright image
Includes USB-C and DisplayPort-out
Acceptable built-in speakers and microphone
Cons
Mediocre image quality
No HDR
No Adaptive Sync
Our Verdict
The BenQ GW2790QT's image quality is merely okay, but the monitor's functional design and extensive connectivity make it an obvious choice for a budget home office setup.
Price When Reviewed
$299.99
Best Prices Today: BenQ GW2790QT
Home office monitors are easy to come by, and most perform well enough: Excel isn't exactly demanding. But some features, like USB-C connectivity, an ergonomic stand, and a built-in microphone, can prove especially alluring for those living the work-from-home life. BenQ's GW2790QT provides all of this at an affordable price.
Further reading: See our roundup of the best home office monitors to learn about competing products.
What are the BenQ GW2790QT's specs and features?
The BenQ GW2790QT's display is typical of a home office monitor, but the leap from 1080p to 1440p resolution is worth mentioning. It's not unusual for a monitor in the GW2790QT's price range, but it's an excellent improvement over 1080p.
Display size: 27-inch widescreen
Native resolution: 2560×1440
Panel type: IPS
Refresh rate: 75Hz
Adaptive Sync: None
HDR: None
Ports: 1x HDMI 1.4, 1x DisplayPort 1.2, 1x DisplayPort-Out (MST), 1x USB-C with 65 Watts of Power Delivery and DisplayPort Alternate Mode, 3x USB-A 3.2 downstream
VESA mount: 100x100mm
Speakers: Yes, microphone included
Price: $299.99 MSRP
Resolution aside, the monitor's most notable features have nothing to do with image quality. It includes a USB-C port with 65 watts of Power Delivery and DisplayPort Alternate Mode, a DisplayPort-out port, built-in speakers, and even a bundled microphone. That's an excellent array of features for a $300 home office monitor and help push the GW2790QT ahead of competitors.
How is the BenQ GW2790QT's design?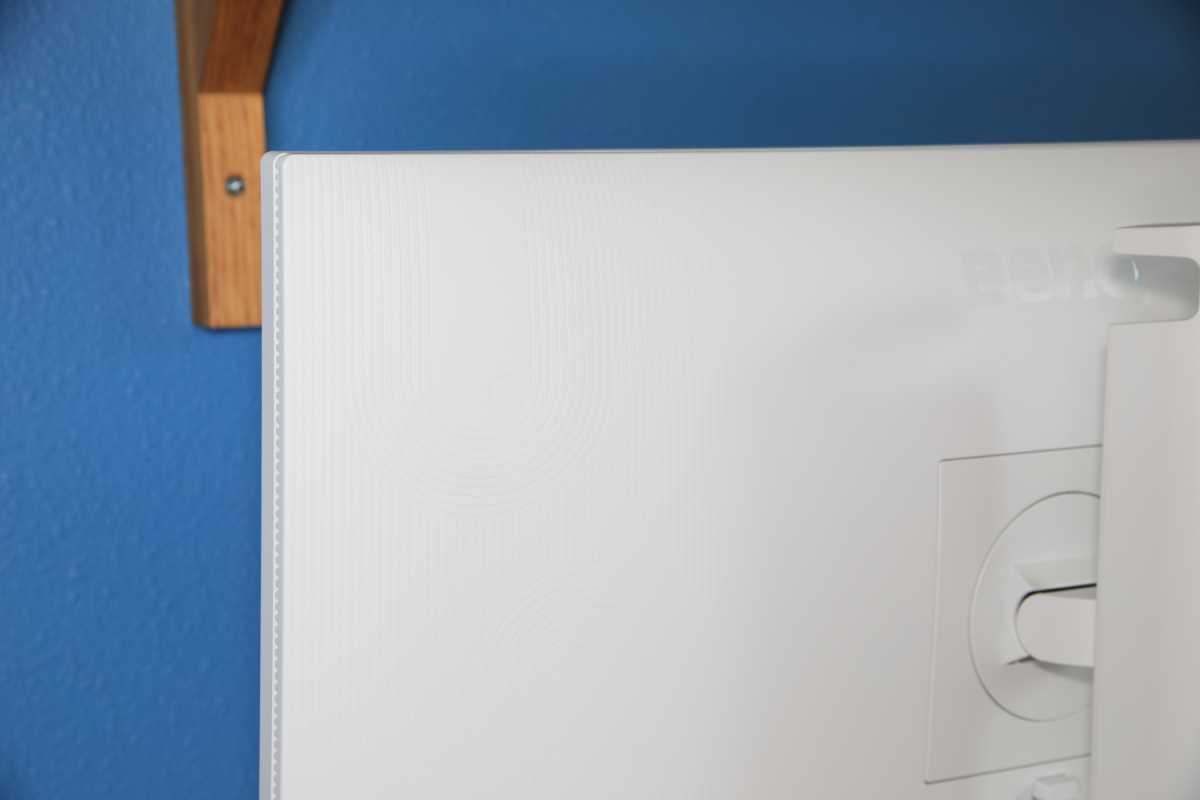 Matt Smith
The BenQ GW2790QT is a stylish display. It ditches the classic black or silver look of most monitors for super-white materials that cover not only the stand but also the rear panel and lower display panel. It's not entirely unique—some Samsung, LG, and Alienware monitors take a similar approach—but it's well-executed.
I credit the sturdy, roughly textured plastics BenQ uses on the display. Not all plastic is created equal, and the materials on here both look and feel a cut above a typical budget to mid-range office monitor.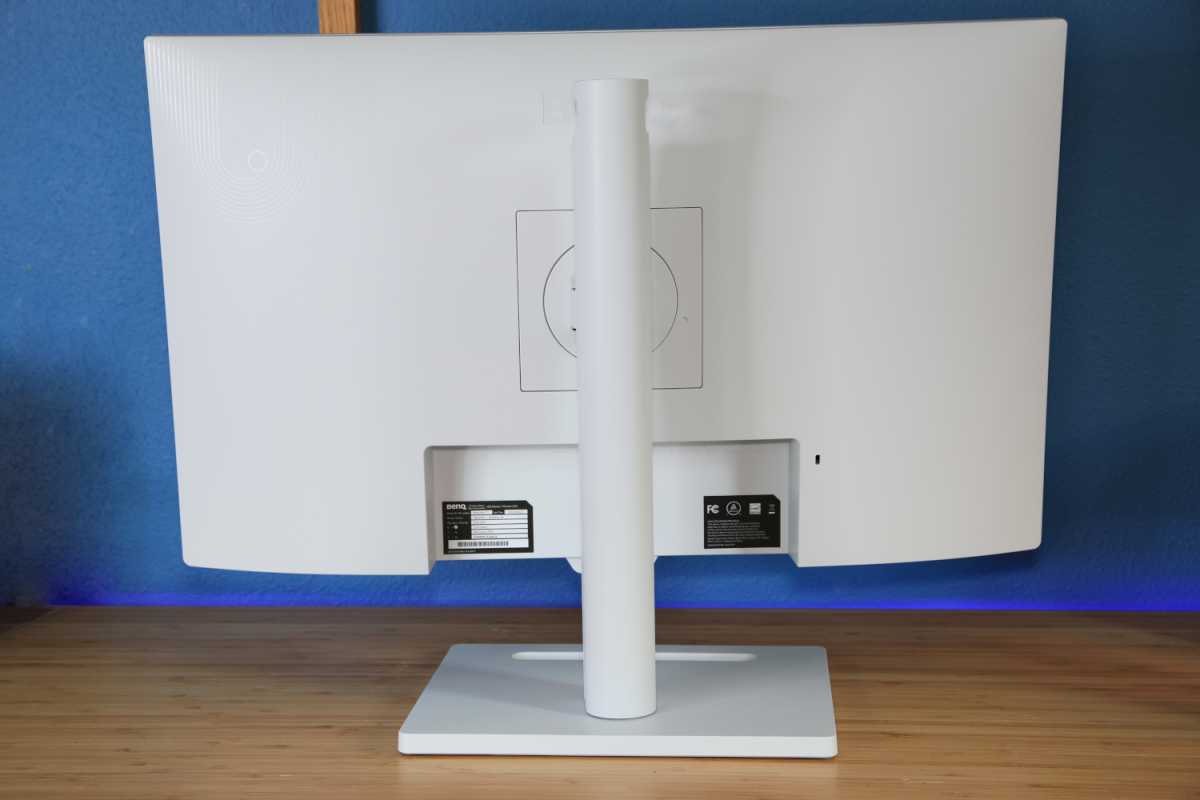 Matt Smith
BenQ provides expected functionality, too, with a hefty ergonomic stand that adjusts for height, tilt, swivel, and rotation. The stand base is perhaps a tad larger than it needs to be, but its flat design means the space it consumes on your desk remains usable.
The stand has a small cut-out meant for use with a $20 accessory called the "Yogi Pad." It's meant to offer a space for holding and charging a smartphone or small tablet. The accessory was included, so I didn't have a chance to try it.
How is the BenQ GW2790QT's connectivity and menu?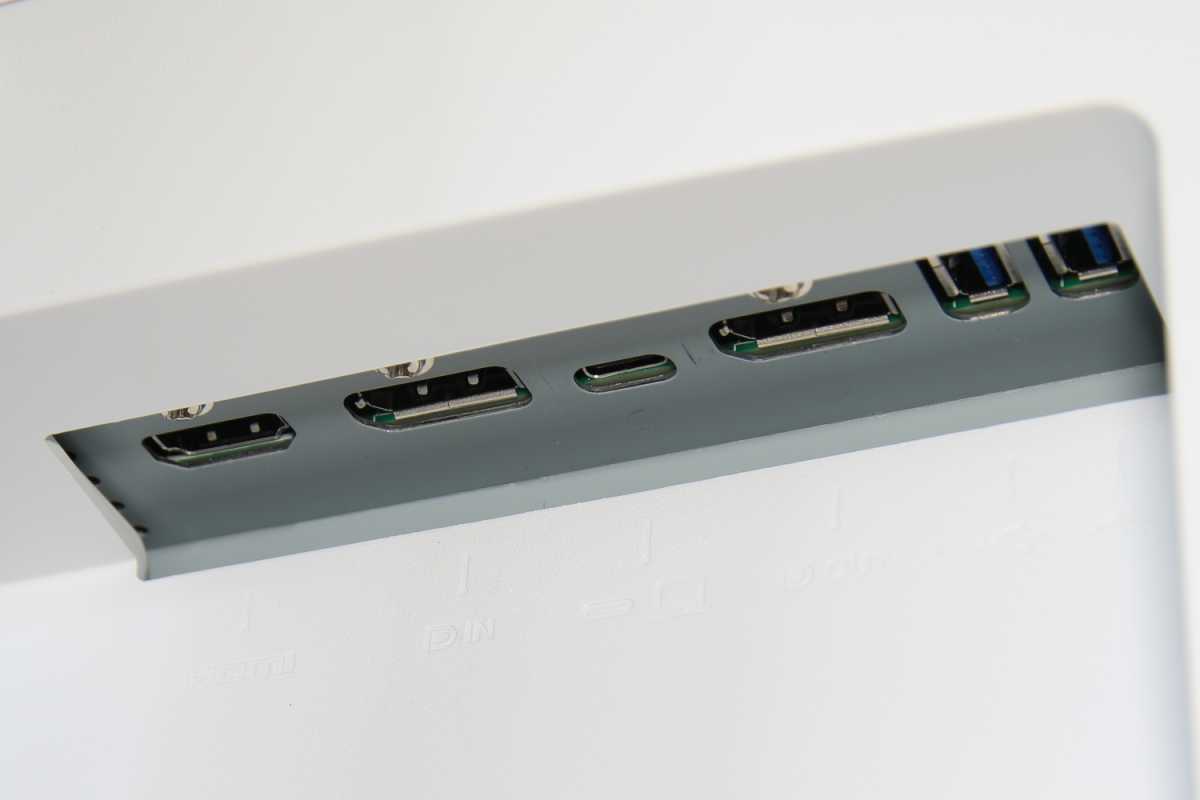 Matt Smith
The BenQ GW2790QT is all about connectivity and, specifically, USB-C. It includes a single USB-C input that supports DisplayPort Alternate Mode and 65 watts of Power Delivery for charging a connected tablet or laptop.
It's not the least expensive USB-C monitor—but, given the GW2790QT's price, the fact that USB-C is available at all is notable. A few alternatives offer USB-C at a lower price: the Dell S2723HC and Viewsonic VP2456 are two examples. But these make compromises, since both have a lower display resolution and the Viewsonic provides a smaller 24-inch panel.
BenQ pairs the USB-C port with three additional USB-A downstream ports, HDMI, and DisplayPort, and a 3.5mm audio jack, all of which are typical for a home office monitor in this price bracket.
But BenQ provides a second connectivity surprise with support for DisplayPort-out. It can be used to daisy-chain video connectivity to a second monitor, effectively allowing the connection of two monitors with one DisplayPort input. This also works over USB-C, since it supports DisplayPort Alternate Mode. It's a handy feature if your laptop doesn't have two video outputs, and can reduce cable clutter.
Matt Smith
The menu system relies on a set of buttons on the monitor's lower-right bezel. They're easy to find, responsive, and offer an intuitive menu with a good array of options which includes several gamma and color temperature modes as well as simple RGB color customization. A few image quality presets are available but focused on making the image easy to read or less straining on the user's vision. There's no sRGB or DCI-P3 color gamut preset.
The GW2790QT includes built-in speakers and a noise-canceling microphone, so it can in theory be used to take voice calls without a headset or external mic. I say "in theory" because their audio quality fails to impress. Zoom isn't exactly demanding, though, and I think most people will find the results passable. I don't recommend leaning on these features for a permanent video conferencing solution, but they'll do in a pinch.
How is the BenQ GW2790QT's SDR image quality?
The BenQ GW2790QT's focus on home office use makes image quality a bit less important than with monitors built for gaming or content creation, but a pleasant, bright image remains key to crisp text and day-to-day productivity. Fortunately, the monitor readily clears this bar.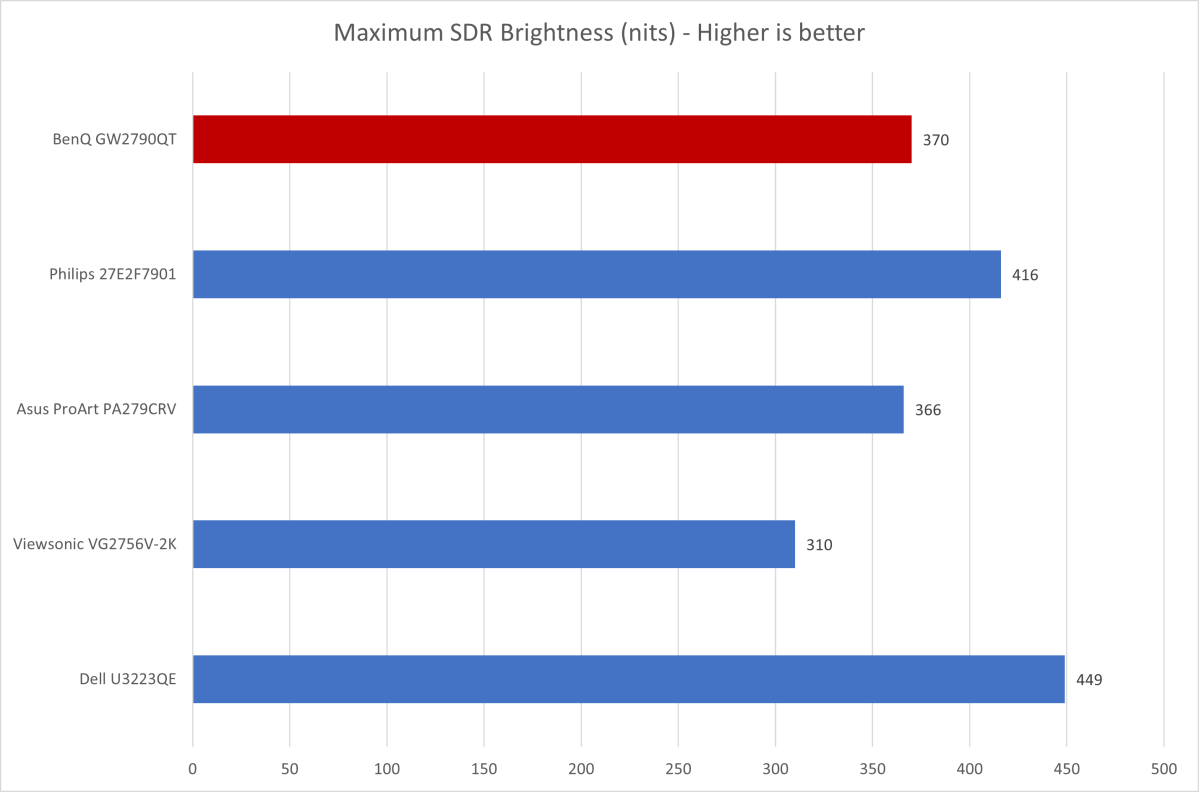 Matt Smith
Brightness comes in at a maximum of 370 nits which, although a bit lower than the brightest monitors, it's certainly sufficient for use in a home office. I generally kept the monitor at just 25 percent of its maximum brightness. The monitor's effective matte coat helps, too. I didn't need to increase the BenQ's display brightness to overcome glare.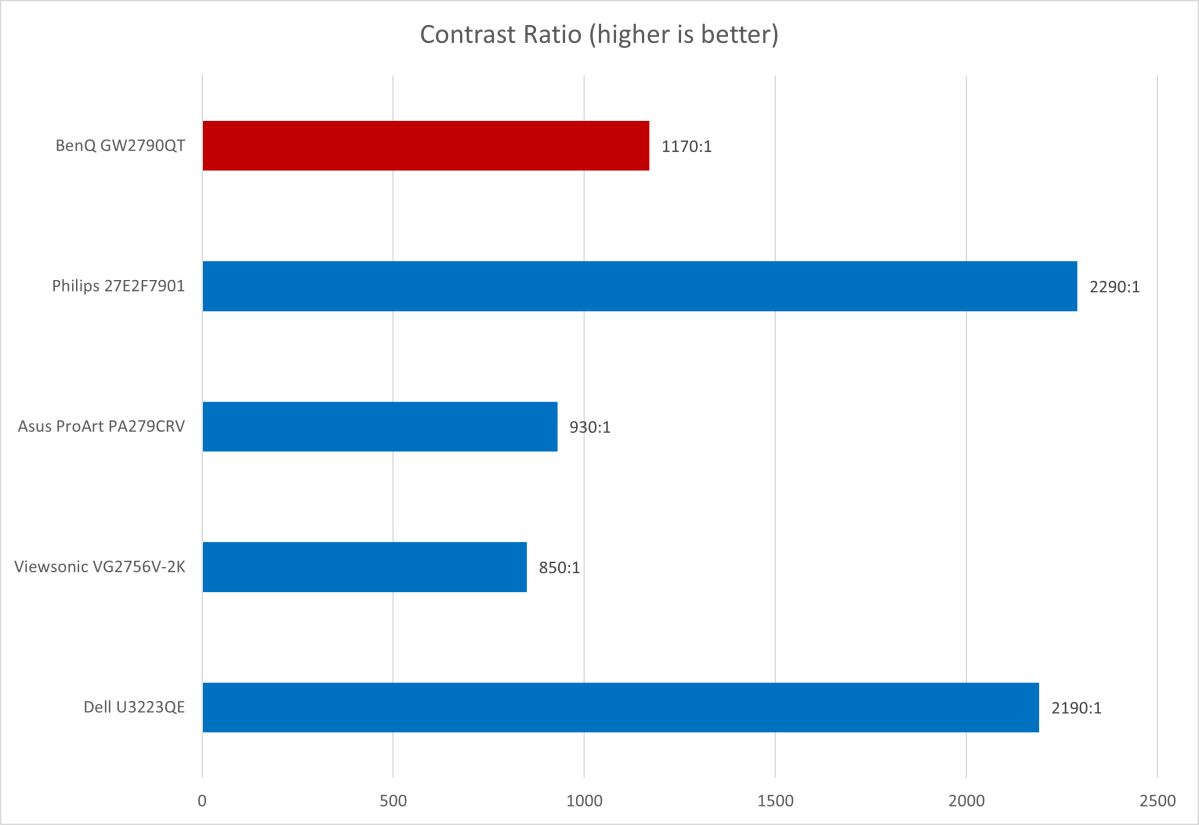 Matt Smith
The GW2790T provided a maximum contrast ratio of 1170:1. It's hardly a record-setter, but this result is good for a monitor in the GW2790T's price range. Dark movies and games can look hazy and lack detail, especially when viewed in a dark room, but the monitor otherwise provides a reasonable sense of dimensionality and depth.
If you're interested in watching Netflix between meetings, though, you should consider at least upgrading to a monitor with an IPS Black panel, like the Philips Creator Series 27EF7901 or Dell U3223QE.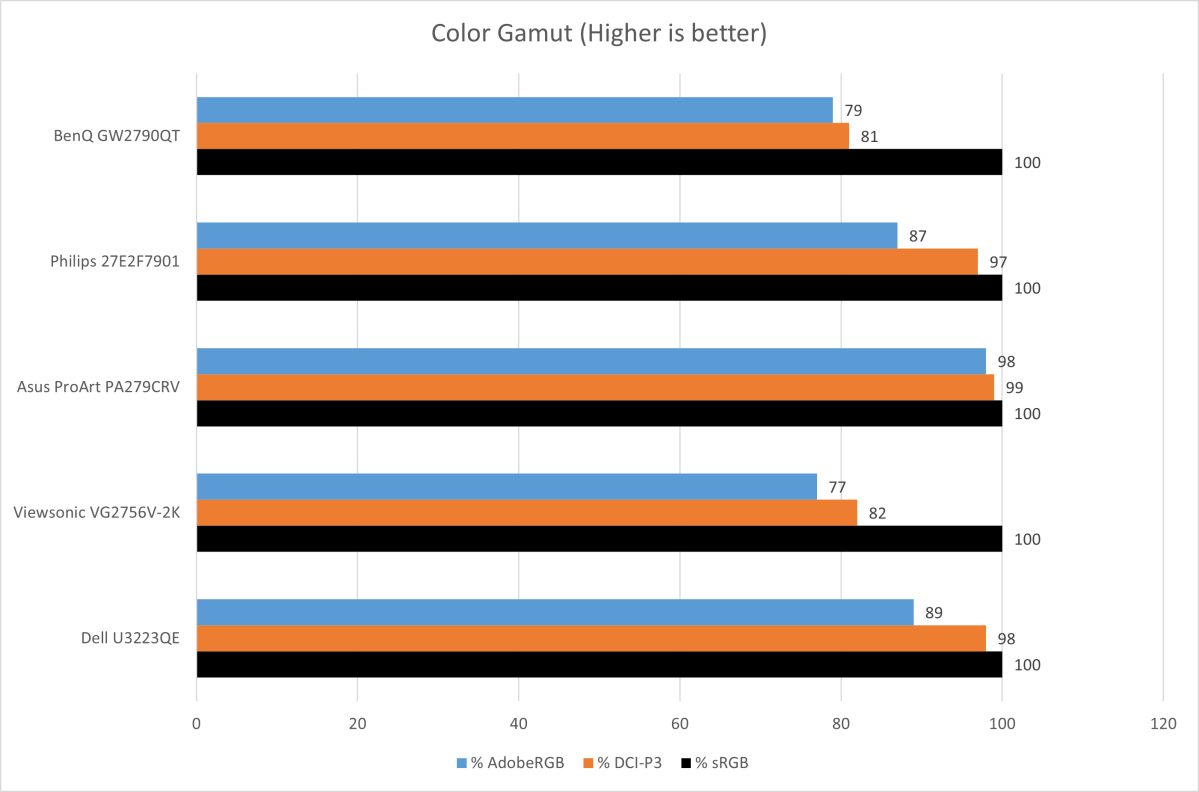 Matt Smith
I measured a color gamut that spans 100 percent of sRGB, 81 percent of DCI-P3, and 79 percent of AdobeRGB. That's an acceptable, but modest, result. The monitor looks vivid in day-to-day productivity, but the limited color gamut will be a problem for content creators looking to produce photos, video, or digital art in the DCI-P3 or AdobeRGB color gamut.
To be fair, competitors that provide better performance are more expensive. The BenQ's GW2790T isn't advertised for content creation, and its color gamut is in line with my expectations for a $300 home office monitor.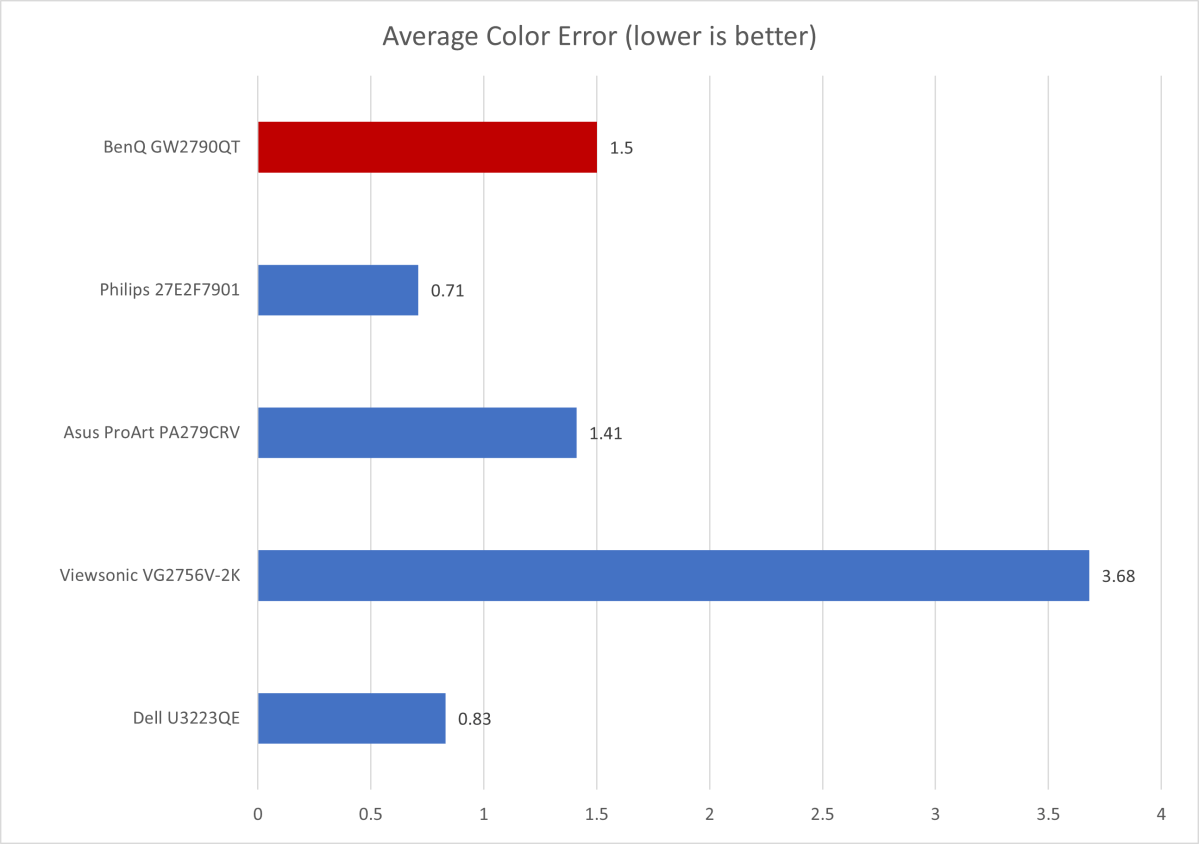 Matt Smith
The monitor's color accuracy is mid-pack, as well, but again in line with my expectations. Colors look accurate, if somewhat subdued. The monitor's color accuracy is supported by an acceptable default color temperature of 6600K, barely off the target of 6500K, and an on-target default gamma curve of 2.2. What do these numbers mean? Put simply, the monitor is pleasant to use out-of-the-box and displays content in a manner close to what its creator intended.
Sharpness is strong, too, thanks to the monitor's 2560×1440 resolution. That works out to a pixel density of roughly 109 pixels per inch across the 27-inch display. It's nowhere near as sharp as a 27-inch 4K monitor, which packs in 163 pixels per inch—but that improvement can be hard to notice in office applications like Word or Google Docs. 1440p remains an ideal compromise between sharpness and price.
I did notice one weakness, however: viewing angles. The GW2790T looks washed out when viewed from the sides. It's not a problem for the person using the monitor, but colleagues trying to look over your shoulder will certainly be disappointed.
The BenQ GW2790T's image quality isn't exciting, but it strikes the right compromise here. The GW2790T's display looks good in productivity apps and avoids annoying flaws.
How is the BenQ GW2790QT's HDR image quality?
HDR is not an option on the BenQ GW2790QT. That's as it should be. While a few similar monitors claim HDR support, no monitor in this price bracket offers the performance needed to do HDR justice. Innocn's 27M2V, the least expensive monitor we can recommend for HDR, is more than twice the G2790QT's price.
How is the BenQ GW2790QT's motion performance?
The BenQ GW2790QT isn't great for gamers or anyone concerned with motion performance. Its 75Hz refresh rate is a slight bump over 60Hz, but not enough to make a difference for most people, and the monitor lacks Adaptive Sync. The Dell 2724D is a price-competitive alternative for gamers, but it completely lacks the home office features found on the GW2790QT.
Is the BenQ GW2790QT worth it?
Shoppers looking for a simple yet attractive home office monitor should strongly consider the GW2790QT. It delivers a functional ergonomic design, extensive connectivity, which includes USB-C, and well-rounded image quality at a reasonable $300 MSRP (that has dipped as low as $280 on Amazon). Many competitors offer some of its features at a similar price, but none tick all the same boxes.