FiLMiC Expands to Still Photos with its Firstlight Camera App for iOS
FiLMiC, the company that made a name for itself by helping iPhone users shoot 4K log footage, has expanded into the world of still photography by launching a new photo app for iOS called Firstlight. The app aims to offer high-end camera features through a clean and intuitive interface.
The freemium app has a solid list of advanced features in its basic free version, including basic exposure controls (tap for setting exposure/focus and tap again to lock), a proprietary AE Mode (for setting shutter/ISO combo), cross-swipe manual controls (swipe left/right for focus, swipe up/down for exposure), reactive analytics (focus peaking and zebra stripes automatically activated), an RGB histogram, vintage film simulations, film grain, vignetting, and a lens selector.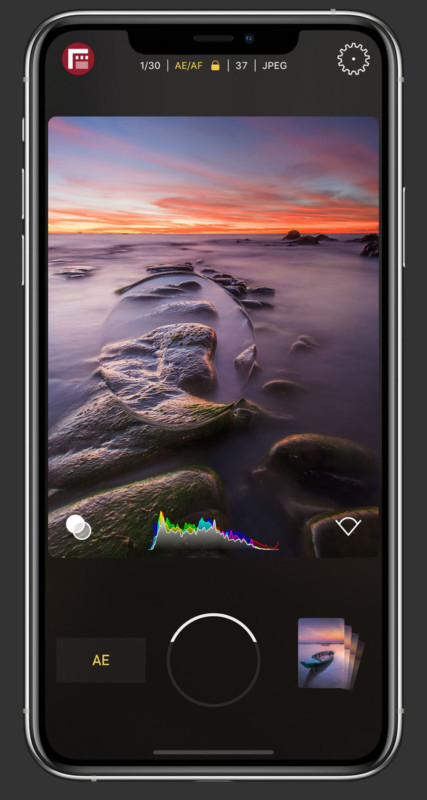 Other free features include a burst mode, timer, flash, grid overlays, aspect ratios (4:3, 16:9, 3:2, 1:1, and 5:4), expanded shadow detail, JPG/HEIC selection, HDR control, a volume button shutter, and support for most Bluetooth remotes.
As mentioned, Firstlight is a freemium app, meaning you can pay to unlock other features. Paid subscribers get shutter/ISO priority modes, expanded film simulations, additional film grain options (fine, coarse, and ISO adaptive instead of just medium), adjustable vignetting, a configurable burst mode, anamorphic adapter support, DNG RAW files, TIF uncompressed files, a custom function button, custom live analytics (adjust the colors/sensitivity of focus peaking and zebra stripes), and embedded copyright.
Here's a short video introducing the app:
FiLMiC Firstlight is compatible with any device that runs iOS 13, and it's available now as a free download through the Apple App Store. The "Premium Member Subscription" costs $1 per month or $8 if you prepay for a year.