Amazon has come up with more ways to stuff advertising into the Fire TV interface.
The Fire TV's top feature carousel, which until now has only promoted streaming video content, will soon show ads for physical products such as earbuds and apparel. Amazon is also bringing ads into its search results pages, where they'll appear alongside organic search results.
Fire TV devices are already heavier on display advertising than other streaming platforms, with sponsored screensavers and banner ads that get in the way of navigation. The new formats will make Fire TV feel even more like a billboard in your living room. The forthcoming changes were first reported by StreamTV Insider.
"Feature Rotator" ads
The "Feature Rotator" is Amazon's term for the carousel of promotions at the top of the Fire TV home screen. It covers roughly half the screen when users turn on their Fire TV devices, and nearly the entire screen when you scroll upward. While Amazon doesn't label these carousel items as sponsored, it does sell the space to advertisers.
In the past, these ads were reserved for streaming services that wanted to promote their movies and shows. Now, Amazon is opening carousel ads up to other companies, so you might see ads for brands like American Airlines, Cheetos, Hyundai, or Levi's.
Amazon
These ads will have a video component as well, with playback beginning automatically when users scroll up into the carousel. Charlotte Maines, Amazon's director of Fire TV advertising, told StreamTV Insider that this is "like getting your video commercial in front of the Fire TV user the minute they turn on the TV, no matter what they go on to watch."
(As before, users can disable the Fire TV's autoplay ads under Settings > Preferences > Featured Content.)
Amazon is also expanding advertising to its search results pages, which were previously ad-free.
While Amazon isn't yet providing any images of the new search ad format, a spokeswoman confirmed that the "Sponsored Tile" will appear directly next to the top search result for any given query. An advertiser that wanted to target searches for horror content, for instance, could have their ads mixed in with organic search results.
Amazon says sponsored listings will be labeled with a "sponsored" tag, so users will be able to distinguish them from other search results. Still, it's a notable change from how Fire TV handles displays ads on its home screen, where sponsored tiles are separated into their own distinct rows.
Do Fire TV devices have more ads?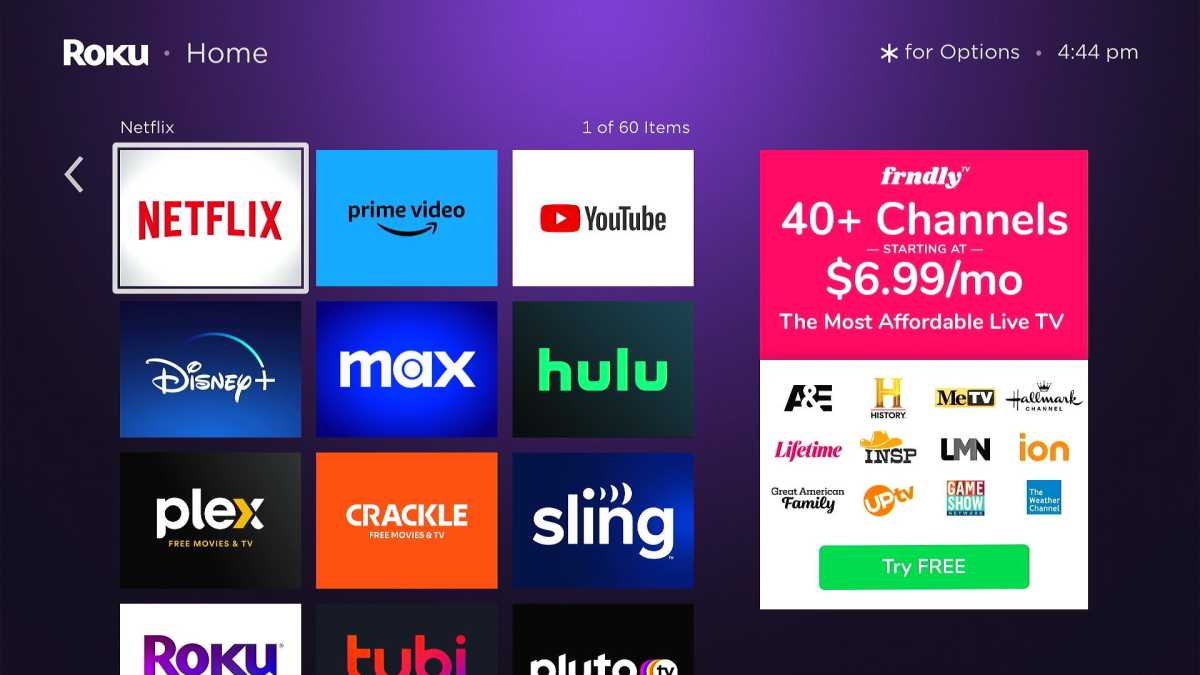 Jared Newman / Foundry
While Fire TV isn't the only platform that includes banner ads and sponsorships, Amazon has been more aggressive about selling off chunks of its interface.
Roku devices, for instance, have a banner ad that runs alongside the main app launcher, but it never gets in the way of navigation. (Amazon's banner ads, by contrast, appear directly below the "Continue Watching" row and above the recent apps list.) Roku's"City Stroll" wallpaper also includes little virtual billboard ads for streaming services, but users can select other wallpapers that are ad free.
Google TV devices include sponsored content in the top carousel, and some users have reported seeing ads for physical products in that space. I've yet to see any of those product ads myself, and this section does at least distinguish between paid promotions (which have an "Ad" label) and recommendations. The Chromecast with Google TV and Walmart Onn 4K don't appear to have any sponsored content rows on the home screen or in search results.
Apple TV, meanwhile, remains a beacon of serenity in terms of home screen advertising. Its app launcher has no banner ads, and the "TV" guide app's greatest sin is that it leans too heavily into promoting Apple TV+ content.
Amazon's Fire TV devices have always been a great value, with speedy performance, capable remotes, and powerful Alexa voice controls. When they go on sale—which happens pretty often—they deliver more features than most rival streamers for less. Amazon's expanding ad ambitions just illustrate how that value comes at a cost.
Sign up for Jared's Cord Cutter Weekly newsletter for more streaming TV advice and insights.