Fuji Unveils GF 45-100mm f/4 Medium Format Lens, Teases 80mm f/1.7
The X-T200 wasn't the only thing up Fuji's sleeve for tonight's announcement. The company also revealed three new medium format lenses: officially releasing the GF 45-100mm f/4 R LM OIS WR, and adding the 30mm f/3.5 R WR and 80mm f/1.7 R WR to the GF lens roadmap.
Fujifilm GF 45-100mm f/4 R LM OIS WR
The Fuji GF 45-100mm f/4 is the major lens announcement of the night: a standard zoom for the medium format GFX camera system, with a full-frame equivalent focal range of 36-79mm and an equivalent depth of field of approximately f/3.2.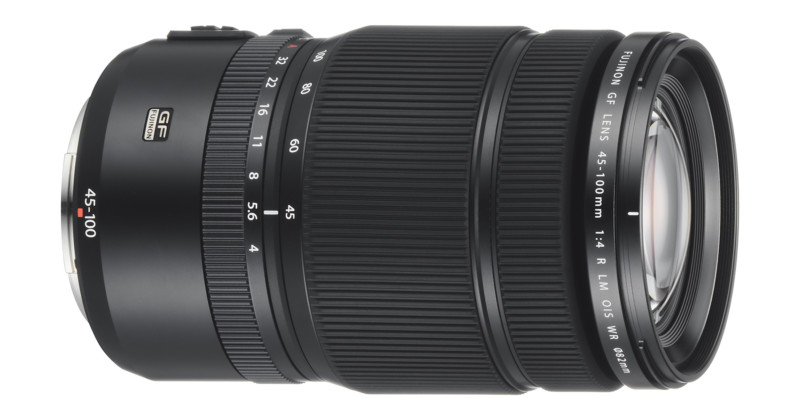 Optically, the lens is made up of 16 elements in 12 groups, including 3 aspherical elements, 1 Super ED element, and 1 ED element that work together to keep chromatic and spherical aberration at bay. It uses an internal focusing system driven by a linear motor, and comes equipped with 5-axis, 5-stop image stabilization so you can comfortably shoot it hand-held.
Finally, the lens is also properly weather sealed against dust and moisture, is 5.69in (144.5mm) long, and weighs just 2.2lb (1,005g), making it fairly portable for a lens of its size. Here's a closer look at the new 45-100mm f/4 mounted to each of Fuji's current GFX bodies: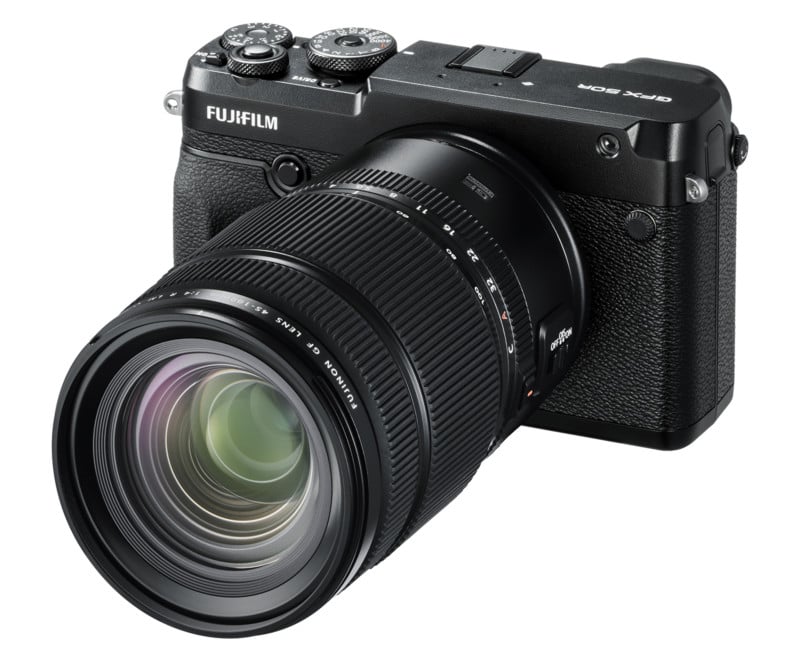 In a sense, this is Fujifilm's medium format equivalent of the much-loved 24-70mm f/2.8 lens on full-frame, joining the the GF 32-64mm f/4 R LM WR wide-angle zoom and the GF 100-200mm f/5.6 R LM OIS WR telephoto zoom to complete a Fuji medium format "holy trinity" of sorts.
The Fujifilm GF 45-100mm f/4 R LM OIS WR will begin shipping in "late February 2020" for $2,300, and we expect it to pop up for pre-order within the next few hours. To learn more about this lens, head over to the Fujifilm website.
Fujifilm GF 80mm f/1.7 R WR and 30mm f/3.5 R WR
In addition to actually releasing the 45-100mm f/4, Fujifilm also expanded their GF lens roadmap to a total of 13 lenses by adding two new primes to the mix: the GF 30mm f/3.5 R WR and the GF 80mm f/1.7 R WR.
We don't know much about either lens, other than the fact that Fuji plans to make them both.
The 30mm lens will come in at 24mm full-frame equivalent, and is described as "a perfect solution for landscape photography." The 80mm lens will be a 63mm full-frame equivalent with a very fast aperture that Fuji describes as "incredibly suitable for portraiture and making images in low-light conditions."
Both will make good additions to the lineup, but the 80mm lens is the one that really caught our eye with that f/1.7 aperture. If you're keeping track, this will be the fastest GF lens in the lineup once it officially launches.
Unfortunately, Fuji didn't reveal any further specs, nor did they mention an expected announcement date date or price for either lens.