Google Updates Photos App with AI-Powered 'Portrait Light' Tool and One-Tap Edits
Yesterday, in addition to debuting the new Pixel 5 and Pixel 4a smartphones, Google also unveiled a major update for the Google Photos app. The update adds two new AI-powered photo editing tools: a one-tap editing feature that tailors suggestions to your specific photo, and an intelligent 'Portrait Light' feature that lets you alter lighting post-capture.
The big hardware news yesterday was the release of the Pixel 5 and Pixel 4a smartphones, both of which traded the telephoto camera in the previous models for a wide-angle option. But for the shutterbugs in the audience, the more interesting updates have to do with the Google Photos app, which is adding some AI-powered photo-editing features.
The one-tap edits are an extension of Google's two-year-old suggestions feature. Nestled into a new 'Suggestions' tab that shows up first in the Photos editor, the options displayed there "[use] machine learning to give you suggestions that are tailored to the specific photo you're editing." For now, this only includes three options—Color Pop, Black & White, and Enhance—but more suggestions will be added "in the coming months" to deal specifically with portraits, landscapes, sunsets, and beyond.
Portrait Light is a bit more intense, and is thus only available on the new Pixel 5 and Pixel 4a for now, with compatibility rolling out to more Pixel devices "soon."
The feature basically takes the portrait mode lighting we've seen in other devices to a whole new level, allowing you to change the direction and intensity of your light source post-capture. This works with Portrait Mode photos (obviously) but can also be applied to standard shots, and it may be based on the technology presented in this research paper back in 2019.
However it works, it's pretty cool to watch it in action:
Finally, for the more professional 'do it yourself' crowd, Google has also re-arranged the regular editing tools into a scrollable bar across the bottom of the editor. This layout—which is similar to Instagram's Edit tab and Apple's built-in Photos editor on iOS—makes it easier to find and apply the edit you're looking for.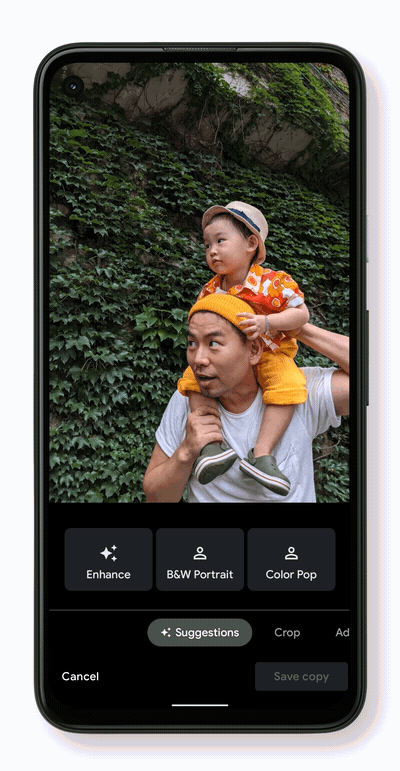 All of this is rolling out to the Google Photos app on Android starting this week, so if you're an Android owner and especially if you own one of Google's Pixel smartphones, update to the latest version to take advantage of these tools.
No word on when (or whether) these features will ever come to the iOS version of the Google Photos app.
(via Engadget)