At a glance
Expert's Rating
Pros
Sounds fantastic
Stylish design
Easy to use
Cons
Lacks Wi-Fi and an accompanying app
Heavy and bulky
Pricey
Lacks IP classification
Our Verdict
The Harman Kardon Go + Play 3 is an elegant, robust, and great-sounding portable Bluetooth speaker. The sound is flawless, with rumbling bass and an accurate midrange. However, the fact that such an expensive and recently launched speaker lacks IP classification, Wi-Fi connection, and an associated app for various settings and services is obviously a minus.
Price When Reviewed
$349.95
Best Prices Today: Harman Kardon Go + Play 3
Sun, surf, and carefree outdoor holidays seem like distant memories right now. Autumn has the Northern Hemisphere in its grip and the conditions for testing a portable speaker may not be optimal, at least when it comes to judging their outdoor performance. But Harman Kardon's new luxury Go + Play 3 is a highly anticipated entry in the portable Bluetooth speaker market, so let's just bite the bullet and take one for the team.
I tested the Go + Play 3's predecessor, the Go + Play, almost exactly seven years ago. A lot of water has flowed under the bridge since then, but I remember the Go + Play as a good performer. So with fond memories as a starting point, I had high expectations for its newly launched successor.
Design & build
In terms of size and design, not much has changed. The Go + Play 3's top has certainly been refined a bit and now has a mirror-like surface compared to the Go + Play's somewhat inwardly sloping look, and the aluminum handle of the Go + Play 3 now runs down the sides of the speaker.
This review is part of TechHive's in-depth coverage of the best Bluetooth speakers.
Otherwise, most of the design elements are seemingly the same–that is, until I turned the speaker over and saw the new exposed downward-facing sub-bass driver.
The predecessor's speaker components consist of two 90mm bass drivers, two 20mm tweeters, and a power output of 4 x 25 watts, while the Go + Play 3 boasts two 70mm mid-range drivers, two 20mm tweeters, a passive radiator, and the aforementioned 130mm subwoofer. The Go + Play 3 is also somewhat heavier, weighing in at 10.4 pounds versus 7.5 pounds for the original Go + Play.
Controls & features
In terms of functionality, less has changed. Wireless communication is still only via Bluetooth, which entails some limitations, mainly regarding range and that playback is interrupted during incoming and outgoing phone calls. Thanks to two built-in microphones, the Go + Play 3 can also be used during calls, but the sound quality is not impressive, especially for those on the other end of your calls.
The controls on the top of the device are few and far between: power button, activate Bluetooth search (two devices can be connected), volume, and a multifunction button for answering and ending calls and skipping music tracks (two presses for forward, three for backward). Simple and logical.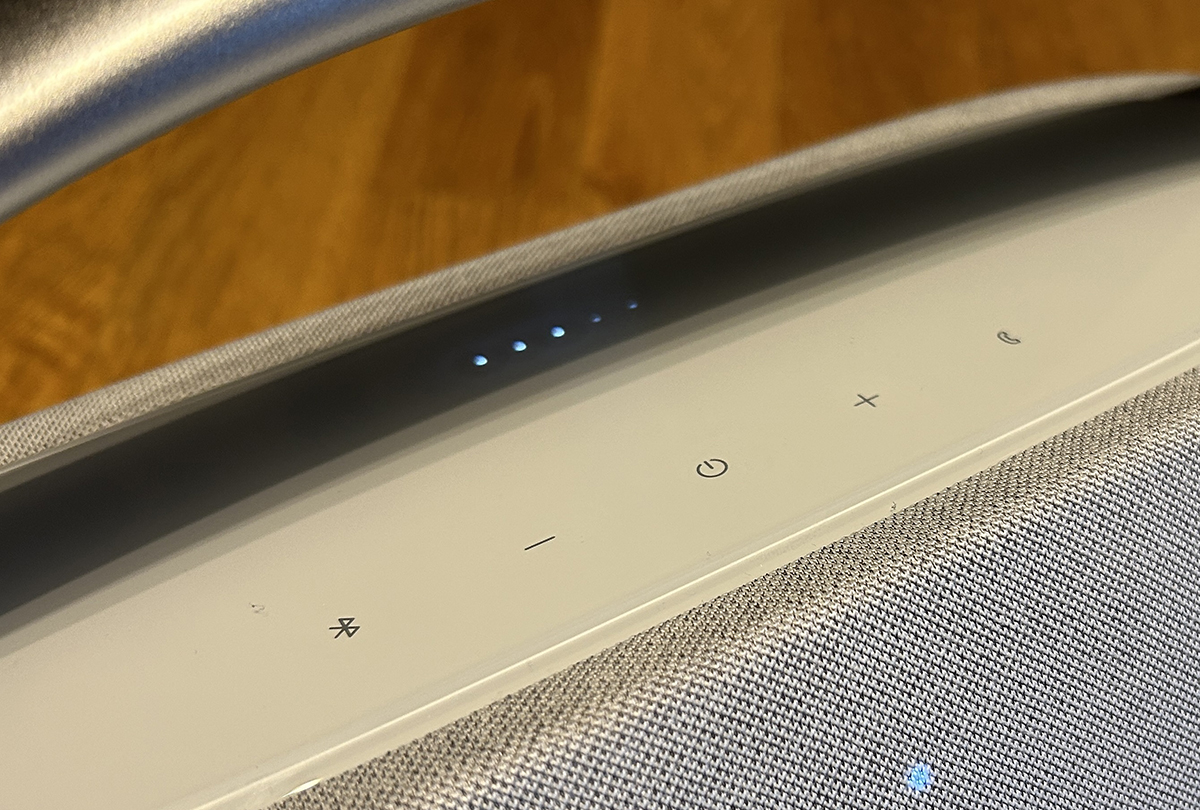 Andreas Bergsman
Lack of customisation options
What is missing, however, is the ability to manually adjust the audio; instead, the system will automatically adapt to the environment and optimize the sound in real time.
Does it work? It's impossible to tell, but regardless, I prefer the ability to experiment for the best possible sound experience. A user would typically perform such audio tweaks in an associated app, but since there is no app for Go + Play 3 itself, you simply have to make any adjustments in the streaming service app.
Andreas Bergsman
Audio performance
Luckily, the Go + Play 3 sounds great. Maximizing bass reproduction is a challenge in the portable Bluetooth speaker market, but the Go + Play 3 delivers an impressive roar, enough to breathe life into any dull recording.
The speaker further shines across the entire register and creates a significant sense of presence with a relatively wide sweet spot. Should that not be enough, it is possible to pair two Go + Play 3 units for a true stereo experience (something I unfortunately couldn't try, given that I had only one speaker for testing).
Another important issue: The Go + Play 3 lacks an IP classification, so it's not clear whether the speaker is protected against moisture. That makes taking the Go + Play 3 on an outdoor adventure a bit of a gamble.
Specifications
Model: Go + Play 3
Tested: October 2023
Manufacturer: Harman Kardon
Type : Portable Bluetooth speaker
Output power: 160 W RMS
Connection: Bluetooth 5.2, 3.5mm audio input
Battery life: Up to 8 hours
Charging time: 3 hours
Frequency response: 43 Hz – 20 kHz
IP rating: Unknown
Active voice control assistant: No
Weight : 10.4 pounds
Size : 17.3 x 9.5 x 7.6 inches
Price: $349.95 at Harmankardon.com
This translated article was originally published on M3, our sister publication.