If you're a convert from cable to streaming, you might find yourself wanting something like a "last channel" button, but for streaming apps.
After all, sometimes you want to jump between two separate streaming services for their live programming. I often do this on Sundays, for instance, while watching NFL Redzone in the NFL app and local Bengals games in Channels DVR. As more streaming services add sports coverage, being able to quickly toggle between them will become more important.
Still, every streaming device handles app switching differently, and some are better at it than others. Here are the quickest ways to switch between apps on every major streaming platform:
Apple TV fast app switching
Apple TV streaming boxes have an app switcher menu (pictured above) that you can bring up by double-clicking the Home button. Swipe right on the remote and click the Select button to choose from any of your most recent apps.
For a more advanced app-switching maneuver, try the Apple TV's picture-in-picture mode. Not all apps support this feature, but those that do will display a picture-in-picture icon inside their video players. When a video is playing in picture-in-picture, you can move or swap video windows by pressing the Home button.
Jared Newman / Foundry
You can also use picture-in-picture with any video source that supports AirPlay from an iPhone or iPad. Send the video to your TV by clicking the AirPlay icon, then switch the video to picture-in-picture mode with the Apple TV remote.
Fire TV fast app switching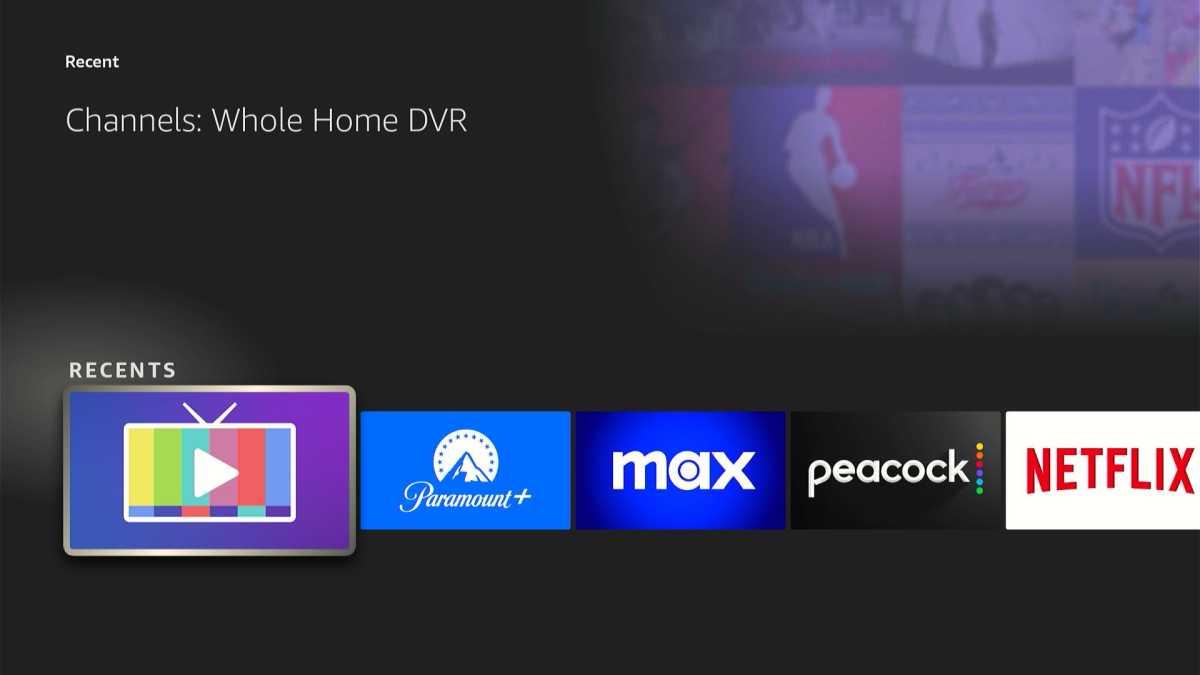 Jared Newman / Foundry
Most Fire TV devices don't have an app switcher menu, but the 2023 Fire TV Stick 4K Max and third-generation Fire TV Cube are the exceptions. Click the Recents icon on the remote for these devices—it looks like two squares layered on top of each other—and you can switch between your most recent apps. This button is also available on Amazon's Alexa Voice Remote Pro, which costs $35 and works with a range of Fire TV devices.
On other Fire TV devices, the best you can do is open a shortcut to your full apps list: Just long-press the home button, then select "Apps."
Unfortunately, it's hit-or-miss as to whether the Fire TV will remember your place in each app, so you may still have to click around to get back to what you'd been watching.
Roku fast app switching
Jared Newman / Foundry
Roku devices don't offer any kind of app switching menu, but there is a workaround: If your Roku remote includes programmable buttons, you can assign each button to a different app and switch between them with one click. Programmable buttons have been included with the Roku Ultra since 2019 and are also available on Roku's Voice Remote Pro, which is sold separately for $30.
To set up the programmable buttons—which are indicated with a "1" and a "2"—just press and hold either one. You can then map the button to the current app, your last-used voice command, or various other functions.
Just be aware that Roku will fully exit the current app when you launch a new one, so you'll need to click back to what you'd been watching each time you switch.
Android TV/Google TV fast app switching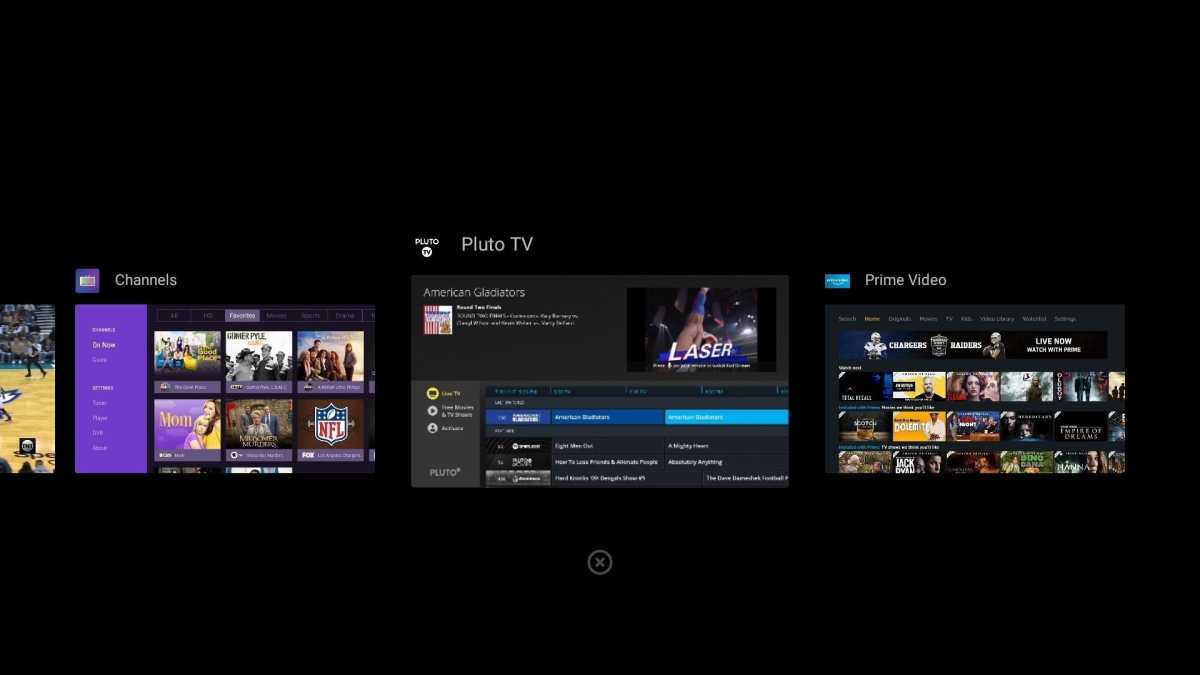 Jared Newman / Foundry
Out of the box, the only Android TV devices that have an app switching menu are Nvidia's Shield TV streaming boxes. Just double-tap the remote's home button to bring up a list of recent apps.
If you're willing to spend $4 and don't mind a somewhat tricky setup process, a neat app called tvQuickActions Pro offers a workaround on other Android TV and Google TV devices. This allows you to reprogram your remote's buttons with extra functions, including a recent app switcher.
Once installed, you'll need to follow the app's instructions to grant various system permissions. Then, head to Buttons & Actions. If you want to double-click the Home button to bring up an app switcher, follow these instructions:
Click "Add Button."
Click your remote's Home button.
Under Button Action Type, select "Usual Action."
Select "Single Press," then go to the Action tab and select "Go to Home."
Select "Double Press," then go to the Feature tab and select "Recent apps." (You'll need to scroll down to find that option.)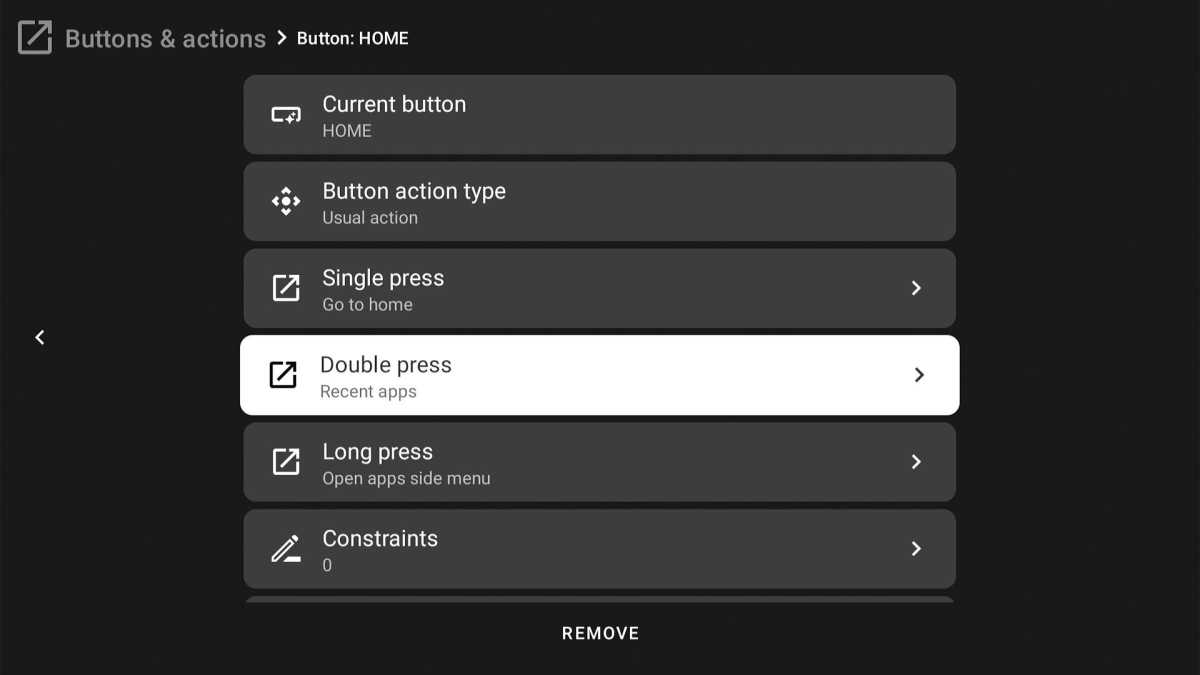 Jared Newman / Foundry
Now, you can double-click the Home button to bring up a recent apps menu, just like on the Nvidia Shield TV and Apple TV.
Switch apps by voice
If all else fails, voice control is a decent fallback for quickly switching between apps, especially on devices that don't have an app switcher built in.
Assuming your remote has a mic button, you can use voice commands such as "launch Max" or "launch Sling TV" to jump straight into the corresponding app. You don't even have to exit out to the home screen first. Just press the mic button and start talking.
Sign up for Jared's Cord Cutter Weekly newsletter for more streaming TV insights.