At a glance
Pros
Very good gaming performance in Full HD
Full HD camera
Fan not too loud
Relatively light
Large numeric keypad
Cons
Only FHD resolution
Mediocre display brightness
No fast USB ports
No card reader
Our Verdict
The bargain alarm clock rings here! With the HP Victus 16, the combination of Geforce RTX 4070 and the FHD display in particular ensures high frame rates in almost every title and every setting, meaning it's a very good price-performance ratio when it comes to gaming.
Price When Reviewed
$1099.99 baseline | $1799.99 as reviewed
Best Prices Today: HP Victus 16 (2023)
When it comes to decently equipped gaming laptops, the price normally hovers around $1,300 to $2,000. Usually, these models have a GeForce RTX 4060 on board. Well, this configurable version of the HP Victus 16 for $1,799 comes with an RTX 4070 and promises better gaming performance in this price range. HP also combines the GPU with a powerful AMD processor.
The 16-inch laptop sits in a sturdy black plastic case. Its RTX 4070 has a TGP of 120 watts, less than the top model of this GPU, which is allowed to draw up to 140 watts in total. With 4,608 shaders, 36 ray tracing cores, and 144 tensor cores, however, it's better equipped than the RTX 4060. The graphics memory is 8GB in both variants. Like all GeForce 40-series GPUs, the RTX 4070 also supports DLSS 3 with Frame Generation.
The processor is also striking in the Victus 16. HP uses a current Ryzen 7 7840HS. This Phoenix CPU uses eight Zen 4 cores with SMT while other notebooks in the price range of the HP Victus 16 with an AMD CPU usually use the 7735HS. This Rembrandt refresh has eight cores of the predecessor architecture Zen3+.
We performed all tests in "Performance" mode. You set the different modes as well as fan control and keyboard illumination in the Omen Gaming Hub tuning software.
Looking for more options? Check out PCWorld's roundup of the best gaming laptops.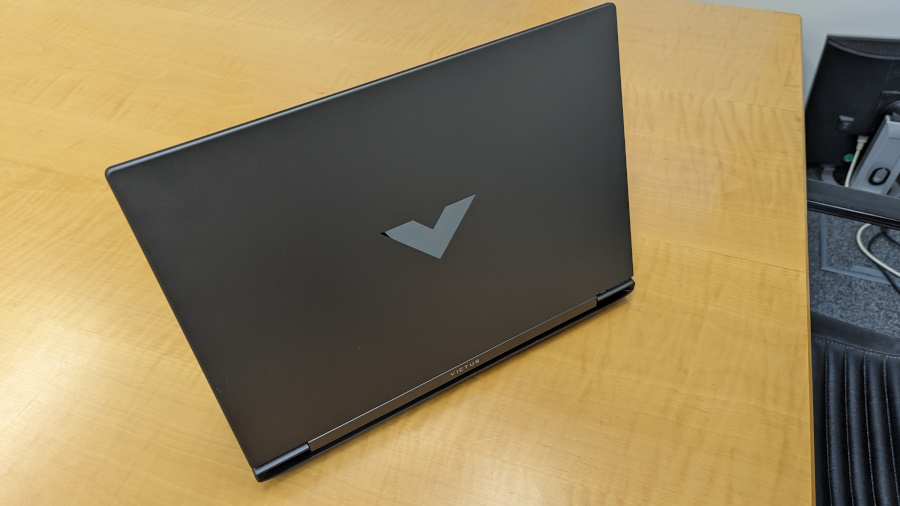 Thomas Rau
| | |
| --- | --- |
| HP Victus 16-s0077ng: Equipment | |
| Processor | AMD Ryzen 7 7840HS |
| Clock speed | Standard clock: 3.8 GHz; Turbo clock up to 5.1 GHz |
| Cores / Threads | 8 / 16 |
| RAM | 16 GB DDR5-5600 (exchangeable) |
| Graphics card | Nvidia Geforce RTX 4070 |
| Graphics memory | 8 GB GDDR6 |
| GPU: Clock speed / TGP | 1605 MHz (standard), 1980 MHz (boost) / 120 Watt |
| Drive | NVMe SSD Kioxia XG8 (PCIe 4.0 x 4) |
| usable capacity | 952.96 GB |
| Format | M.2 2280 |
| Network: LAN / WLAN / Bluetooth | Gigabit / WiFi 6 (Mediatek MT7921) / 5.3 |
| Operating system | Windows 11 Home |
| Display: Diagonal / Resolution / Format | 16.1 inch / 1920 x 1080 / 16:9 |
| Dot density / refresh rate | 138 ppi / 144 Hz |
| Weight: Notebook (with battery) / power supply unit | 2378 / 732 grams |
| Battery: Capacity | 83 Wh |
| Connections left | 1x Type-A USB 3.2 Gen 1, 1x audio, 1x LAN |
| Connections right | 1x Type-C (USB 3.2 Gen 1, Displayport 1.4, Power Delivery), 2x Type-A USB 3.2 Gen 1, 1x power |
| Further features | Front camera (1080p) |
HP Victus 16: The perfect combination for high fps
When it comes to 3D speed, the Victus 16 benefits not only from the RTX 4070, but also from the low resolution of its 16-inch display. It only shows Full HD with 1920×1080 instead of WQHD resolution.
In the 3DMark benchmark, the RTX 4070 is on par with an RTX 3080 from the previous generation. The advantage over an RTX 4060 is just under 20 percent in the Time Spy test to just under 30 percent in the Port Royal ray tracing test. However, the gap upwards is considerable. An RTX 4080 is over 50 percent faster than the RTX 4070.
Here's what's so striking. In 3D Mark, the RTX 4070 in the HP notebook does not show worse graphics performance than the same model with 140 watts when used on an Intel platform, despite the lower TGP, because with a power-hungry Raptor Lake CPU from the HX series at its side, the Nvidia GPU cannot always exhaust the possible power consumption.
For comparison, a Core i7-13700HX needs around 96 watts for just under 21,000 points in Cinebench R23 while the AMD processor only allows itself 60 watts for over 16,000 points. For a result that is almost 30 percent better, the Intel CPU requires 60 percent more power.
The advantage of a lower resolution is clearly evident in the gaming tests. In slightly older games, the HP Victus always delivers playable frame rates even with maximum details and ray tracing. In Shadow of the Tomb Raider (SOTTR), the notebook achieves 147 fps in ultra-high and 107 fps with activated ray tracing shadows in ultra-quality. In Dirt 5, it is 82 fps and 70 fps respectively in ultra-high and with ray tracing.
| | |
| --- | --- |
| HP Victus 16-s0077ng: Test results | |
| System performance | |
| Speed with office programs | 93 points (out of 100) |
| Speed with multimedia programs | 88 points (out of 100) |
| 3D performance | |
| 3D Mark performance | 40 points (out of 100) |
| Gaming score | 79 points (out of 100) |
| Display | |
| Brightness / brightness distribution / contrast | 288 cd/m² / 82 % / 810:1 |
| Anti-reflective display | yes |
| Coverage colour space (in percent) | sRGB: 98 / Adobe-RGB: 76 / DCI-P3: 75 |
| Colour fidelity (deviation Delta-E) | 1,20 |
| Battery life | |
| Battery life (hours:minutes): WLAN test | 05:53 |
| Ergonomics | |
| maximum operating noise under load | 54 dB(A) |
| Temperature top side / bottom side | 39 / 53° Celsius |
In contrast, similarly priced gaming notebooks with the combination of WQHD display and RTX 4060 only achieve playable frame rates of over 60 fps in SOTTR up to the Medium ray tracing level and in Dirt 5 only up to the High detail level.
In Cyberpunk 2077, the Victus 16 achieves playable frame rates in all settings without ray tracing. In Ultra, for example, the HP notebook achieves 87 fps. If you activate ray tracing, it still works well up to the low level with 79 fps, but with higher ray tracing quality, the frame rate drops below 60 fps. With DLSS3 enabled, including frame generation, everything works in Cyberpunk 2077. Even ray tracing overdrive with path tracing can be handled by the RTX 4070 with 75 fps.
Cyberpunk 2077 is one of the first games to support DLSS 3.5 with ray reconstruction. In this version, the upscaling technology uses additional AI computing power to achieve better ray tracing image quality.
Actually, all Nvidia GPUs that support DLSS can use Ray Reconstruction, including 2000 and 3000 series models. In Cyberpunk 2077, however, you have to activate Path Tracing for this function. Its high performance requirements make the game unplayable for most GPUs unless they can use Frame Generation, which only applies to the 4000 series. Even the RTX 4070 in the Victus 16 only manages 46 fps with DLSS Super Resolution without Frame Generation. Only with Frame Generation switched on, the notebook achieves playable frame rates with 75 fps.
In normal gameplay, the improved ray tracing quality is hardly noticeable. Still images, however, show more contrast in shadow areas and a sharper representation of mirrored objects.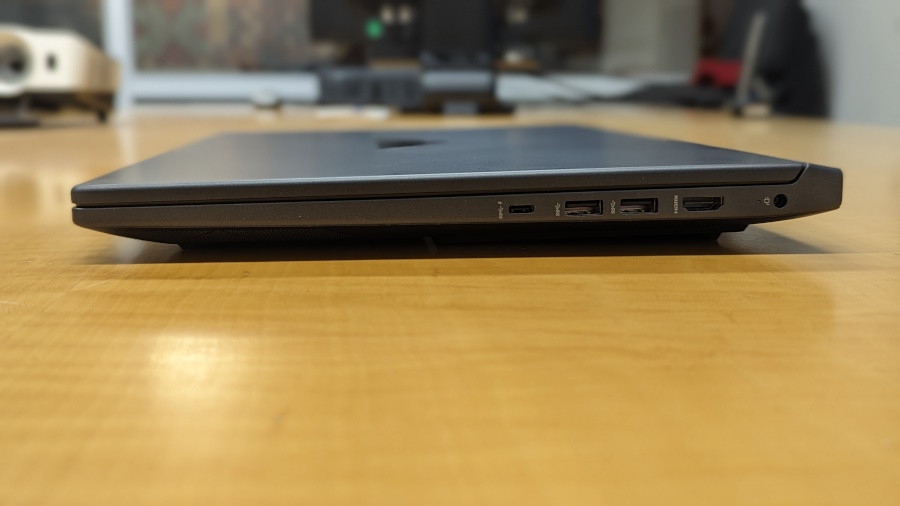 Thomas Rau
HP Victus 16: Enough cores for almost all applications
Even in system benchmarks like PC Mark 10 and Crossmark, the HP Victus 16 delivers a very decent performance for its price. Only in CPU-heavy applications does it lag behind notebooks with a Raptor Lake from the HX series. The AMD CPU can keep up well with a Raptor-Lake-H. Only when an application uses all CPU cores, like the rendering test Cinebench R23, can the Intel CPUs with 14, 16, or 24 cores clearly set themselves apart from the 8-core AMD processor.
The 1TB SSD from Kioxia with PCIe 4 delivers very high data rates of over 7 and just under 6 GB/s for sequential reading and writing. In the practical test, however, it performs weaker than the current top SSDs from Samsung and WD.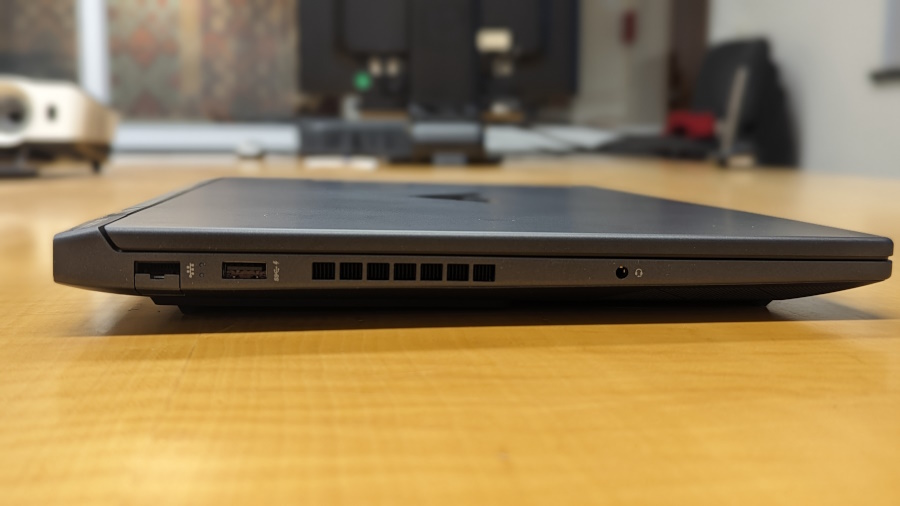 Thomas Rau
HP Victus 16: The fans are under control
Under load, the fans in the Victus 16 operate at around 50 dB(A), somewhat quieter than comparably equipped 16-inch notebooks. HP adjusts the fan speed and thus the volume more flexibly than other manufacturers, who couple the processor's highest performance mode with maximum fan speed. In the Victus 16, the fan occasionally spins up to 54 dB(A) for a short time in the load test, but also reduces the noise gently again without creating a constantly changing soundscape that's more annoying than loud spinning fans.
HP Victus 16: Good enough picture quality
The Full HD display offers a maximum refresh rate of 144 Hz and a picture quality that is okay for the price range of the Victus 16. Contrast and color reproduction are good. However, the luminance of less than 300 cd/sqm is relatively low. Depending on the game, it's also annoying that the brightness decreases significantly towards the lower display area.
Thomas Rau
HP Victus 16: Fast USB ports are missing
The same applies to the Victus 16's equipment: it's adequate, but other notebooks in this price segment offer more. This doesn't apply to the SSD size, which at 1TB is on the expected level or the communication hardware with Wi-Fi 6 WLAN and Gigabit LAN.
However, the HP notebook offers many, but mainly slow ports. The three Type A ports and the Type C port only deliver USB 3.2 Gen 1 data rates. Thunderbolt 4 or USB 4 with a higher speed are missing. Compared to last year's model, HP has also omitted a card reader.
There are only two external monitor connections. One with HDMI 2.1 and Displayport 1.4a on the Type-C socket, which can also be used to charge the notebook if you don't want to take the 230-watt power supply weighing over 700 grams with you. The one positive is that the front camera displays moving images in 1080p.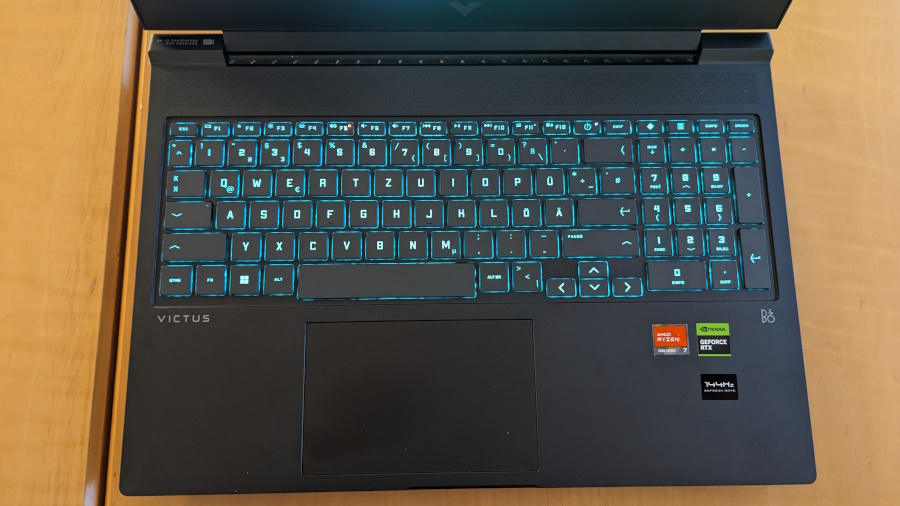 Thomas Rau
HP Victus 16: Keyboard is mediocre, but the touchpad is good
The verdict on the controls is similarly ambivalent: On the right side of the keyboard is a large numeric keypad whose keys are hardly smaller than those in the core area of the keyboard. The Enter key, however, is only single-spaced, and the cursor keys, although easily accessible, are smaller. A poor pressure feedback is annoying when typing and playing games – at least the keyboard is built in stably and is quiet even when typing fast.
In the Omen Hub, you can only set a static illumination in one color for the entire keyboard field. It is only perceptible in the dark; in brighter ambient light, it is hardly noticeable that the keyboard has a colorful background.
The touchpad is more pleasing with a clear pressure point that does not acknowledge a mouse click excessively loudly. The surface offers a pleasant balance between grippy and smooth, for fast yet precise mouse control.
HP Victus 16: Good endurance
For a gaming notebook with a 16-inch display, the Victus 16 is quite light at just over five pounds. That's light for a gaming laptop, which usually tips the scales at six pounds or more. In the battery test, it lasted just under six hours while WLAN surfing, another good result.
This review was translated from German to English and originally appeared on pcwelt.de.