At a glance
Expert's Rating
Pros
Excellent CPU and GPU performance for a consumer Mac
Thin design in playful colors
Great image quality on the display
Cons
Stand not height adjustable
No nano-texture glass option for the display
24-inch model is the only size available
Our Verdict
If you're looking for a new, complete Mac setup– a computer, display, and input devices–the M3 iMac is a great choice. Apple makes the setup easy and smooth, the iMac looks good on a desk, and the new M3 chip is speedy and solid for everyday use.
Price When Reviewed
$1,299 base model
Best Prices Today: Apple 24-inch iMac (M3, 2023)
$1299
Over two years ago, during the Spting Loaded event in April 2021, Apple's iconic iMac was completely redesigned and outfitted with a then-cutting-edge M1 chip. But as Apple began to phase in the M2 a year later, each time a new update launched, the same question came up: What about the iMac? And there was nothing.
At the end of October 2023, we finally got an answer: Apple updated the iMac with the M3, skipping the M2 series altogether. It has the same design, colors, and features as the M1 iMac–so, an icon in Apple's product lineup got a simple chip upgrade. That's a good way to make a great Mac even better.
Specifications
Apple offers three standard configurations of the iMac. The model we reviewed is the high-end model with customizations that increase the price to $2,859/£2,958. Our review unit has the following specifications:
CPU: M3 with 8 cores (4 performance cores, 4 efficiency cores), 16-core Neural Engine
GPU: 10 core
Memory: 24GB unified memory (100GBps memory bandwidth)
Storage: 2TB SSD
Display: 23.5-inch Retina; 4480-by-2520 native resolution at 218 pixels per inch; 500 nits brightness, 1 billion colors; P3 color gamut; True Tone
Ports: 2 Thunderbolt 4/USB-C; 2 USB-C; 3.5mm audio; gigabit ethernet
Networking: Wi-Fi 6E (802.11ax); Bluetooth 5.3; gigabit ethernet
Input devices: Magic Keyboard with Touch ID and Numeric Keypad; Magic Mouse; Magic Trackpad
Weight: 9.87 pounds (1.62 kg)
Dimensions: 18.1 x 21.5 x 5.6 inches (46.1 x 54.7 x 14.7 cm)
Price: $2,859/£2,958
Foundry
Performance
At the heart of the iMac is a M3 chip, replacing the M1 from two years ago. The M3 is the base chip for the series, with the M3 Pro and Max currently available in the 14- and 16-inch MacBook Pro.
The M3 configurations start with an 8-core CPU with 4 performance and 4 efficiency cores. Apple offers the M3 in the $1,299/£1,399 iMac with an 8-core GPU, while the $1,499/£1,599 and the $1,699/£1,799 iMac (the model we tested) have a 10-core GPU.
The M3 has a bunch of improvements and optimizations over the M1. For details on how the M3 compares to its predecessor, read Macworld's guide to how the M3 brings more performance to the Mac. Here's how the M3 iMac did in our benchmark tests.
Geekbench is a popular way to gauge all-around performance, and it shows that the M3 iMac's Multi-Core results are 45 percent faster than the M1 iMac. In Single-Core testing, the M3 was 36 percent faster than the M1–Apple claims a 35 percent improvement.
The differences are narrower when comparing the M3 to the M2 in the Mac mini. The M3's Single-Core result was 21 percent faster than the M2, while the Multi-Core score was 24 percent. These types of boosts are what we usually expect from sequential generations.
Still using an Intel-based iMac? Compared to one of the last 21.5-inch Intel-based iMacs, the M3 iMac doubles the speed. The M3 iMac is also faster than an iMac Pro with an 18-core Intel Xeon processor–okay, sure, that's a 6-year-old machine, but still, it's fun to see.
Cinebench 2024 is a 3D rendering test that is an indicator of how a chip handles a heavy load. The previous version, R23, was CPU-focused, but with the 2024 version, GPU testing has been reinstated. The M3 more than doubles the GPU performance of the M2, and increases Multi Core by 27 percent. One result that stands out: the M3 actually matches the GPU performance of the M2 Pro, despite having nearly half as many cores.
The older version of the Cinebench benchmark, but without GPU testing. The M3 iMac improves by 22 percent over the M1 iMac. Overall, if you look at both the R23 and 2024 results, you'll see that if you perform graphics-intensive rendering frequently, you should go with a Pro- or Max-level chip. But the base M3 is fine for hobbyists and non-professionals who don't do this kind of task regularly.
Handbrake 1.6 video encode
We use Handbrake to convert the 4K Tears of Steel video to a 1080p H.265 file. This CPU-intensive test shows the vast improvement the M3 has over the M1. The M3 is 25 percent faster than the M2–there's that typical speed increase usually from one generation of chips to the next.
When exporting a 4K ProRes video at Best quality in iMovie, the M3 iMac is twice as fast as the M1 iMac. The M3 has an upgraded media engine, which helps the M3 iMac do better than the M1 iMac when exporting a 4K video at High quality.
The M3 iMac has an SSD that offers a small boost in read speeds over the SSD in the. M1 and M2. The M3 iMac's write speed gets a sizeable increase over the M1 iMac with a 28 percent improvement.
The Geekbench 6 Compute benchmark tests the GPU performance using either the Metal or OpenCL APIs. The M3 iMac's score shows a 50 percent increase over the M1 iMac. The M3 basically has the same performance as the M2 in the Mac mini.
Rise of the Tomb Raider and Civilization VI are older games written for Intel and not optimized for Apple's Metal graphics API. The M3's 10 GPU cores compared to the M1's eight help give it a good increase in framerate.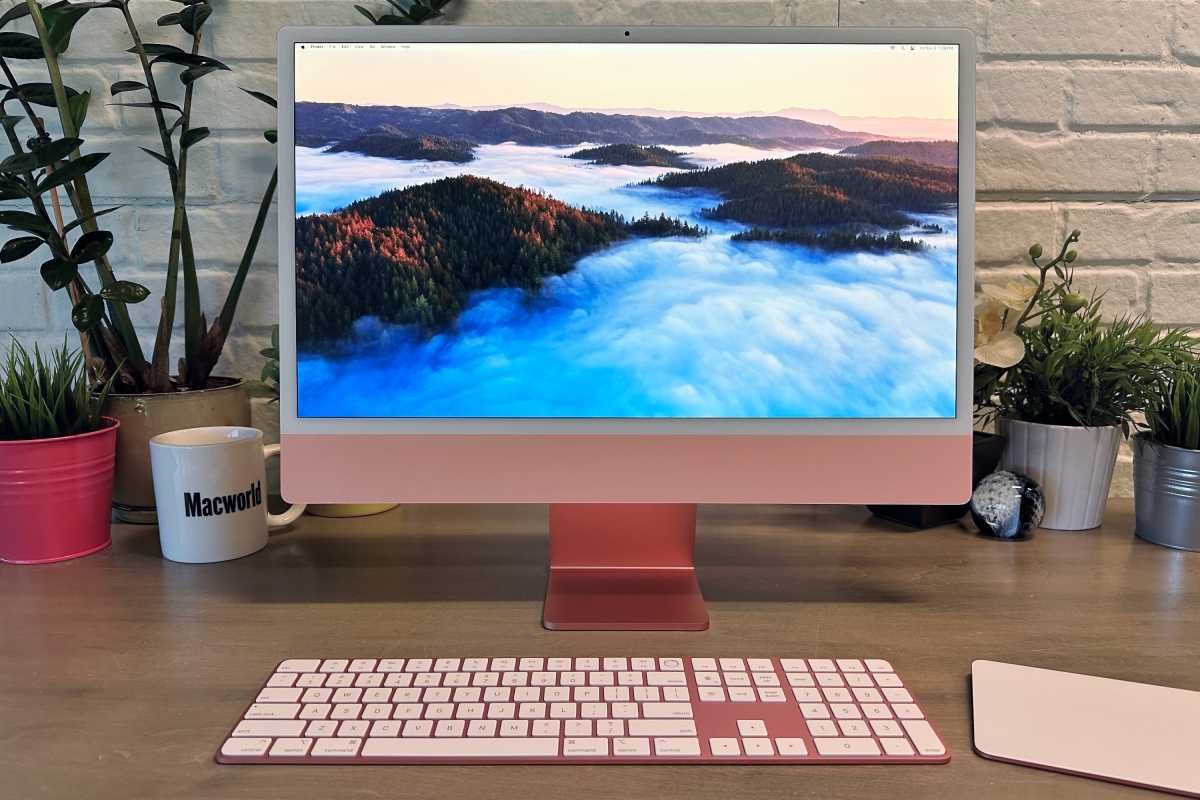 Foundry
Design and build
Iconic all-in-one design is the same as the 2021 release
Stand is not height adjustable
Some colors are not available with the $1,299/£1,399 model
Apple redesigned the iMac in 2021, and since that was just two years ago, we're not going to see major changes—even the colors are the same. The body has two tones, with a light hue on the front and a dark color on the back. The colors are playful and brighten any room, but if you're looking for a "neutral" color, you'll want silver–all iMacs are available in blue, green, pink, or silver. Step up to the $1,499/£1,599 or $1,699/£1,799 iMac and you can also pick orange, purple, or yellow.
Every iMac has a white bezel around the display that complements the color tones better than black bezels would. But that means the thin black border between the display and bezel is visible. If you often use a MacBook or an Apple external display–both of which have black bezels–you haven't noticed this screen border. You will with the iMac, but maybe it won't bother you.
The body itself is thin, measuring 11.5mm, but it's not flimsy. It's so thin that the 3.5mm audio jack, which is longer than 3.5mm, has to be placed on the side instead of on the back, but it still feels as sturdy as if was twice as thick.
One knock on the design is that the aluminum stand only pivots forward and back. The height is not adjustable, which means you're left to your own devices if you need the display at a higher or lower position.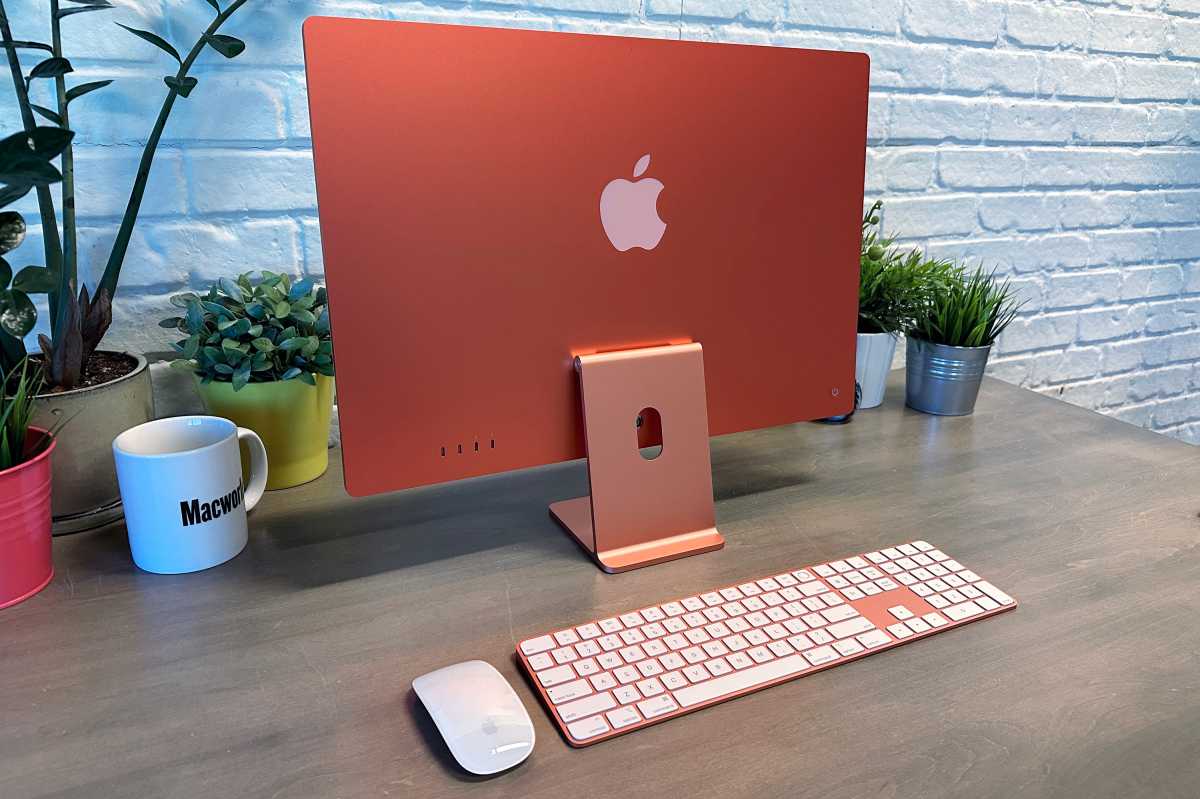 Foundry
Screen and speakers
23.5-inch Retina (LED) display with 4.5K resolution
High-fidelity six-speaker system with force-cancelling woofers
Apple did not give the iMac the SDR brightness boost that it gave the new 14- and 16-inch MacBook Pro, but it's not necessary for the iMac since it's a desktop machine. That means that the iMac display's specifications have not changed since the M1 release: It's a 23.5-inch Retina display with a native resolution of 4480-by-2520 resolution, a brightness of 500 nits, and support for one billion colors and the P3 color gamut.
It's an excellent display for the general consumer on a desk, in a kitchen, in the living room, in a dorm, or in a kiosk, though it's available only with a glossy glass front, so you need to be mindful of light sources in your room to prevent glare.. Professionals who are doing color-critical work, video editing, animations, or other projects that involve graphical detail may prefer Apple's Studio Display or Pro Display XDR, which can connect to the iMac via Thunderbolt.
On the bottom edge of the iMac, you'll find the six-speaker system and woofers that support Spatial Audio on music or video with Dolby Atmos. They're powerful enough to serve a room if you're gathered around the iMac to watch streaming videos. The 3.5mm audio jack on the side supports high-impedance headphones.
The iMac has a three-mic array and you can use it for FaceTime, Zoom, and other online meeting places, but as often happens with Apple's built-in mics, it creates a little bit of an echo and you get that "mic in the middle of the room" sound quality. If you want to sound your best in those meetups or you want to record videos of yourself while in front of the iMac, you'll sound better if you use a USB-C or Bluetooth microphone.
Foundry
Keyboard, mouse, and trackpad
Color-coordinated input devices
Touch ID option on the Magic Keyboard
Lightning lives!
The iMac includes a Bluetooth Magic Keyboard and a Magic Mouse. Apple has an option to upgrade to a Magic Keyboard with Touch ID and Numeric Keypad ($30 more), as well as a Magic Trackpad ($50), or you can get both the Mouse and Trackpad ($129). Apple makes good keyboards, but a lot of users are picky about the feel and how the buttons act, so you might decide to go with a third-party keyboard–the same can be said for the Magic Mouse. However, no third party makes a Touch ID keyboard, and if you really want it, you must go with Apple's.
Touch ID can be used in many instances where macOS requests a password. A prompt appears when you press the Touch ID button, and when you place your finger on the button, you are given access. It's not as quick and easy as Face ID, but it's a lot better than having to look up a password and then type it. Touch ID is not standard with the $1,299 iMac; it's an extra $50.
Apple has been switching its iPhones, iPads, AirPods, and other devices from having Lightning connectors to USB-C, or else they can't sell its goods in the European Union However, the Magic Keyboard, Mouse, and Trackpad still have Lightning ports. Apple doesn't have to make the change to these devices since they existed before the European Union's law went into effect, but if everything else is switching, why not the Magic devices? For now, iMac users have to keep a Lightning cable around (which is included) for charging–if you're still using an older iPhone or iPad with Lightning, that's not such a big deal, but when you upgrade those items you'll be using USB-C, but you need to keep the Lightning cable for the Magic devices.
Ports and connectivity
USB-C on all iMacs
Thunderbolt and gigabit ethernet on higher-end models
The iMac in this review has four ports: two Thunderbolt/USB 4 ports and two USB 3 ports. Apple puts the ports on the back of the iMac, on the lower right side when you're in front facingt the screen. If you have older devices that use USB-A connectors, you'll need USB-C to USB-A adapters. Apple has one for $19 but you can find more affordable ones on Amazon or other retailers. For example, I've bought Nonda USB-C to USB adapters; you get two for $11 in the U.S., and they work great. (Check out our Thunderbolt adapter guide to help you find the adapters you need.) The $1,299 iMac has just two USB-C ports, so if you get that model, plan accordingly and think about buying a USB hub.
Foundry
The $1,499/£1,599 and $1,699/£1,799 iMacs have gigabit ethernet with the port built into the power adapter. The iMac also includes Wi-Fi 6E (802.11ax) and Bluetooth 5.3, both upgrades from the 2021 model.
The power adapter's cable is colored to match the iMac, and it has a magnetic connector–but it's not MagSafe. It's not made to break away like MagSafe on a MacBook; it stays in place securely and tightly.
Camera
1080p FaceTime camera
No Face ID
Apple hasn't done anything to the camera with the M3 iMac. It's still a 1080p device with an image signal processor with computational video, and it's still a good camera that produces image quality that won't be embarrassing in video conferences or FaceTime chats.
If you want even better image quality, you can use your iPhone as a camera through Continuity Camera. You can use a mount such as Belkin's iPhone Mount with MagSafe ($39.95) to place the iPhone at the top of the iMac.
Price and availability
Apple offers three standard configurations of the iMac. All have the M3 ship, but the base model is missing a lot of features found in the mid-level and high-end models. Here are the prices and a breakdown of the features that are different between the three standard configurations. All the models can be customized with more memory, a bigger SSD, etc.
$1,299/£1,399
$1,499/£1,599
$1,699/£1,799
M3 CPU/GPU
8-Core CPU
8-Core GPU
8-Core CPU
10-Core GPU
8-Core CPU
10-Core GPU
SSD
256GB
256GB
512GB
Ports
2 Thunderbolt 4/USB-C 3.5mm audio jack
2 Thunderbolt 4/USB-C 2 USB-C 3.5mm audio jack gigabit ethernet
2 Thunderbolt 4/USB-C 2 USB-C 3.5mm audio jack gigabit ethernet
Keyboard
Magic Keyboard  
Magic Keyboard with Touch ID
Magic Keyboard with Touch ID
Colors
blue, green, pink, silver
blue, green, pink, silver, orange, purple, yellow
blue, green, pink, silver, orange, purple, yellow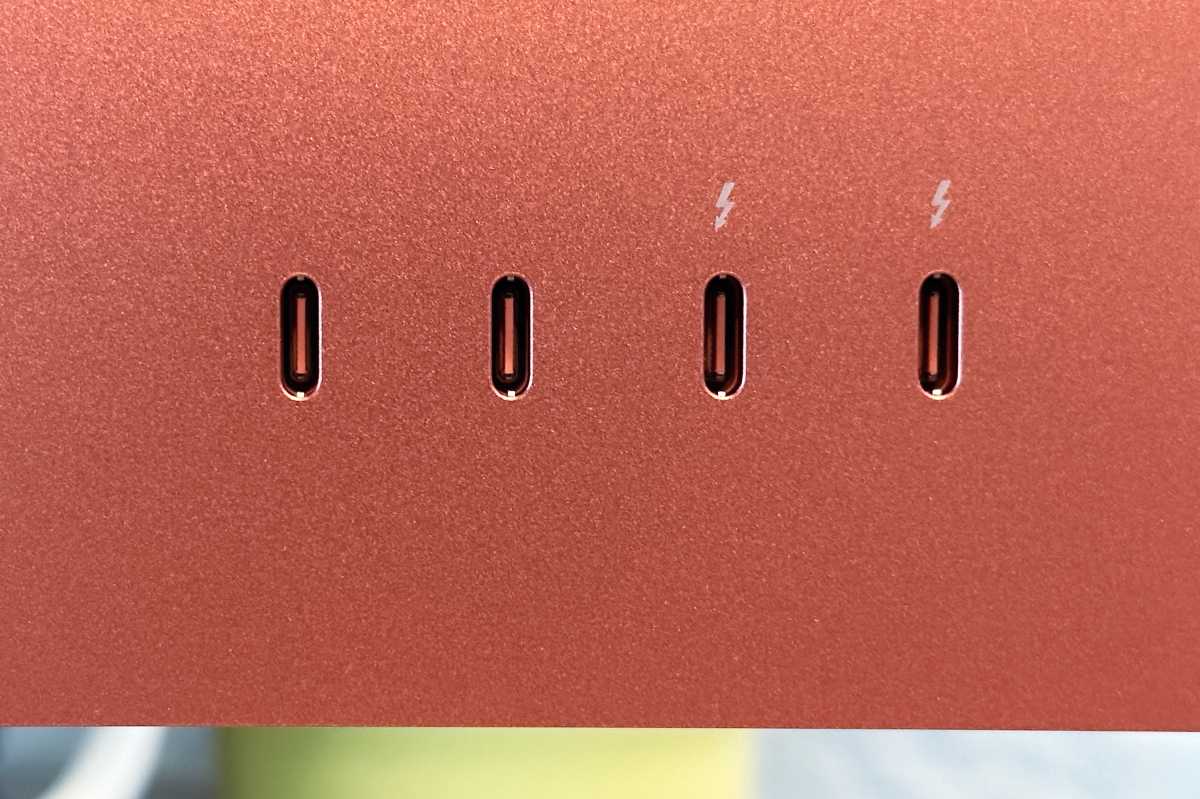 Foundry
Should you buy the M3 iMac?
If you're looking for a new, complete Mac setup– a computer, display, and input devices–the M3 iMac is a great choice. Apple makes the setup so darn easy and smooth, the iMac looks good on a desk, and the new M3 chip is speedy and solid for everyday use.
This M3 upgrade replaces the M1 iMac that is over two years old. Most people who've invested in the M1 iMac aren't in a production environment; they're mostly home office users and general office workers who use productivity apps, access the internet, and use consumer-level content-creation apps such as iMovie, GarageBand, or Adobe Photoshop Elements. If that sounds like you, upgrading is a matter of your budget. I think most can stick with the M1 iMac for a little while longer, maybe even until Apple upgrades the iMac again.
If you are an M1 iMac owner and you are convinced that you want the M3 iMac, you should see what Apple will offer in its Trade In Program to help offset the cost. Or you can use the old iMac as a second display with the M3 iMac–it's easy to set up in Apple's Display System Settings.
But if you're using an Intel-based iMacs, the M3 is a no-brainer. The speed gained can't be ignored any longer–you're wasting time that you can spend on other things.
Finally, if you want an iMac bigger than the 24-inch model the company offers, you could be waiting for a while. Apple received a lot of questions about a 27-inch iMac—which has been the subject of rumors for years—and wants me to tell you that it has no plans for a 27-inch iMac with Apple silicon. Instead, you should consider a 27-inch Studio Display with a Mac mini or a Mac Studio. However, Apple was very specific about a 27-inch screen and didn't specifically dismiss rumors of an iMac Pro with a 32-inch display. Stay tuned.