Apple recently unveiled the new iPhone 15 range at its September Wonderlust event, alongside the new Apple Watch Ultra 2, Apple Watch Series 9 and new versions of the operating systems that accompany them. So, if you're still using the trusty iPhone 12, is it time to dig into your savings and trade up to the iPhone 15? We put the two head-to-head.
iPhone 12 vs iPhone 15: Tech specs
| | | |
| --- | --- | --- |
| | iPhone 12 | iPhone 15 |
| Display | 6.1-inch Super Retina XDR OLED,  2532×1170, 460 ppi; 625/1,200 nits peak brightness (typical/HDR) | 6.1-inch Super Retina XDR OLED, 2556×1179, 460ppi; 1,600/2,000 nits peak brightness (HDR/outdoor); Dynamic Island |
| Processor | A14 Bionic | A16 Bionic |
| Storage | 64GB/128GB/256GB | 128GB/256GB/512GB |
| Rear Camera | Dual 12MP, Ultra Wide: ƒ/2.4 aperture, 0.5x and 1x optical zoom Wide: ƒ/1.6 aperture | Dual 48MP f/1.6 Main, 12MP f/2.4 Ultra Wide; 0.5X, 1X, and 2X zoom |
| Front Camera | 12MP TrueDepth, f/2.2 | 12MP TrueDepth, f/1.9 |
| Video Recording | 4K video recording at 24 fps, 30 fps or 60 fps; HDR Dolby Vision up to 60fps | 4K video recording at 24 fps, 25 fps, 30 fps or 60 fps; HDR video recording with Dolby Vision up to 4K at 60 fps; Cinematic mode; Action Mode |
| Biometric Security | Face ID | Face ID |
| Wi-Fi | Wi-Fi 6 | Wi-Fi 6 |
| LTE | 5G | 5G |
| Charging | Lightning | USB-C |
| Wireless Charging | Qi, MagSafe | Qi, MagSafe |
| Bluetooth | 5 | 5.3 |
| Apple Pay | Yes | Yes |
| Waterproofing | IP68 | IP68 |
| SIM | Dual  (nano and eSim) | Dual  (nano and eSim) |
| Dimensions | 146.7mm x 71.5mm x 7.4mm | 147.6mm x 71.6mm x 7.8mm |
| Weight | 162g | 171g |
As you'd expect with two phones that are a few generations apart, the iPhone 15 has some decent upgrades in terms of specs. When the iPhone 12 was released in October 2020, the A14 Bionic was the top-of-the-line processor for Apple's iPhone range, but three years on it's been surpassed by the A16 Bionic. Why just two generations? Apple has recently decided to push customers towards the Pro models by making the newest processor an exclusive feature of its high-end phones. So moving from an iPhone 12 to an iPhone 15 isn't as big a jump as it might have been had Apple stuck with its previous pattern of giving all four models the same chip.  
Storage has been bumped up with the iPhone 15, so the 64GB baseline model found on the iPhone 12 lineup is no more, with Apple now making 128GB the lowest amount of capacity on offer, with 256GB and 512GB the other options. 
In terms of battery life, Apple lists the iPhone 12 at 17 hours of video playback, while the iPhone 15 tops out at 20 hours, so you should expect more longevity from the newer model. This will be especially true if you've had the iPhone 12 for a couple of years or more, as the battery will already have started to deteriorate. 
iPhone 12 vs iPhone 15: Design and build
Regarding the rest of the specs for the two models, here's a more thorough breakdown of the similarities and differences.
Construction
Apple has stuck with the square-edged chassis design it introduced with the iPhone 12 range, so that at first glance there isn't much difference between the two models. In terms of size, they're almost identical:
iPhone 12:  146.7mm x 71.5mm x 7.4mm; 162g
iPhone 15:  147.6mm x 71.6mm x 7.8mm; 171g
Yes, the iPhone 15 is marginally larger in all dimensions, but in the hand, it's almost imperceptible, especially once you put either in a protective case. 
One obvious difference though is the cable that comes in the box. To comply with the upcoming EU law, Apple has switched from its proprietary Lightning connector to the more standard USB-C on the iPhone 15. Aesthetically it doesn't have much effect, but you will now be able to interchange your charging cable with other devices. 
Both have IP68 waterproof ratings, aluminum frames, glass backs, and support wireless charging (including MagSafe).  
There's also an iPhone 15 Plus, just like the iPhone 14 Plus that introduced the format, but aside from its larger frame and display, it's essentially the same device as the iPhone 15. 
Colors
At the time of writing, the iPhone 12 offers a wider range of color schemes for the body, but Apple has tended to launch a new color about six months after the launch of a model to presumably bump up sales. With this in mind, we expect the two models to achieve parity at some point in the next few months. Until then, the iPhone 12 comes in Purple, Blue, Green, (PRODUCT) Red, White, and Black
Apple
And the iPhone 15 is available in Pink, Yellow, Green, Blue, and Black.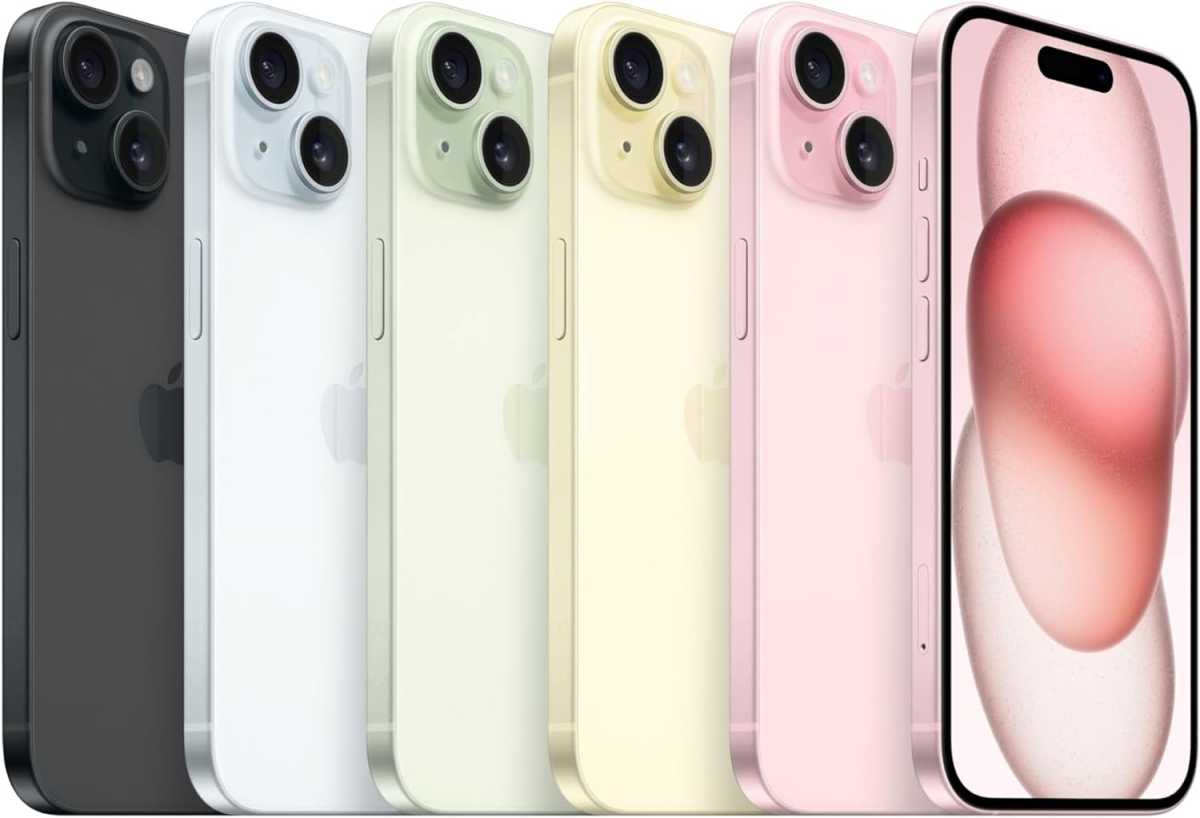 Apple
Display
On either device, you'll find a 6.1-inch Super Retina XDR display. But they're still quite different: Whereas the iPhone 12 has the infamous notch at the top of the panel, the iPhone 15 moves to the new Dynamic Island that first debuted on the iPhone 14 Pro models. This uncouples the blacked-out area from the top of the screen and has it floating near the upper edge. While this sounds worse, clever software means that the island expands to show additional information about the apps you're using, as well as offering interactivity.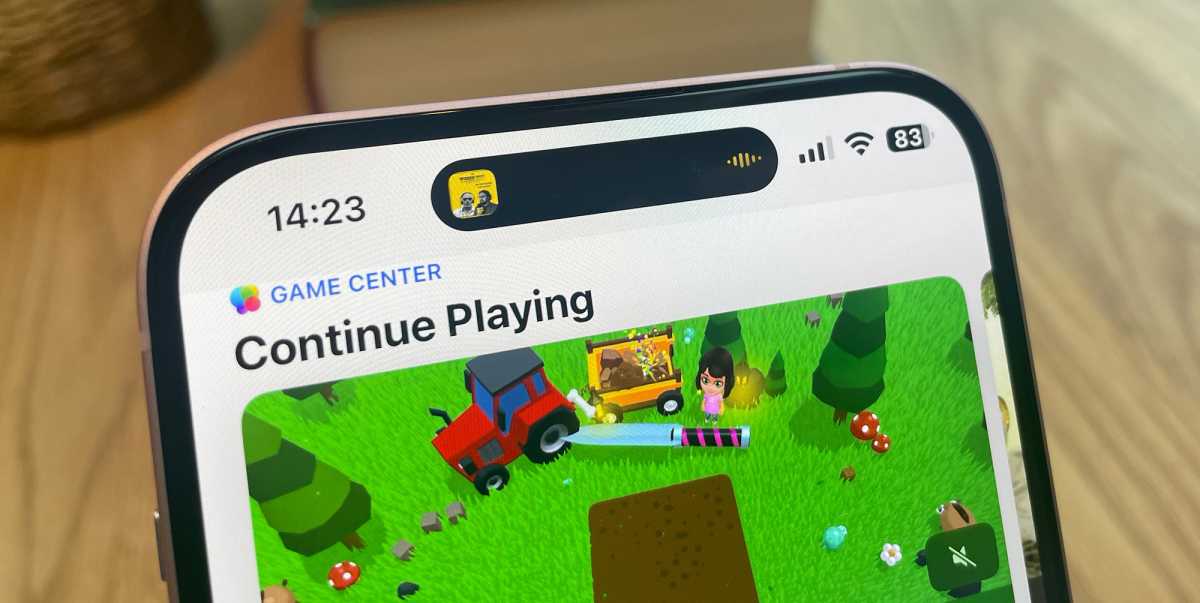 David Price / Foundry
The iPhone 15 panel is also brighter, going from the 625 nits max brightness (typical) of the 12 to a whopping 1,000 nits. HDR brightness has also increased from 1,200 to 1,600, plus Apple has introduced an outdoor brightness level on the iPhone 15 that goes all the way up to 2,000 nits, so you should be able to read the screen perfectly even on very sunny days. 
iPhone 12 vs iPhone 15: Cameras
Cameras are always an incredibly important part of an iPhone and this year the iPhone 15 received one of the biggest boosts for some time in this department. Apple has used its tried and tested dual 12MP sensors for the front cameras in iPhones for a while now, as exhibited by the iPhone 12, but this year it got a rather considerable bump with a new 48MP sensor given to the main camera in the iPhone 15. Now, the iPhone 12 has a perfectly good camera that takes great images, but the details that can be captured in the newer sensor mean there will be more data for iOS to play with. This results in a new 2x optical zoom, which is the first time this feature has been available in non-Pro iPhone models, plus the ability to refocus images even after they've been taken.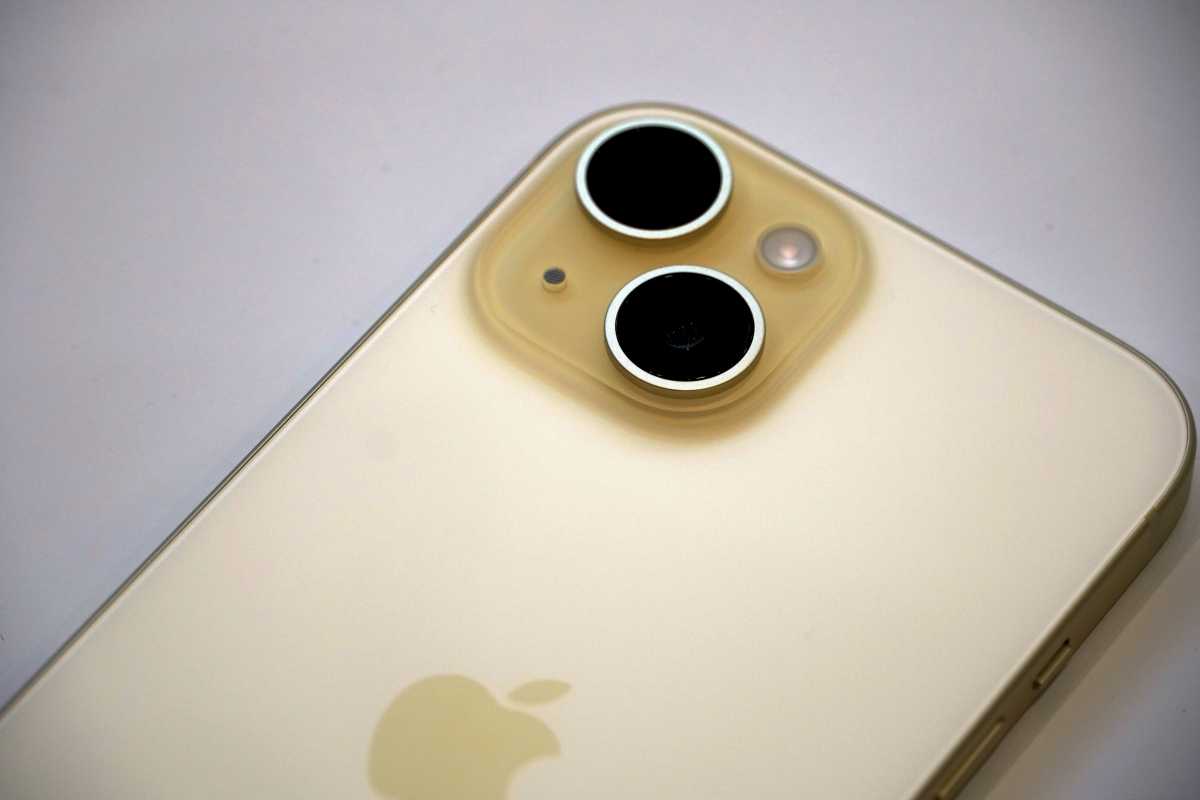 Jason Snell
This step forward applies to video too, with the Action Mode that was introduced with the iPhone 14 also being available in the iPhone 15. This allows for stabilization in video footage even while the camera itself is being shaken (such as while traveling in a fast car or being held while running).
iPhone 12 vs iPhone 15: Emergency safety features
Since the iPhone 12 was launched, Apple has been hard at work adding safety features to its devices that can be literal life-savers if the owner should find themselves in a dangerous situation. This means the iPhone 15 gets these important additions, while they remain absent from its older sibling. 
These include Crash Detection, which as the name suggests has the iPhone sense if there has been a sudden stop which could be from an automobile accident. It then displays a message asking if you want to call the emergency services, should you not respond for 20 seconds, it will do so automatically, providing them with your current location.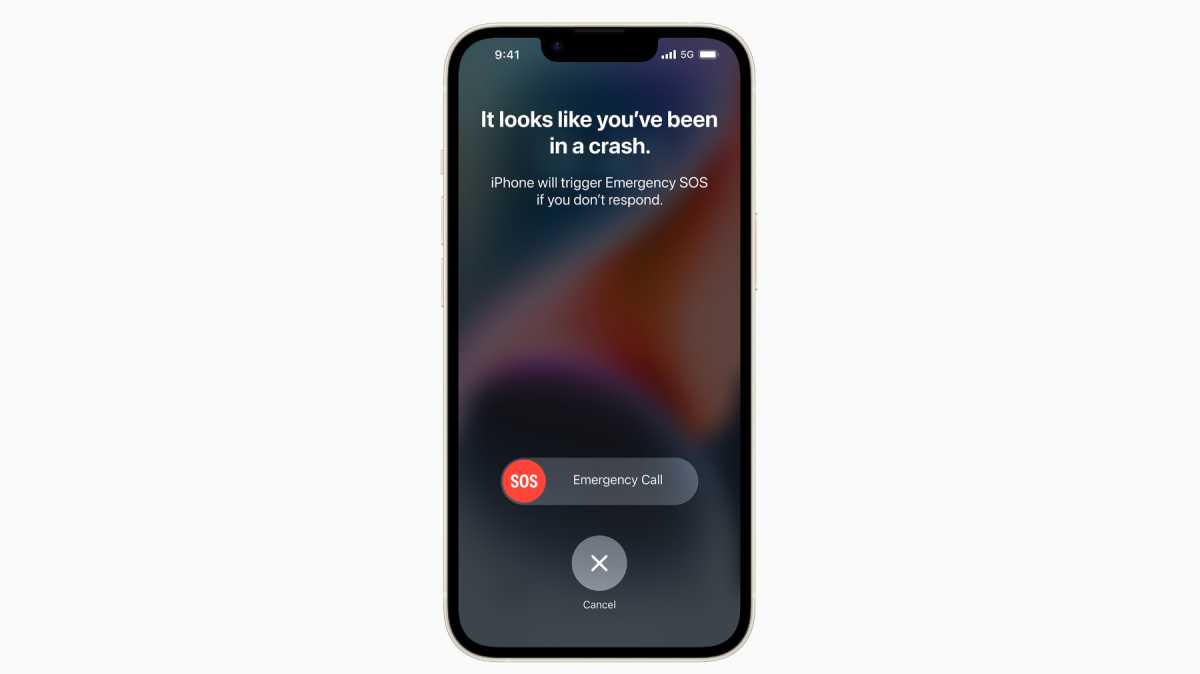 Apple
There's also Emergency SOS via Satellite, which lets you access satellite services that can relay calls when you're out of cellular coverage – say you have an accident while out hiking. Plus the new Roadside Assistance via Satellite offers a similar way to get yourself out of a potentially risky situation. 
iPhone 12 vs iPhone 15: Price
With the launch of the iPhone 15, the iPhone 12 has been discontinued by Apple, so you can no longer buy the devices directly from its stores (although you may still find a few on the Apple Refurbished Store).  
As a rough guide of what you might pay when looking at third-party retailers, here's how the iPhone 12 was priced when it was still available from Apple. 
iPhone 12
64GB: $599 / £649 / €809
128GB: $649 / £699/ €859
256GB: $749 / £809 / €979
iPhone 12 64GB – Blue – Unlocked

$301.71
iPhone 12 64GB – Black – Unlocked

$310.65
iPhone 12 64GB – Green – Unlocked

$317.93
iPhone 12 64GB – (Product)Red – Unlocked

$318.46
iPhone 12 64GB – White – Unlocked

$335.80
iPhone 12 128GB – Black – Unlocked

$355.99
iPhone 12 128GB – Blue – Unlocked

$357.00
iPhone 12 128GB – Green – Unlocked

$360.00
iPhone 12 128GB – Purple – Unlocked

$382.18
iPhone 15
128GB: $799 / £799 / AU$1,499
256GB: $899 / £899 / AU$1,699
512GB: $1,099 / £1,099 / AU$2,049
$829.99
These are the prices directly from Apple, but if you shop around you may find some better deals with third-party retailers. 
iPhone 12 vs iPhone 15: Verdict
Even if your iPhone 12 is newer than its 2020 launch date, the iPhone 12 lacks many of the premium features that have been bestowed upon the new iPhone 15. The Dynamic Island night not be something that sways you, but the upgraded camera sensor is a definite plus as it brings advanced features like a 2x optical zoom, refocusing, and extreme video stabilization. More storage on the baseline model is also good news, not to mention the brighter display, longer battery life, and emergency features. 
As always, if you think you can survive another year with your iPhone 12, you'll get an even better phone next year, but we'd say that the gap between the two is enough to justify heading to the Apple Store to buy one.