At a glance
Expert's Rating
Pros
Incredibly lightweight 
Excellent battery life 
Great port selection 
Solid everyday performance
Cons
Cheap-feeling build 
Display only 60Hz LCD 
No discrete GPU
Our Verdict
The LG Gram 17 packs a lot into an incredibly lightweight chassis, but you'll have to make do without some of the premium features you'd expect at this price. Unless you're set on a 17-inch laptop, there are better options elsewhere.
Price When Reviewed
From $1,399 | Model reviewed $2,099.99
Best Prices Today: LG Gram 17 (2023)
$1349.99
There are loads of laptops to choose from in 2023, but the vast majority have a display between 13- and 15-inches. If you need something a bit bigger, your options are far more limited. 
One of the main devices in this category is the Gram 17, LG's largest laptop. Its key selling point is an incredibly lightweight design, it weighs an incredible 1.35kg (2.9 lbs), making it more portable than many 14-inch laptops. But are the compromises in other areas worth it given its high price tag? The short answer is yes, but only for a very specific type of user.
Looking for more options? Check out PCWorld's roundup of the best laptops.
LG Gram 17: Specs 
Display: 17-inch, 2560×1600 IPS non-touch, 60Hz 
Processor: Intel Core i5-1340P, i7-1360P 
Graphics: Intel Iris Xe 
Memory: 16/32GB LPDDR5 RAM 
Storage: 1/2TB SSD 
Ports: 2x USB-A (3.2), 2x USB-C (4), HDMI, 3.5mm audio jack, microSD 
Camera: 1080p front-facing with Windows Hello support 
Wireless: WiFi 6 (802.11ax), Bluetooth 5.1 
Battery: 80Wh with 65W charging 
Operating system: Windows 11 Home 
Colors: Black 
Weight: 1.35kg 
LG Gram 17: Design and build 
Weighs just 1.35kg
Chassis doesn't feel premium
Great port selection
Let's get the obvious out of the way first. The Gram 17 is a very big laptop. LG has tried to make the bezels around the 17-inch display as slim as possible, but the chassis still measures 14.91 x 10.19 x 0.7 inches. However, this is to be expected when you want such a big screen. There are 14-, 15-, or 16-inch LG Gram laptops available if you'd prefer them. 
But one area the Gram 17 excels is its total weight or lack thereof. It's just 1.35kg (about 2.9 lbs), which is more in line with what you'd expect from a 14-inch laptop. Compare that to the 2.53kg Dell XPS 17 and I know which one I'd rather carry around with me.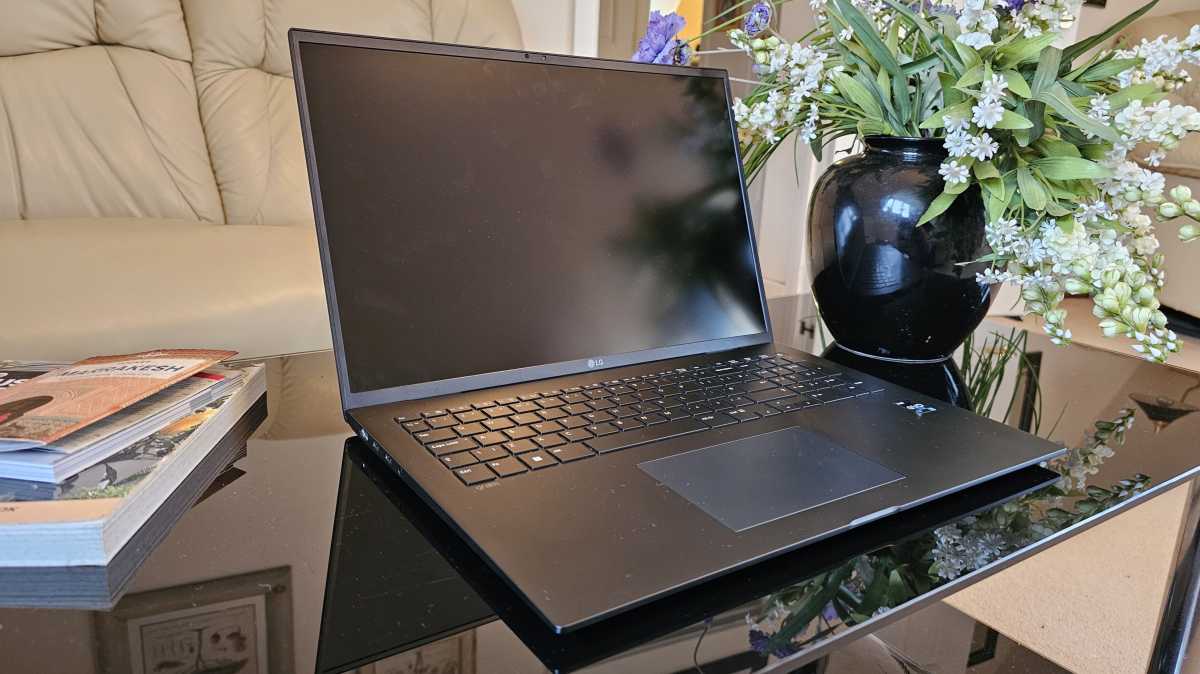 Anyron Copeman / Foundry
It means the Gram 17 is far more portable than you'd ever expect, with the main limitation being the size of your bag. Many laptop backpacks only support devices up to 16 inches. 
There's nothing wrong with the materials used to make the Gram 17. But you could easily mistake the carbon-magnesium alloy for plastic, and significant flex in the display makes me concerned for long-term durability. It doesn't feel nearly as premium as many high-end laptops. 
Aesthetically, though, the Gram 17 still looks the part. It's only available in black, but the sleek, minimalist design is well-suited for business use. 
That's especially true when you consider ports. Both USB-C ports support Thunderbolt 4 (for fast data transfer) and USB PD (for fast charging) and they're joined by two USB-A, full-size HDMI, microSD, and a 3.5mm audio jack.  
Anyron Copeman / Foundry
The only real thing missing is ethernet, but it's one of the best port selections on any non-gaming laptop. 
LG Gram 17: Screen and speakers
Solid 17-inch LCD display
No high refresh rate or touch support
Decent dual stereo speakers
If you're buying such a big laptop, the display needs to be good. And while not quite top-tier, I thoroughly enjoyed using the one on the Gram 17. 
You're getting a 17-inch, 2560×1600 LCD panel, giving it the 16:10 aspect ratio we've come to expect in modern laptops. It's a shame not to see OLED on the Gram 17, but you can still expect a great viewing experience.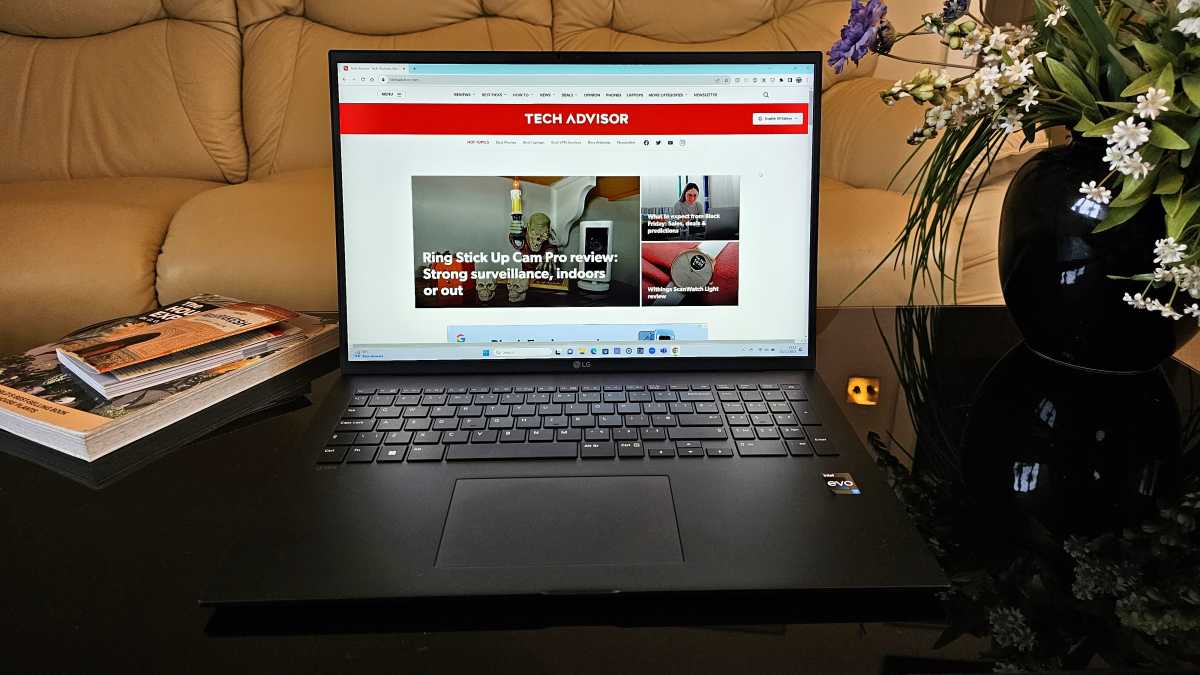 Anyron Copeman / Foundry
Color accuracy is a real strength, something borne out in the data. According to the SpyderXPro calibration tool, it covers the full sRGB color gamut, plus 99 percent of DCI-P3 and 91 percent of AdobeRGB. As a result, most content looks impressively true to life. The artificial oversaturated look you get from some OLEDs is avoided, though you also miss out on those rich, deep blacks. 
Brightness isn't an issue, though. I recorded a maximum of 439 nits, so you can get away with some outdoor usage, provided it's not in direct sunlight. But the refresh rate is still stuck at 60Hz, despite many premium laptops having moved to 120Hz or higher. You won't notice it as much here as on a smartphone, but it's still a shame. 
There's also no touchscreen support, though this is less of an issue. I wouldn't want to jab at such a large screen anyway, and the trackpad is plenty good as an alternative. 
The Gram 17 features dual stereo speakers, and they perform pretty well. There's a depth and warmth to the sound that you don't always get on laptops, and they avoid any audible distortion. But don't expect room-filling sound, and bass is severely lacking, so they're better suited to voice content than music or movies. For the latter, I'd recommend connecting headphones. 
LG Gram 17: Keyboard, trackpad, and webcam
Enjoyable keyboard and trackpad
Solid 1080p webcam
No fingerprint sensor
The sheer size of the Gram 17 means there's plenty of room for a full-size keyboard and separate number pad. If you're coming from a laptop without one, you'll need to adjust your grip slightly, but there's nothing wrong with the typing experience. Each key is clicky and responsive, offering a nice level of feedback. Within a few minutes, I was back typing at my usual speed. 
One thing some people won't enjoy is the limited key travel. But this is almost inevitable in such a thin and light device, and feels like a wise trade-off for LG to make. Each key is backlit, and there are two different brightness settings to choose from. However, there doesn't appear to be a way to keep the backlighting turned on permanently – it only activates when you start typing and for a few seconds after. 
LG offers quick access to a few extra settings via the row of function keys at the top. These include LG's Smart Assistant app, an airplane mode toggle, and reader mode, which shifts the display towards warmer tones. Below the keyboard is a huge trackpad. The size of the Gram 17 means there's still plenty of space to rest your palms either side. And it's impressively precise, allowing to you easily select large portions of text or click something very specific.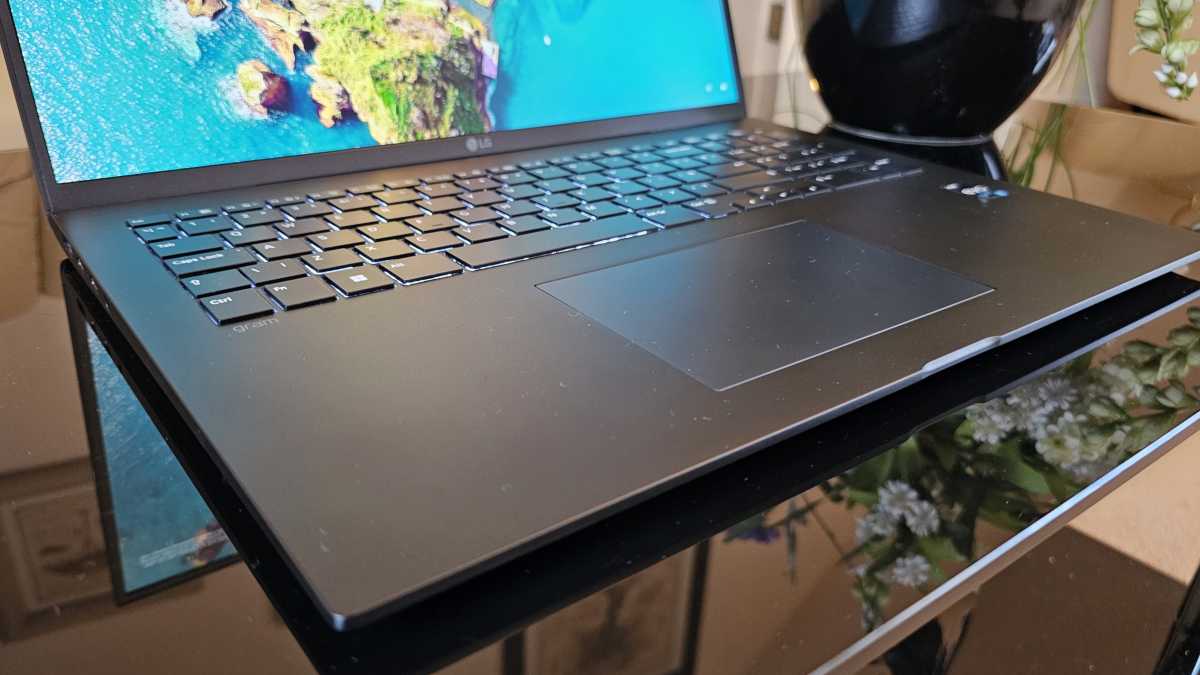 Anyron Copeman / Foundry
However, there's one big feature missing from the keyboard: a fingerprint reader. The power button it's often built into is right there in the top-right corner, so I can't understand why LG didn't include it. Instead, you'll be relying on Windows Hello face unlock. It uses a combination of the webcam and separate IR sensor, and is generally fast and reliable. However, you'll have to position your face so it's directly in line for it to unlock. 
The Full HD webcam itself is one of the better built-in laptop cameras. Detail and colors are generally accurate, and it handles exposure well in some tricky lighting conditions. Alongside dual microphones, it means the Gram 17 is a good option for video calls. 
LG Gram 17: Performance
Intel Raptor Lake P-series CPUs
Great everyday performance
No discrete GPU
As a 2023 laptop, it's no surprise to see the Gram 17 powered by Intel's Raptor Lake processors, the latest at the time of launch.  
Specifically, you're getting a choice between the i5-1340P and i7-1360P, both from the P-series category. These are specifically designed for thin and light devices, but I'm still disappointed there's no option for the more powerful H-series.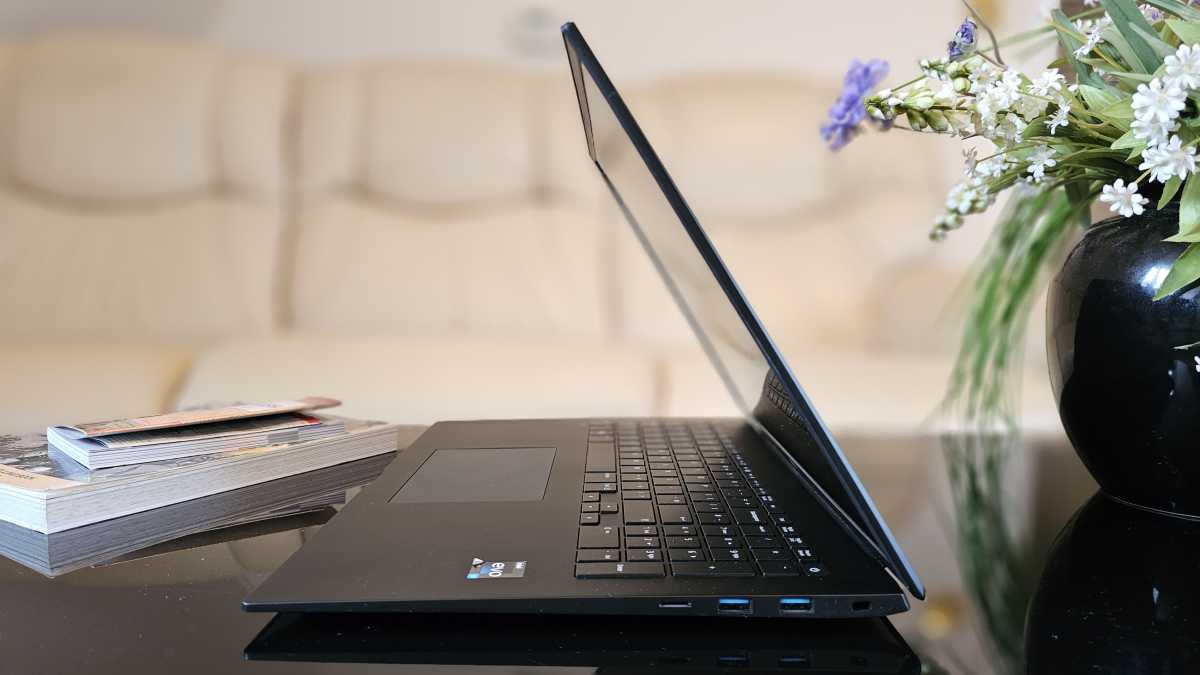 Anyron Copeman / Foundry
Nonetheless, performance is still solid. The model I tested combines the i7-1360P with a bumper 32GB of RAM, ensuring it breezes through all everyday tasks. My workflow includes lots of web browsing, email, Slack and occasional video calls, all of which the Gram 17 handled with ease. That includes while multiple apps were running simultaneously.
Combined with the large screen, it's a great option for multitasking. It also never got more than slightly warm to the touch, and the fans were barely audible. Of course, that will change during demanding tasks such as video editing or gaming, but the Iris Xe integrated graphics limits what's possible here. If you're serious about either, I'd recommend a laptop with a discrete GPU instead. 
LG Gram 17: Benchmarks
Benchmarks suggest the Gram 17 is in line with other big-screen laptops, although the 2023 Dell XPS 17 isn't included here. 
In terms of storage, you can choose between 512GB, 1TB and 2TB. The former is plenty for most people, especially if you use a cloud storage provider. 
And while Wi-Fi 6 and Bluetooth 5.1 aren't the absolute latest standards, both deliver fast and reliable connections. 
LG Gram 17: Battery life and charging 
80Wh battery
All-day battery life
Decent 65W charging
Regardless of the model you choose, the LG Gram 17 is equipped with an 80Wh capacity. That's one of the larger capacities around, and it performs well, despite such a big display. In our 720p video loop battery test, it lasted an impressive 15 hours and 43 minutes. 
However, that's with brightness set to a relatively low 120 nits and no internet access. A more realistic figure is around eight or nine hours of regular usage, meaning most people will be able get a full working day on a single charge. It may be possible to extend this with battery saver mode turned on. 
The Gram 17 supports 65W charging and LG includes the necessary charger in the box. I recorded 32 percent in 30 minutes and 57 percent in an hour, with a full charge taking just under 2.5 hours. That's in line with what I was expecting.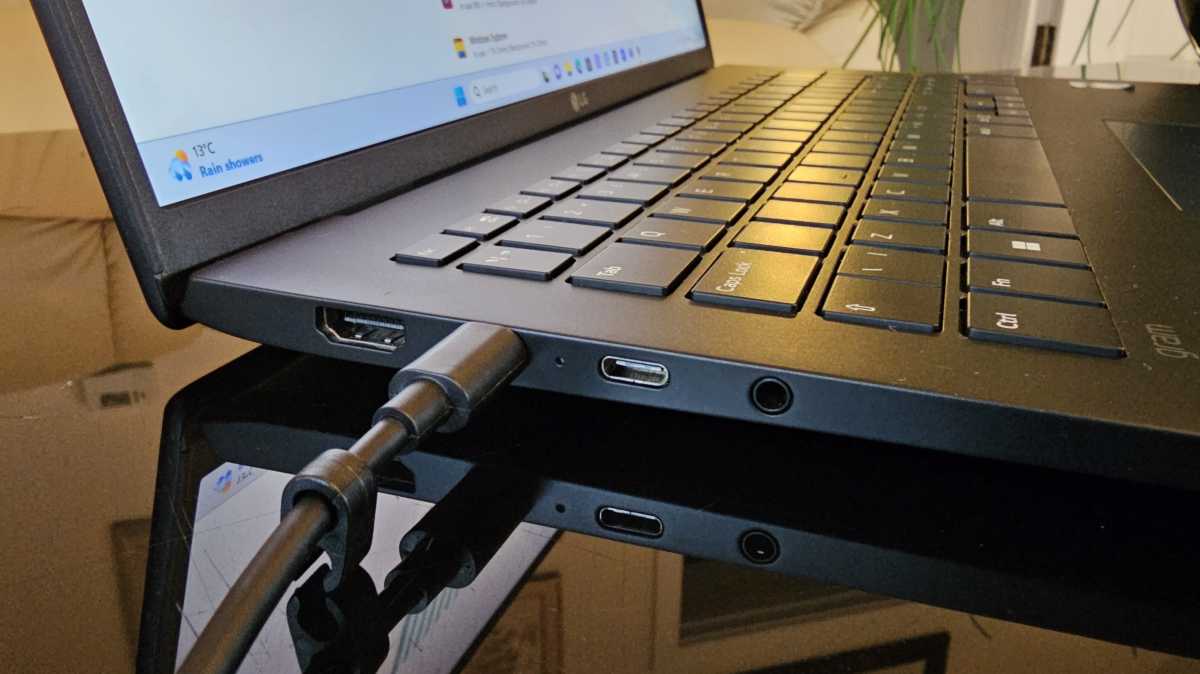 Anyron Copeman / Foundry
LG Gram 17: Software
Windows 11 Home
Annoying extra pre-installed apps
The Gram 17 runs Windows 11 Home out of the box. Microsoft's operating system is largely unchanged here, and its multitasking features are at their best on such a large display. 
However, there's too much extra pre-installed software for my liking. I counted no fewer than seven LG apps, plus the most annoying of the lot: McAfee. It's a good antivirus app, but not when it's constantly bugging you to pay for a subscription. 
All these extra apps can be uninstalled, but you should have the option to not install them in the first place. 
Microsoft hasn't revealed when it will stop supporting Windows 11, but it'll likely be for many more years. Provided you regularly update your device, it'll continue being protected. 
LG Gram 17: Price and availability
As you might expect, the LG Gram 17 doesn't come cheap. It starts at $1,549 for an Intel Core i5 model with 8GB of RAM and a 512GB SSD. But the top-spec model I tested, which combines the Core i7 with 32GB of RAM and a 2TB SSD, costs $2,099. Aside from LG, you can also buy them from Currys in the UK and Adorama in the US. However, that's still more affordable than the 2023 Dell XPS 17, which starts at $2,499.
LG Gram 17: Should you buy it?
The LG Gram 17 is an impressive laptop, but it's only right for a very specific type of person. If you really need a 17-inch display, but still want to be able to take your laptop everywhere with you, it's the best choice out there. But if you're looking for a performance powerhouse, this isn't it.
The Gram 17 is still plenty fast during everyday tasks, but the lack of a discrete GPU limits what it's capable of. And as good as the display is, the lack of OLED, a high refresh rate and touch support means it falls short of the best laptop screens around. Alongside a flimsy build and that high price tag, most people will be better off with something smaller and cheaper. 
However, battery life and ports are both great, and I still can't get over how light this thing is. That alone means it's worth considering. 
This review originally appeared on techadvisor.com.