Apple introduced the Max iPhone in 2019, and the largest and most premium iPhone model quickly became a fan-favorite. Both the
iPhone 14 Pro Max
and
iPhone 15 Pro Max
are the best-selling iPhone models after launch, and I can see why – the
iPhone 15 Pro
is already pretty expensive, so paying $100-200 extra for a much larger display and noticeably longer battery life seems like a no-brainer for many.So, I did it too. I finally got my very first "Max" iPhone instead of something smaller like the
iPhone 15 Pro
, and while I really do love the large screen and seemingly everlasting battery, there's one big problem… I can't operate the phone with one hand (unless I shuffle it around).
And that's a bit of a dealbreaker.
iOS on
iPhone 15 Pro Max

makes my first "Max" unusable with one hand

Thanks to the state of iOS, which was never really optimized for one-hand use on larger phones, I can't reach the home buttons on Instagram and Twitter on my 6.7-inch

iPhone 15 Pro Max

. I have to perform hand gymnastics every time I have to "go back" too, thanks to Apple's decision to make this gesture accessible only via a swipe from the left of the screen (handy if you're a lefty – I'm not).

Really, the only two things I find to be easier with the larger iPhone 15 Pro Max compared to my iPhone 13 mini and iPhone 14 Pro are two-hand typing and, well… Viewing content thanks to the much larger screen.

While one-hand typing is doable thanks to the swipe-to-type keyboard feature, I can't reach the number row switch button, which sits in the far left of the keyboard (Apple doesn't allow you to place it in the top row like on Android). On a positive note, I do love the two-hand typing experience, especially considering I'm coming from far smaller phones like the iPhone 13 mini and iPhone 14 Pro.

Not to mention, my poor grip when shuffling the phone around to reach things on the screen also makes me nervous about dropping it, which of course rules out the possibility of carrying it without a case, which (wait for it) makes the iPhone 15 Pro Max even thicker, wider, taller, and heavier, which (you guessed it) you only make it even harder to use with one hand.

All of this makes using the iPhone 15 Pro Max a challenge, especially when one of your hands is busy. I haven't done that yet, but I can only imagine what it'd be like to travel with the iPhone 15 Pro Max, trying to navigate through Google Maps and take photos as you're holding a bag/pushing a suitcase.
If you find the
iPhone 15 Pro Max

too large and the

iPhone 15 Pro

too small, you should probably wait for the 

iPhone 16

Pro, which should be… perfect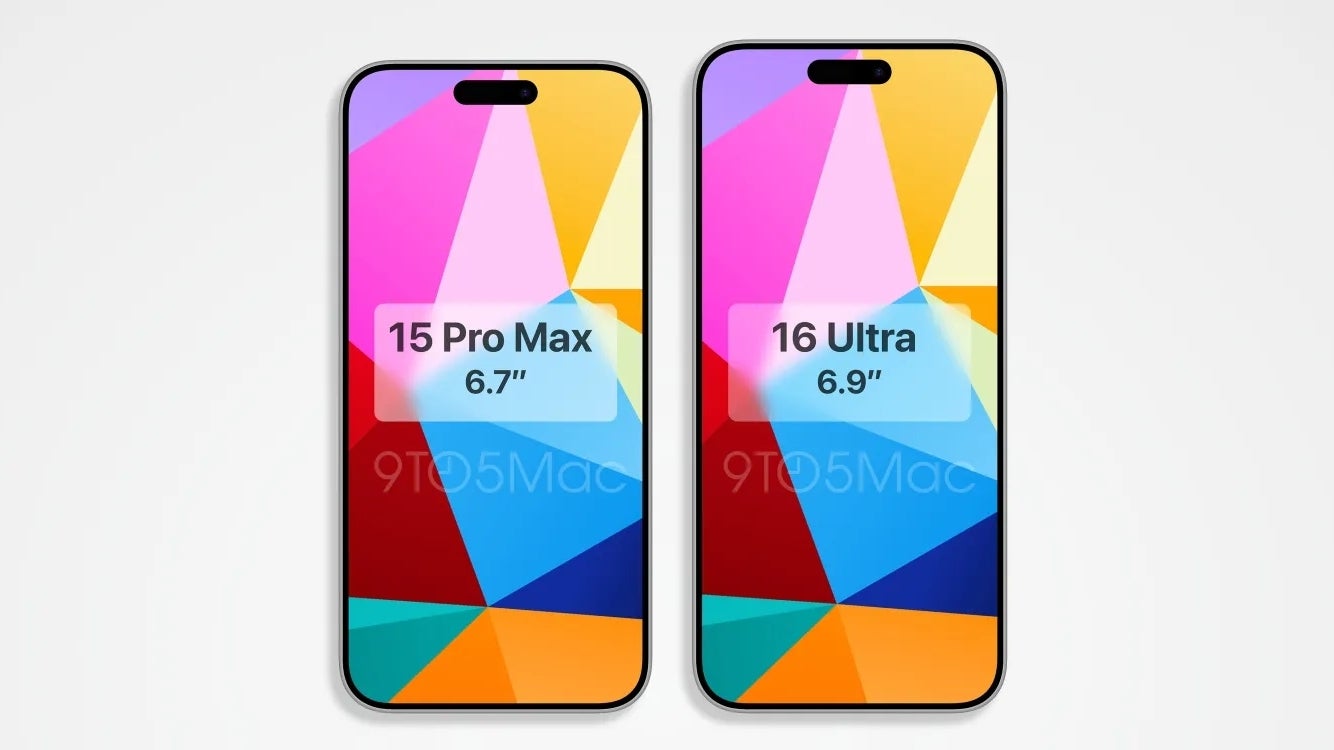 On the other hand, the iPhone 16 Pro Max / Ultra will also be getting larger. Expect a whopping 6.9-inch display.
But that's where the
iPhone 16
Pro comes in (if and when it does, of course).
When using the iPhone 15 Pro Max, I couldn't help but think about the leaked info we have on the iPhone 16 Pro, and its new, 6.3-inch display, which might just make it my dream "large iPhone".Large enough not to make me squint like my iPhone 13 mini does), large enough to make two-hand typing faster than with the iPhone 14 Pro, and yet small enough to make one-hand use possible – very much unlike my experience with the iPhone 15 Pro Max.
Despite Apple's efforts to make the iPhone 15 Pro series feel smaller with slightly curved edges, a reduction in display bezel size, and a huge weight drop, nothing makes a phone feel smaller than… an actually smaller phone. And this is why I think everyone who finds the iPhone 15 Pro Max, iPhone 15 Plus, or iPhone 14 Pro Max unmanageable, should wait for the iPhone 16 Pro.
In fact, even those of you who don't find the Max iPhone too large (good for you!) should probably wait for the iPhone 16 Pro series. That's because the iPhone 16 Pro Max is rumored to get even larger, at 6.9-inch screen, which should make it your content even easier to view and give you an even larger battery.
The
iPhone 15 Pro Max

isn't the game-changing large iPhone we thought it might be
Ultimately, despite being one of the biggest upgrades in Apple's entire history (save for the repetitive design), the promise of the larger iPhone 16 Pro models give you a solid reason to skip the otherwise nearly perfect iPhone 15 Pro and 15 Pro Max.
Of course, an added benefit for those thinking to go with the alleged 6.3-inch iPhone 16 Pro should be the alleged presence of the same 5x optical zoom camera found in the iPhone 15 Pro Max, which is a great perk indeed.
Moreover, the slightly larger 6.3-inch form-factor might result in a slight battery boost for the 6.3-inch iPhone 16 Pro compared to the 6.1-inch iPhone 15 Pro. The same could be true for the 6.9-inch iPhone 16 Pro Max vs the 6.7-inch iPhone 15 Pro Max.
As for me… I might or might not be returning my iPhone 15 Pro Max. Frankly, I'm a bit undecided. I like the large screen and the 5x zoom cam but are they worth the constant hassle of carrying a phone I can't use with one hand? I guess I have a few more days to decide before the return window closes.
Until then, I can hope Apple is preparing some meaningful iOS upgrades that make the new, larger iPhone 16 Pro and iPhone 16 Pro Max more usable with one hand. Because they'll need it.