Unlike other major markets around the world, like
China
,
India
, or
Europe
, which have seen a number of different companies rise and fall to and from leadership positions over the last few years, North America remains under one smartphone vendor's tight grip.
There's no threatening
Apple
's supremacy, especially in the US, but while the nation's vice-champion is seeing its regional sales figures go down rather than up to try to close the gap to the aforementioned gold medalist, the market's third and fifth-largest players are defying all trends to both gain share and boost their volumes during a time of stagnation for the entire industry.
Smaller market, weaker leaders
Yes, US smartphone shipments on the whole have fallen yet again, this time from 32.5 million units in Q3 2022 to 31 mil between July and September of this year. That's at least according to the
latest Canalys estimates
, with the market research firm previously finding that
global sales dipped just 1 percent
from last year's third calendar quarter to the same period of 2023.
That means that US demand is not recovering quite as well as smartphone sales in key foreign territories after a tough time for the mobile industry everywhere, although Canalys does expect a "mild recovery" to happen stateside in 2024 after the market continues to stabilize in Q4 2023.
One of the main reasons for optimism is that Q3 2023's 31 million shipment score in the US represents a substantial 21 percent improvement over Q2's total. Said sequential surge was driven largely by the
iPhone 15
series launch, which however came far too late in the quarter to help Apple improve its own sales figures in the region from Q3 2022.
Instead, the Cupertino-based tech giant dropped 8 percent year-on-year, which is obviously not great but it's definitely not terrible either, leaving the market leader comfortably in first place once again, with an absolutely crushing 55 percent share.
In second place,
Samsung
actually reported a slightly larger decline of 12 percent in shipments between Q3 2022 and Q3 2023 despite achieving a solid level of mainstream success with the hot new
Galaxy Z Fold 5
and
Z Flip 5
. The
Galaxy S23
family has clearly not been a smash hit in the US, as evidenced by the company's poor
Q2 2023 overall sales result
as well.
Dark horses rising!
Just in case it wasn't already abundantly clear by, well, looking around you, this new report documents and highlights the recent rise in popularity for both Motorola and Google handsets stateside. 
While the two brands are not yet ready to break into double-digit market share territory, their 14 and 117 (!!!) percent boosts in volume respectively from Q3 2022 are definitely nothing to scoff at.
Motorola
seems to be slowly approaching a 10 percent slice of the pie, which would be quite the achievement for a company that was essentially discarded by Google back in 2014, while
Google
's own in-house Pixel experiments are starting to bear fruit on a larger and larger scale.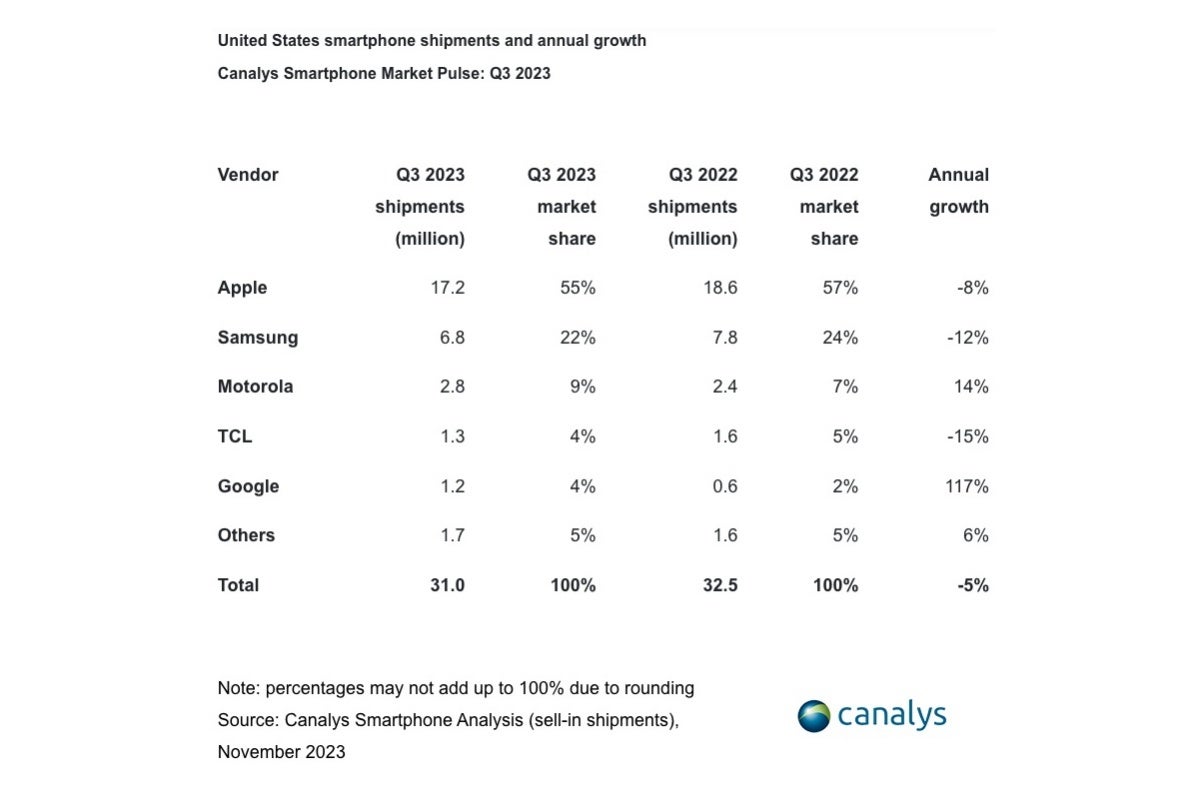 Keep in mind that the
Pixel 8
and
Pixel 8 Pro
were released
after
the end of this quarter, so a sequential progress from 4 percent share to 5 or more in Q4 is a very clear possibility. 
TCL, meanwhile, is probably feeling the squeeze from both Motorola and Google, retaining its fourth place among the largest smartphone vendors in the US but most likely not for long as its ultra-low-cost prepaid devices are undoubtedly losing ground to entry-level Moto G-series and Samsung Galaxy A-series models.