Photographing a Nursing Home Where All Residents Are COVID Positive
At its core, photography allows us to tell the story of our history. Years from now, when we look back at images from 2020, our thoughts and feelings on how this year unfolded will be, undoubtedly, extremely complex.
One such image that encapsulates the heartbreak associated with this year was made by photographer, filmmaker and TED Fellow Isadora Kosofsky. In the photo, Maika Alvarez, a nurse in full PPE, holds an iPad as Jose Montoya, a 94-year old who has COVID-19, interacts with his daughter, Lillie Ortiz, via Facetime.
Isadora recently pulled back the curtain at Canyon Transitional Rehabilitation Center, a nursing home in New Mexico where every single resident has COVID-19. The culmination of her work can be seen in a powerful story, "Inside a Nursing Home Devoted to Treating Those with Covid-19," for The New York Times.
Struck by her images and delicate storytelling, I reached out to Isadora to learn more about how she handled working in full PPE, the complicated process of gaining access to Canyon, her experiences with the residents and staff, and her lifelong attraction to photographing remoteness and grief.
This interview has been lightly edited for clarity and length.
In your first Instagram post about the work, you mentioned that you had to get government approval to access Canyon Transitional Rehabilitation Center. Can you share a bit about what that process entailed?
First, I had to receive approval from Genesis Healthcare who operates Canyon Transitional. Genesis manages about 500 long-term care facilities in the US. Twenty-five of their nursing homes are in New Mexico. Initially, Genesis declined my request. They feared there would be outcry from both families and the general public that a documentarian was granted permission to enter a COVID+ facility. I appealed to Genesis to reconsider. I did not feel there would be a negative reaction to my work. So far, there has not been. In fact, families are grateful that their loved ones are seen and heard through the documentation. I think they were also surprised that someone would be willing to risk their safety for this story. After a few weeks, Genesis decided to reconsider my request. They contacted the state of New Mexico, Department of Health and Aging and Long-Term Services Department. After a few more weeks, they received a response that the state would not rescind the public health order banning visitors for the purpose of my project. I was not going to take no for an answer. I appealed directly to the state and was granted access upon explaining why elevating residents' and nurses' experiences was so critical. Basically that I wouldn't sleep at night if I did not do this. I didn't take no for an answer.
How do we tell the story of a war without showing where the bombs have been dropped? We are present at the frontlines of war. Where are we in this fight? When I was in the midst of trying to gain access to Canyon, there still had not been a visual reportage that shadowed COVID+ residents in a long-term care setting. Yet, 75,000 people have died in these communities. No photojournalist had been inside a nursing home in the US. The lack of representation in the press felt like an injustice that I could not sit with. Once I entered the facility in August, 4 months had passed since the first conversation with Genesis about this necessary reporting.
We see nurses and occupational therapists in face shields, masks, and gowns in your photos. But what safety precautions did you take for the story? (Clothing, keeping a distance, getting regularly tested?) Do you have any behind-the-scenes photos?
I wore a Hazmat suit, a face shield, an N95, two sets of gloves, and shoe covers. The Times had me in more PPE than the nurses were wearing.
I quarantined for two weeks before entering Canyon. I was tested beforehand. I quarantined after. I was then tested again.
It gets very hot in the suit. I only changed suits once in a 12 hour period, meaning I only went to the bathroom, drank water, and ate once in a 12-14 hour period. Sometimes my face shield was covered in sweat and it was like I was photographing through a shower curtain. I couldn't touch my face.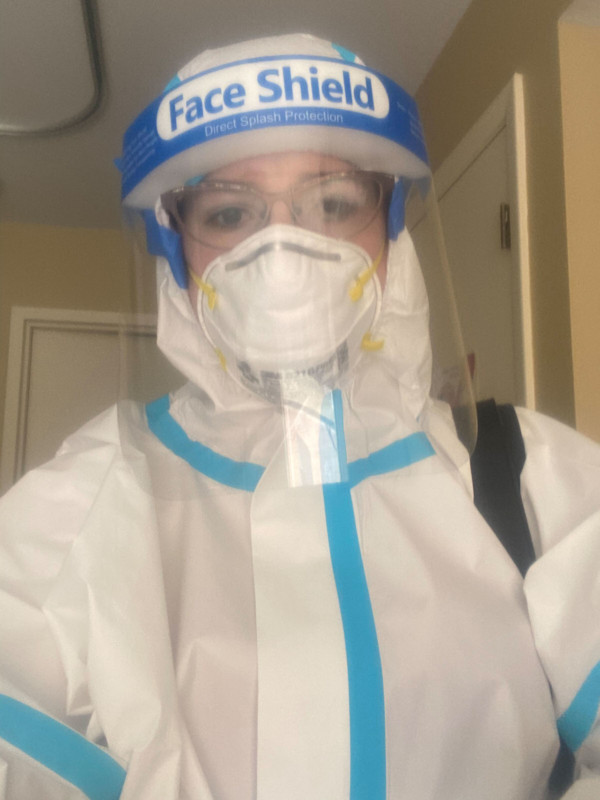 The risk is not putting on or taking off your Hazmat suit or PPE appropriately. I did not have to socially distance because every inch of my body was covered. COVID is everywhere in that environment regardless of where you are standing. Also, this work would not have been possible if I had been at 6 feet of those I was shadowing. The rooms are already fairly small with two residents living in the same space. Standing at a distance with PPE that resembles a spacesuit is not really my approach. I am entering the most intimate space with individuals who are in a highly vulnerable position. My priority was making them comfortable with my presence. When someone shares their story with you that is a sacred bond.
The riskiest scenario is to be with a COVID patient in a poorly ventilated room with the door shut for a long period. The only way for me to tell this story was to sit with a COVID patient in a poorly ventilated room with the door shut for hours at a time.
Physical and medical precautions aside, how are you taking care of yourself mentally?
I'm letting myself be sad, anxious, angry, hopeless in moments.
Are there any specific moments or people from your time at the Canyon Transitional Rehabilitation Center that weren't included in the story you'd like to share?
So many moments and people have stayed with me from the three days inside Canyon.
I was in a room with Alice, an 84-year-old resident of Albuquerque. She had her blinds open, as the sun was setting. I noticed a woman with white hair at a window across the patio from Alice's room. The woman, who I later learned is named Juanita, kept waving at me. From the reflections on the window, I could only make out her white hair, a bit of her face, and her waving arm. I later went to the director to ask if we could contact Juanita's family so that I could enter her room. If she was waving at me, I felt intuitively that I should see her.
For 13 years, I have documented senior citizens in various contexts. I have never once seen any of these individuals as potential grandparents. I attempt to document them as peers. None of them have reminded me of my grandmother who was my best friend until she died when I was 13. When Sylvia, a C.N.A, opened Juanita's door, I couldn't believe what I saw. The similarities between 94-year-old Juanita and my grandmother were uncanny. I was astonished to find similarities between Juanita's thick white hair, manner of sitting, gaze, and relaxed energy, and my grandmother, Marie-Josephine. When I entered the room and sat down beside Juanita's bed, she asked me if I was a ghost. It was meant as a joke. But it was a strange and mysterious question. I have cried so much after shadowing these residents. And Juanita is someone who I often cry about. Through my work, the people I shadow give me the greatest gifts. Juanita gave me the gift of connection to my past, to the deepest part of me, without her even knowing. I told her I would visit her at the nursing home where she normally lives in Las Cruces. She told me, "I'll be waiting for you."
Editor's note: Juanita is pictured in this pieces' cover image above.
In addition to this story, it's clear from your other work that you have a real interest in immersive and long-form storytelling. How important was it for you to both photograph and write for this story?
I built intimacy and trust with both residents and nurses. It didn't make sense to bring another writer into that covenant.
The lighting in your images lend to the reality of COVID-19; shadows and reflections off the face masks capturing both loneliness and small glimmers of hope or connectedness between patients and staff. I especially love the image of Sylvia Martinez adjusting the blinds in Ms. Riggins's room. What element did lighting play in your storytelling for this project? How did you handle so much overhead fluorescent light?
The lighting in the images comes from the windows and from the overhead fluorescent light. I let my empathetic connection to residents and staff guide the way I approached light. Ultimately the interplay of sunlight and fluorescents speaks to the inevitable crossover of loss and resilience that is so much a part of human tragedy and condition.
More generally, how has COVID-19 impacted your photography work? (e.g. Was this one of your first jobs during the pandemic?)
I have been fortunate to be fairly busy. I am also a storyteller who will always create work for myself. I think it is our responsibility to be telling the stories that resonate with each of us. Part of being a documentarian is knowing what story is yours to shepherd. I've been working mostly in California and in the Southwest. I was supposed to be on an international reporting trip for Nat Geo at this time, but that has been pushed indefinitely due to the pandemic.
Can you share a bit about your photography background and how you got your start?
I began photographing when I was 13. As a child, I was always drawn to being a journalist. I used to watch foreign correspondents on TV and wanted to do conflict reporting. I learned in my teens that I was much more drawn to interpersonal ruptures and to war within our borders. I was drawn to remoteness and grief in relationship with self and others.
At 14, I knew documentary photography was what I wanted to do with my life. I fell in love with story, believing that it was a means of revolution, which I still feel. My first social documentary project was in a nursing home with a hospice care wing. I learned how to sit with people in the spectrum of their emotions, which is the most important part of being a documentary photographer. Challenging access to institutions has always been a part of my trajectory. I have always been drawn to spaces of confinement that are walled off from public gaze or consciousness.
When I was 16, I received access to a youth prison in Romania after writing worldwide for two years and traveled there on a grant I had received from the state of California that was meant for young artists. Two years later, I began a documentation about youth at a juvenile detention center in Albuquerque, which was deemed by both editors and peers as an "impossible" access situation. When I am drawn to a space and know that I must tell a story, I will not give up. My heart, my intuition, the amalgamation of my own life experiences, the trust from the people I shadow, guide the way.
What's next for you?
Continuing to document the impact the pandemic is having on the elderly and adults with disabilities. I see myself returning to the prison industrial complex for another work. I'm shaping a book that centers around a woman I have been documenting for three years through her post-traumatic journey. And I'm in my last year of a 10 year photo documentary and film. This time has allowed me some time to reflect and organize work that remains indefinitely in folders.
---
You can check out the full story at The New York Times. Isadora asks that you use your desktop to view the photographs (if possible) as Clinton Cargill, Visual Editor at The New York Times, thoughtfully did the web design for this work.
Follow Isadora at @isadorakosofsky on Instagram as she shares additional images and stories from her time at Canyon.
---
The opinions expressed in this article are solely those of the authors.
---
About the author: Caitlyn Edwards is the Community Marketing Manager at PhotoShelter, which regularly publishes resources for photographers. She has a degree in Peace & Conflict Resolution and is religious about black coffee and great wine (but never together). This article was also published here.
---
Image credits: Header photo by Isadora Kosofsky.