I don't know how this keeps happening; maybe the company needs to dispose of its trash more carefully. But Macworld's sleuths have found yet another script and rehearsal tape for an Apple press event. It took a little longer this time due to the odd timing, but once again we know everything that's going to happen tonight, and we're prepared to let you in on the secret!
So here, minute by minute, is everything that will be announced at the 'Scary Fast' Mac event. (Editor's note: Here's how you can watch the actual event in the real world.)
Introduction
16:57 p.m.: Here we go: the pre-stream begins. Good luck recognizing the latest pop hits, boomer tech journalists. (The opening track is "Mrs. Boothroyd's Holiday Dancer" by Onion Terror. Feel free to Shazam it.)
17:00: The stream proper is now up and running. A virtual camera soars above a gloriously sunny Apple Park, which seems to be stuck in a Narnia-style never-ending summer. It finally swoops down in front of the rainbow to settle on…
17:02: …Jenna Ortega, star of the popular horror-themed Netflix show "Wednesday!" Has Apple TV+ somehow managed to snap up the second season?
17:03: Ortega says she loves this time of year when the darkness encroaches and we are all reminded of the inevitability of death. Also the candy.
17:04: But what do you find scary, Ortega asks Tim Cook, as Apple's CEO sidles awkwardly into the shot dressed as a medieval knight. Why, he answers, having an Apple product serviced by a non-authorized repair business! And also the speed of the new Mac products we're excited to introduce tonight! They're spoooooookily well specified!
17:05: Jenna Ortega has collected her check and disappeared.
M3 MacBook Air and Mac mini
17:06: Cook says Apple silicon has been the greatest success in the history of the world, with the M2 chips "leveraging the synergy of the M1 at the intersection of innovation and seamless simplicity." But tonight, he says, we're going to meet the M3! "We think you're going to love Mac even harder than before," he smiles, "as we make the world a better place by growth-hacking hyperlocal deliverables going forward."
17:09: Cook adds: "Boo! Look, a skeleton!"
17:10: Here comes Jeff Williams, Apple's chief operating officer, swaggering around the corner of Apple Park while winking and clicking his fingers. He's dressed as some kind of funky skeleton.
17:11: Williams does a handstand while singing the chorus of "Bigmouth Strikes Again."
17:13: Williams leaps back to his feet and says Apple has a great line-up of products to show us tonight. "Almost as great as the sight of a baby bird breaking free of its egg for the first time," he adds.
17:15: We're seeing swooping CGI graphics of a laptop, but the edits are too sharp and the zooms too extreme to be able to see clearly which laptop. Is this the much-anticipated new MacBook Pro?
17:17: No! It's the new MacBook Air!
17:19: "Our new MacBook Air with M3 is the fastest non-Pro laptop Apple has ever released," Williams boasts. "It's the same great design and all-day battery life you know and love, but now with the power of M3. It features not eight but 10 CPU cores and 10 GPU cores as standard, together with an updated Neural Engine that's more powerful than ever!"
17:22: Williams adds that the new Air "is as powerful as a wildebeest."
17:23: The new MacBook Air with M3 starts at $1,099/£1,099 for the 13-inch model (a small price cut there for U.K. customers compared to the M2 model), and will go on sale for pre-orders on Wednesday, with shipping on Friday, November 10. Just in time for Christmas!
17:25: More swooping CGI imagery, this time showing either the Mac mini or the Mac Studio… yep, it's the Mac mini. That makes sense, given that we seem to be focusing on the lower-end Macs for now.
17:26: "Mac mini is still mini in size… but not in performance," Williams winks. "With the power of M3, you can accomplish whatever you want to, whether you'd like to play games, do your tax return, or create a newsletter for your crochet club. It's the fastest compact Mac we've ever made, and we think you're going to love it."
17:29: The Mac mini with M3 starts at $649/£649 for the entry-level model with 256GB of storage. Ah, that's a bump in price for the U.S., seemingly to bring it in line with the U.K. Like the MacBook Air, the new mini will ship on November 10.
17:30: And Tim Cook is back, summing up. That seems to be it for this section.
Foundry
The new iMacs
17:32: "What do you think of when you think Mac? You think, 'iMac,'" says Cook. "And this fall, we're saying "aye, Mac!" to iMac. We want to make iMac, the 'you' Mac."
17:34: Cook adds, "Hi, Mac!"
17:35: Blessed relief as the video cuts away to what seems to be a TV advert. We're looking at Jenna Ortega, who is composing a newsletter for her crochet club on a 24-inch iMac in a multi-color finish we've not seen before: purple and black stripes.
17:37: What's happening? Ortega seems to have cast a spell on the iMac because it's growing before our very eyes! It must be… oh, at least a 28-inch model now.
17:39: Jeff Williams is back. "iMac is changing for 2023, and we can't wait for you to meet it!" he bellows.
17:40: CGI time. The iMac looks as stunning as ever, and that new size of the screen (and possibly the more powerful spec that has traditionally come with the larger model?) will be highly appreciated by the machine's fans.
17:42: The new iMac is available in two sizes: the same 24 inches as before, but also a new 28-inch design that's larger than any previous model. And both sizes come with the option of a two-color patterned finish in stripes, spots, or a range of other designs. Apple is hoping that these personalization options, which will be selected via a tool on the company's website, or with the assistance of a Genius if you buy in-store, will encourage uptake like the laser engraving options for AirPod, AirTag, and Apple Pencil.
17:45: "M3 is the next stage in silicon evolution," Williams boasts. "But evolution doesn't stand still, and if M3 is humankind, M3 Pro is some kind of terrifying cyborg with laser vision and metal arms."
17:47: The 24-inch iMac is still targeted at more casual consumers and is available with the M3 only. It starts at $1,349/£1,349. The new 28-inch model comes with M3 or M3 Pro and starts at $1,549/£1,549 for the entry-level spec. Both will launch on 10 November.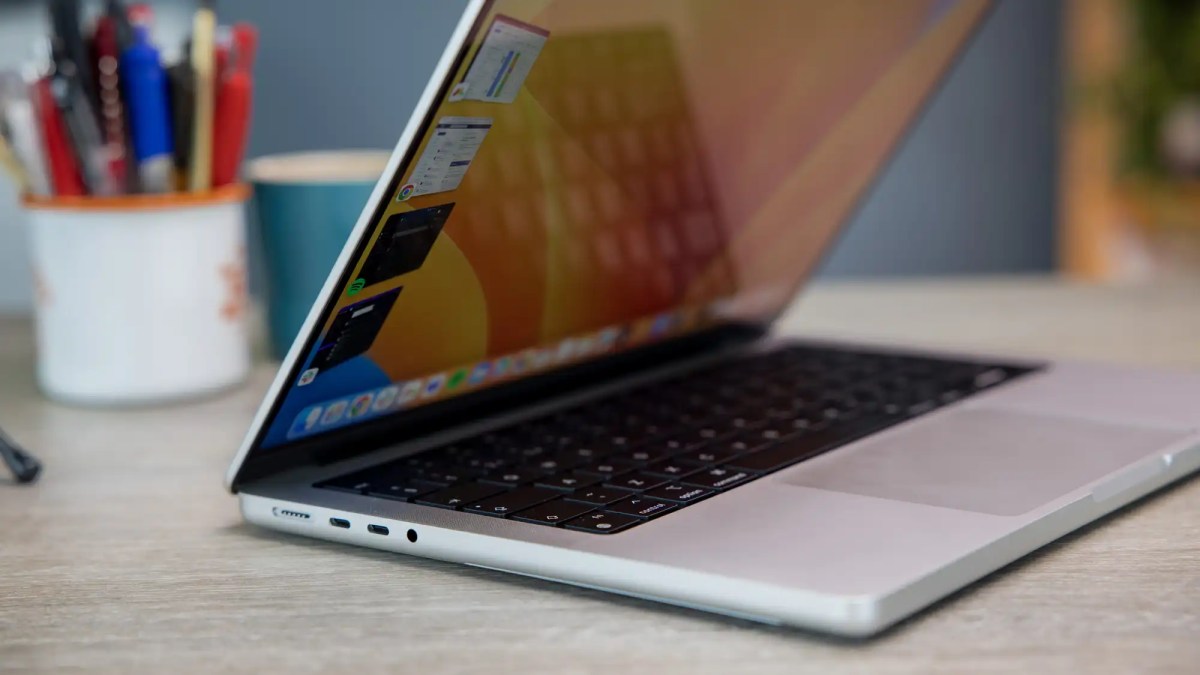 Dominik Tomaszewski / Foundry
MacBook Pro with M3
17:50: Tim Cook is back, and he looks more excited than we've ever seen him.
17:51: "Apple has always innovated in customer experience," he says. "And we love to pivot synergy going forward. So I'm excited to pivot even more synergy going forward!"
17:53: CGI video of another laptop. We've already had the MacBook Air, so this must be… the Pro?
17:55: It is. Cook is standing in front of a huge sign that says "MacBook Pro."
17:56: Jeff Williams returns, sprinting, to the stage. He is visibly sweating and seems to have lost one of his shoes.
17:57: "These new Macs are just too fast for me, Tim!" he says, half to Cook and half to the camera. "I can't keep up!"
17:59: "That's right, Jeff. But what if I told you the new Macs are even faster than you thought?"
18:00: "Even faster?! Now that's scary!"
18:01: "It sure is, Jeff! Why don't you tell everyone about the specs of our great new MacBook Pro models, which will make the world a better place through seamless thought leadership?"
18:01: The new MacBook Pros, Williams says, are available in 14- and 16-inch sizes, and come with the M3 Pro or the even faster M3 Max chip. There's no word on the current 13-inch form factor. Has that been discontinued?
18:03: The M3 Max is so fast, Williams insists, that it would burn your hands just taking the MacBook Pro out of its box. "I'm completely serious," he adds. "And I take full responsibility. There have been several fairly serious injuries."
18:05: The new MacBook Pro starts at $2,099/£2,099 if you choose the M3 Pro and the 14-inch screen. And here's confirmation that the 13-inch MacBook Pro is no more. The 14-inch Pro with M2 is staying on sale to make up for this; it gets a price cut to $1,799/£1,799.
18:08: Gosh, there's more. Williams is now announcing a new Mac Studio. Like the MacBook Pro, it's been updated to feature M2 Pro and M2 Max chipsets and will go on sale on November 10. Prices start at $1,999/£1,999.
Dominik Tomaszewski / Foundry
One more thing
18:10: We seem to be wrapping up now. Williams has announced, while Jenna Ortega has returned to the stage and is dressed as Michael Douglas from "Falling Down."
18:12: "Have you enjoyed our terrifying Mac spooktacular?" Cook asks her.
18:13: "I certainly have, Tim. I just wish we could announce something for the creative professional desktop market that Apple has for so long neglected."
18:14: "Funny you say that, Jenna. Because there's one more thing to talk about."
18:15: Jeff Williams is back! He's dressed as a young Morrissey.
18:16: "I almost forgot!" he yells. "Take a look at this!"
18:17: CGI time. It looks like another iMac but without the flamboyant color patterns of earlier. And it looks seriously big. It couldn't be, could it?
18:19: It is! It's a new iMac Pro. And it features a whopping 32-inch screen!
18:22: Astonishingly, given that we only got the standard M3 chip 76 minutes ago, the new iMac Pro comes with the M3 Ultra. Apple has literally rolled out the entire generation of Mac products in a single evening.
18:24: Ah, but here's the kicker. The iMac Pro isn't actually launching yet. Williams says it will come out "early in 2024." So we haven't got a price or an exact release date. Or detailed specs, for that matter. But the M3 Ultra and 32-inch screen are huge headline announcements.
18:27: And now we really are wrapping up. There's been a scary amount of Mac hardware announced tonight. See you at the next event!