One iPhone feature that you never want to have to test in real life is the Crash Detection feature that debuted last year with the
iPhone 14
series. Crash Detection works on the
iPhone 14
and
iPhone 15
lines, the Apple Watch Series 8 or later, the second-generation Apple Watch SE, and the Apple Watch Ultra or later. The timepieces must be running watchOS 9 or later. The feature is designed to detect severe car crashes including front impacts, side impacts, rear-end collisions, and rollovers.
Just the other day an incident took place that gave those involved a chance to see the iPhone's crash detection feature work in real life. The details were
posted on Reddit
by the owner of a BMW E92 who made a right turn only to have the driver of a BMW E90 pull out in front of him.
The passenger in the car wrote in a
separate Reddit account
, "Got into my first car crash as a passenger, and medics were surprised we walked away with only a few fractures. Thank you to the Apple SOS feature for calling 911 as I was in a state where I couldn't, and notifying my emergency contacts of the situation." He also posted a screenshot showing what was on his iPhone when Crash Detection took over which you can see under the title of this article.
One of the BMW cars involved in the accident
The passenger also noted that the feature worked great even for emergency contacts who use an Android handset like both of her parents do. They both were informed of the accident. Crash Detection will use SMS if necessary to alert emergency contacts about an incident and let them know the location where it occurred while also notifying emergency services of the accident.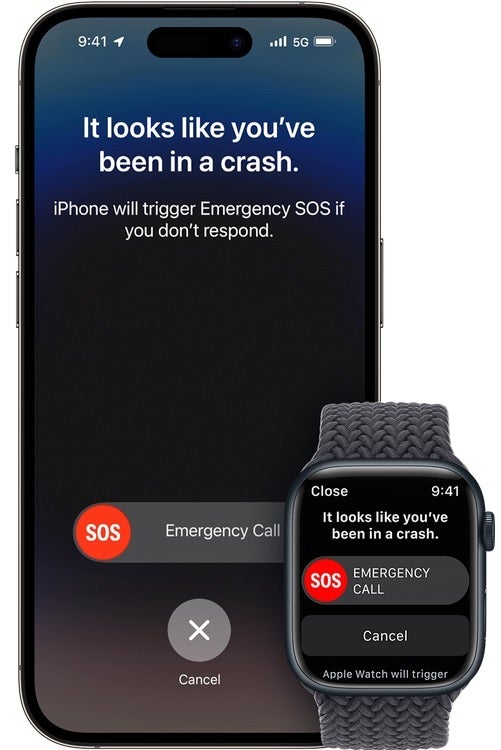 The iPhone Crash Detection feature can be a lifesaver
When an impact has been detected, your iPhone or Apple Watch will sound an alert and display an alert that it will read.  If you have only an iPhone with you, an emergency call slider appears on the display and the call to emergency services can be made through the phone. If you only have the Apple Watch with you, the device will tap your wrist, sound an alarm, and display the emergency slider. If you have both your iPhone and a cellular-enabled Apple Watch, the slider appears on the watch only and when the call to emergency services is connected, it will play through the watch.
Let's go through the process again. After the alert sounds, you can call emergency services or dismiss the alert. If you don't respond after 20 seconds, emergency services is called and your emergency contacts are alerted that you've been in a severe crash. The message they receive includes your location. If you've set up your Medical ID, a slider of Medical ID will appear on the screen allowing you to share important health information with emergency responders.
It's good to have such a feature, as Pixel users have known since the Pixel 3. Even better is to know that the feature is there but you've never had to use it.