This Photographer Used a Drone to Lightpaint a Giant Baby Yoda in the Sky
Let's be honest, we all saw this coming. Given the meteoric success of the Disney+ show The Mandalorian and the universal appeal of "Baby Yoda," it was only a matter of time before a photographer decided to pay tribute. Light painter Russell Klimas did just that.
The light painting you see above was captured using a Lume Cube Strobe strapped to a DJI Mavic drone: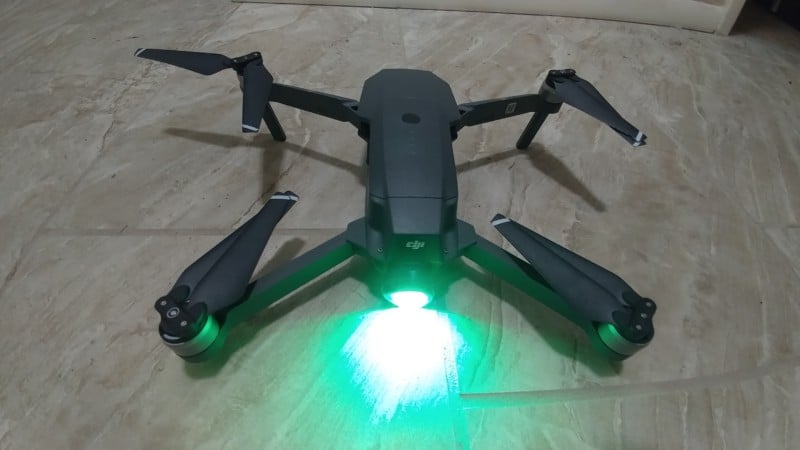 But that's just the beginning. Since it would be next-to-impossible to fly a drone this precisely by hand, Klimas used a combination of two programs to make this photo a reality: Google Earth, and an autonomous drone flight app called Litchi.
First, Klimas plotted a "course" for the drone in Google Earth, using a photo of Baby Yoda as a guide. Then he took that course and imported it into the Litchi app. The app is able to guide the Mavic along the correct path at a pre-set altitude, drawing Baby Yoda among the stars as it goes.
All that's left is for Klimas to set up his tripod and fire off a (very) long exposure.
Klimas actually shared an in-depth tutorial of this exact technique with PetaPixel's readers earlier this year. As you can see from those images, the only real difference between his Baby Yoda and previous night sky light paintings is that he used multiple colors by switching out the filter on the Lume Cube halfway through the exposure.
The final image is a single exposure, not a composite:
If you want to learn how to capture giant drone light paintings like this, definitely check out Klimas' tutorial here. And if you'd like to see more of his creative light painting work, visit his website or give him a follow on Instagram.
(via Fox21 News)
---
Image credits: Photos and screenshots by Russell Klimas, and used with permission.