Unjust Enrichment, Missing Payments, and Nat Geo Fine Art Galleries
I wrote two articles about National Geographic Fine Art Galleries (NGFA) just over a year ago after they contacted me to sell one of my photos in their galleries. I discussed how the photographers are paid a mere 5% commission for works sold and that prints are signed with an autopen, a machine used to generate a signature.
The autopen is legal for documents, but collectors have long been warry of autopen signatures on collectibles.
I also discussed the "Trusted.com" link on the NGFA website. Trusted.com is a company that "authenticates" works of art by assigning a "Trusted eTitle." However, NGFA and Trusted.com are founded and owned by the same individual: Bekim Veseli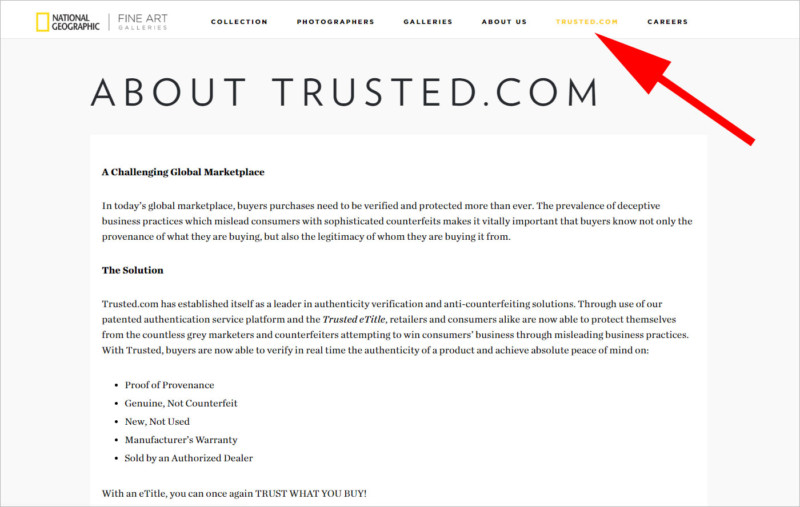 After the article about NGFA and Trusted.com was published, all mentions of Trusted.com were removed from the NGFA website. However, the direct link still works (for now).
I heard from several people after those articles ran. Most recently, I heard from a photographer who was never paid by NGFA. That individual knows the work sold, as several people reached out after they purchased it. I also heard from a vendor who provided printing services to the NGFA gallery. That vendor was also never paid.
I continued to do research after both articles were published and I discovered NGFA and Trusted.com had the same exact corporate address on 12930 Worldgate Drive, Herndon, Virginia. However, the address for Trusted.com was changed after the second PetaPixel article ran. The address was changed to 11950 Democracy Drive, Reston, Virginia.
There's another company owned by Bekim Veseli that is registered to BOTH of those addresses: Medcore (not to be confused with Medcor).
And it turns out a lawsuit was recently filed against Veseli, and one of those addresses is on this public citation informing him of the lawsuit.
The lawsuit, which also names Robert Burrows (Trusted.com COO and former Peter Lik interim CFO) and Thomas Geretz (Trusted.com Senior Principal Consultant) as defendants, states: "The total amount due and owing to Plaintiff from Medcore and Veseli for sale of goods is $3,162,965.49."
There are several charges in the lawsuit for "Medcore and Veseli" including Breach of Contract, Suit on Sworn Account, and Unjust Enrichment.
I found another company owned by Bekem Veseli which caught my interest; Veseli Fine Art LLC. The company has 2 addresses associated with it, one being the same address in Reston Virginia on 11950 Democracy drive. The other address is, ironically, Peter Lik's former 9,568-square-foot home in Las Vegas, which Veseli purchased from Lik for $4.5 million in 2011.
I reached out to NGFA asking if Veseli Fine Art does business with NGFA in any capacity. I did not hear back.
NGFA used to state on its website that "National Geographic Partners returns 27 percent of proceeds to the nonprofit National Geographic Society to fund work in the areas of science, exploration, conservation and education." There is no longer any mention on the NGFA website regarding returning 27% of proceeds, or returning any amount for that matter.
The Internet never forgets, and you can read that statement through the Internet Archive's Wayback Machine.
I reached out to NGFA and the National Geographic Society regarding returning 27% of proceeds.
I did not hear back.
---
About the author: Ken Bower is a graphic designer and photographer. The opinions expressed in this article are solely those of the author. Bower's work has been published by VICE, Business Insider, National Geographic, and National Geographic Traveler. You can find more of Bower's work on his website.