For seven days from October 30 to November 5, charging accessory specialist Ugreen is slashing prices on its Nexode GaN chargers on Amazon by as much as 40%.
Ugreen is a trusted charging brand, and its products regularly make our lists of favorites in roundups such as Best iPhone Chargers and Best MacBook Chargers. All the discounted chargers utilize gallium nitride (GaN) technology that keeps charging heat at a minimum and therefore products that are much smaller than traditional chargers.
USB-C chargers are what you need to power up your iPhones, iPads and Macs. Older iPhones and iPads will still require a USB-C cable with a Lightning connector on one end, while more recent iPads and the iPhone 15 range will connect to the charger via a USB-C to USB-C cable—see our roundup of the best USB-C cables.
Chargers with more than one port can charge multiple devices at the same time, but remember that the stated wattage—for example, 100W—is the total possible output so that power will need to be shared by all connected devices, so the higher the wattage the more power will reach each.
A wall charger plugs straight into a wall power socket. A desktop charger has a longer cable connection to the socket, and usually more power ports. A power extender features USB ports plus extra AC power sockets.
Look for at least 65W for mid-sized MacBooks such as the MacBook Air range and the 13-inch MacBook Pro. For the 14-inch MacBook Pro we recommend at least a 100W charger, and for the 16-inch MacBook Pro only a 140W PD 3.1 charger, like the discounted Ugreen Nexode 140W USB-C Charger, will be able to fast charge Apple's largest laptop.
Deals are available to US customers only.
Our picks of the deals (the rest are listed below) include the Ugreen Nexode 100W 2-in-1 MagSafe Charger Station, pictured above, which we gave 4.5 stars when we tested it recently. It can charge up to a 16-inch MacBook Pro, and wiressly power up an iPhone (12, 13, 14 or 15) at the same time. Read our Ugreen Nexode 100W 2-in-1 MagSafe Charger Station review. For the week in question it will be available discounted from $179.99 to $139.99 – a healthy saving of 22%.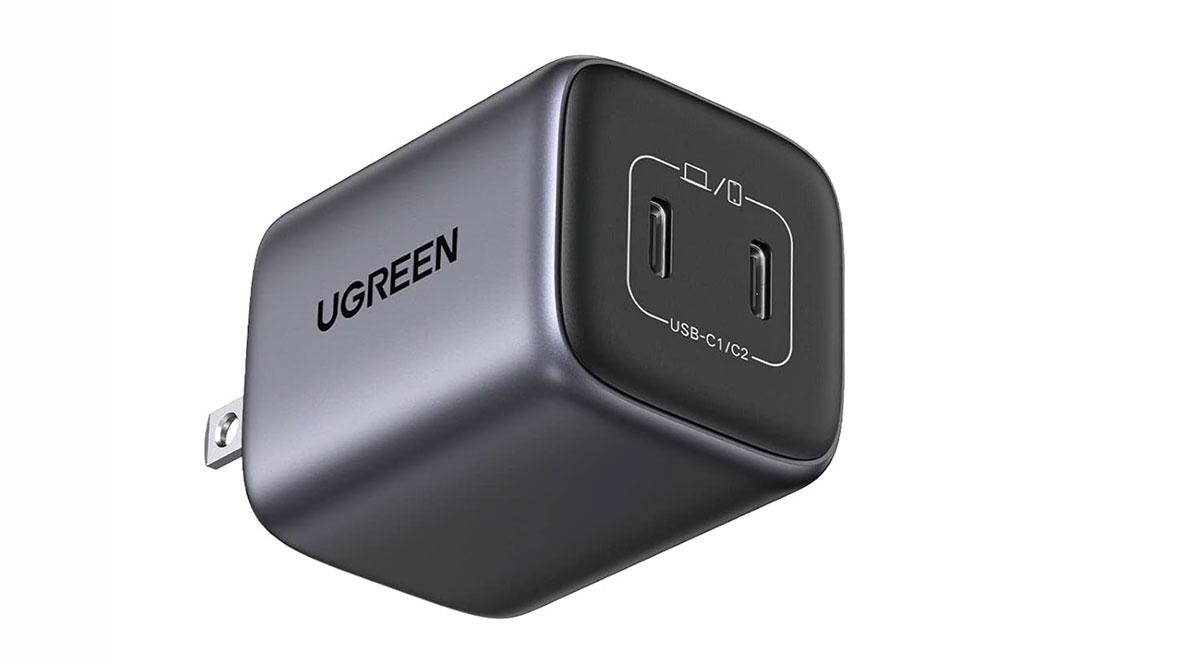 Ugreen
The two-port Ugreen Nexode 45W USB-C Charger can fast charge a couple of iPhones at the same time, or just a MacBook Air or 13-inch MacBook Pro on its own. You can grab a saving of 35%, as its reduced from $39.99 to $25.99.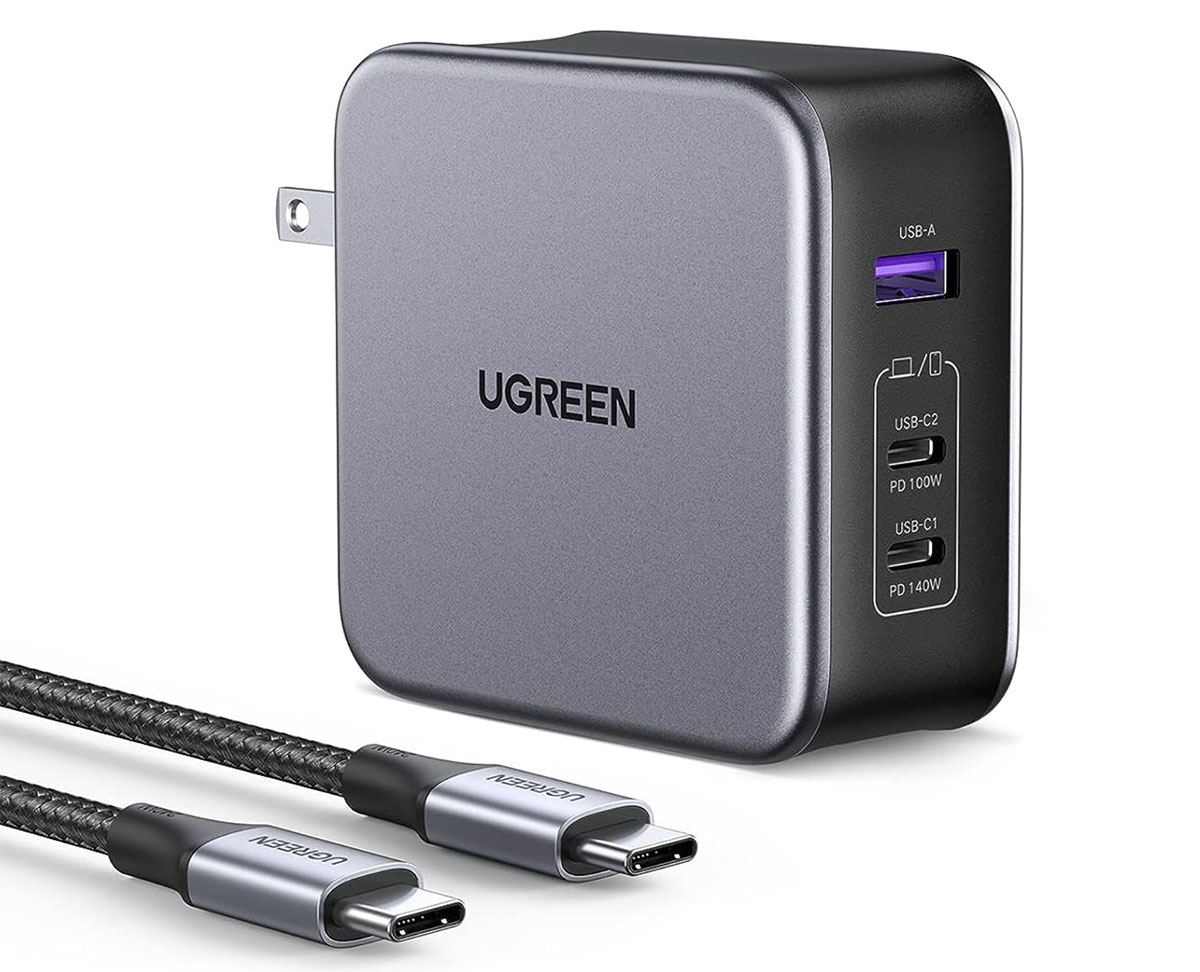 Ugreen
The three-port Ugreen Nexode 140W USB-C Charger—down from $109.99 to $69.99, a saving of 36%—supports USB PD 3.1, meaning its 140W USB-C port can fast-charge a 16-inch MacBook Pro or any smaller MacBook.
Ugreen
The Ugreen Nexode 300W USB-C Charger desktop charger boasts five ports and a maximum 300W output, including one 140W PD 3.1 port. This one should charge just about everything you've got! It's reduced in price from $269.99 to $199.99 – a saving of 26%.
Ugreen
We're big fans of the Ugreen Nexode 65W 7-in-1 Charging Station cube-shaped charger that has two USB-C and two USB-A ports and three extra AC power sockets—down from $69.99 to $43.39, a saving of 38%. The Ugreen Nexode 100W 7-in-1 Charging Station is smilar but longer and offering three USB-C and one USB-A port plus the three AC sockets—save 36% as it's down from $109.99 to $69.99.
More discounted wall chargers
Ugreen Nexode 30W USB-C Charger: a tiny one-port 30W iPhone charger with foldable prongs—down from $19.99 to $11.99, a saving of 40%
Ugreen Nexode 65W USB-C Charger: a three-port mini charger that's down from $49.99 to $29.99 – a saving of 40%
Ugreen Nexode 100W USB-C Charger: get four charging ports that normally costs $74.99 for just $44.99 – a saving of 40%                       
Ugreen Nexode RG 30W USB-C Charger: —a cute robot-shaped charger that's reduced from $25.99 to $18.19 – a saving of 30%
Ugreen Nexode RG 65W USB-C Charger: a more powerful robot-shaped charger that's discounted from $49.99 to $39.99 – a saving of 20%
Other discounted Desktop chargers
Ugreen Nexode 200W USB-C Charger: an impressive 6 ports and 200W total output, down from $199.99 to $119.99 – a saving of 40%
Ugreen Nexode 65W Desktop Charger: 4 handy USB charging ports down from $55.99 to $36.39 – a saving of 35%
Ugreen Nexode 100W Desktop Charger: 4 more-powerful USB charging ports down from $99.99 to $64.99 – a saving of 35%