At a glance
Expert's Rating
Pros
Outstanding resolution
Powerful spotlights illuminate the whole yard
Absolutely loaded with features
Cons
180-degree viewing angle comes with barrel distortion
Not the prettiest device in its class
Our Verdict
Wyze's latest take on the floodlight camera concept is a winner that checks all the boxes—and then some.
Price When Reviewed
$149.99
Best Prices Today: Wyze Cam Floodlight Pro
$149.98
The Wyze Cam Floodlight Pro is a big step up from the budget-priced Wyze Cam Floodlight the company shipped in 2021. This class of home security product melds powerful floodlights with an outdoor security camera that must be permanently installed on a standard 4-inch electrical box with connections to the home's wiring. As such, most people replace an existing floodlight.
If you're at all familiar with the Wyze family of cameras, you'll find most of that DNA present and accounted for here. Simple to use, yet stuffed with intuitive features, the Wyze Cam Floodlight Pro has a near-identical installation process to the competing Blink Floodlight Camera.
A large mounting ring connects to the electrical box, and the camera/floodlight combo attaches to the ring with a single bolt threaded through the center of the base. (A long screwdriver is included in the box to make this easier.) I had zero trouble getting the camera into place and wiring it to household wiring using the including wire nuts.
Setup and installation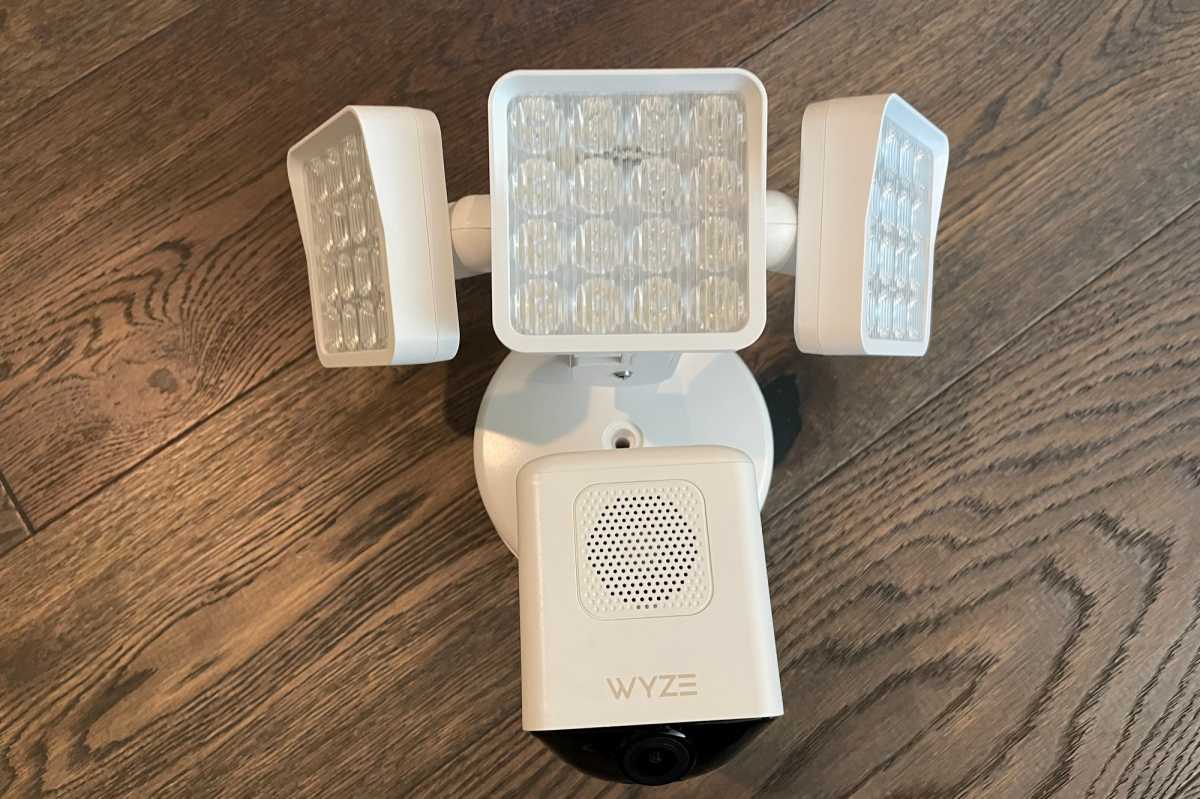 Christopher Null/Foundry
Setup with the Wyze app is also no-brainer simple and is largely automated. Wi-Fi compatibility headaches are mercifully minimized thanks to dual-band support for both 2.4GHz and 5GHz networks. You won't need to fiddle with disabling and then re-enabling your router's 5GHz network to get this product set up.
This review is part of TechHive's in-depth coverage of the best home security cameras.
Once installed, the Wyze Cam Floodlight Pro—available in either black or white—cuts a familiar profile, with three adjustable spotlights on top and a box housing the camera, motion sensor, and speaker for two-way audio underneath. With 3,000 total lumens of brightness (at a daylight color temperature of 5000K), it can blanket the area with light on command.
Christopher Null/Foundry
The camera, recording at 2560 x 1440 pixels and featuring a huge 180-degree diagonal viewing angle, captures a considerably wider area than any other I've tested. This is of course a good thing if what you value most is coverage, but it does come at the expense of clarity by adding significant barrel distortion to the image.
Additional features could fill a small book and track with other Wyze products: IP65 weather resistance, infrared night vision should you want to leave the floodlights off, a voice deterrent feature, and a 105 dB siren. Smart detection settings (available with the cloud storage plan) let Wyze categorize and tag motion as person, pet, vehicle, or package, and a detection zone can be configured to screen out areas you don't want to monitor. Push notifications can be configured individually for each type of event. Support for Alexa, Google Assistant, and IFTTT are all also baked in, standard for most Wyze camera products.
All of this works great. Wyze has its app refined to a fine edge now, and it's very easy to figure out how to do anything you want, from recording clips on command to reviewing recent events to configuring advanced settings. The motion detection features work well, with flying insects and passing shadows the only real "false alarms" I encountered, and those can be mitigated at least somewhat by tweaking the motion sensitivity settings.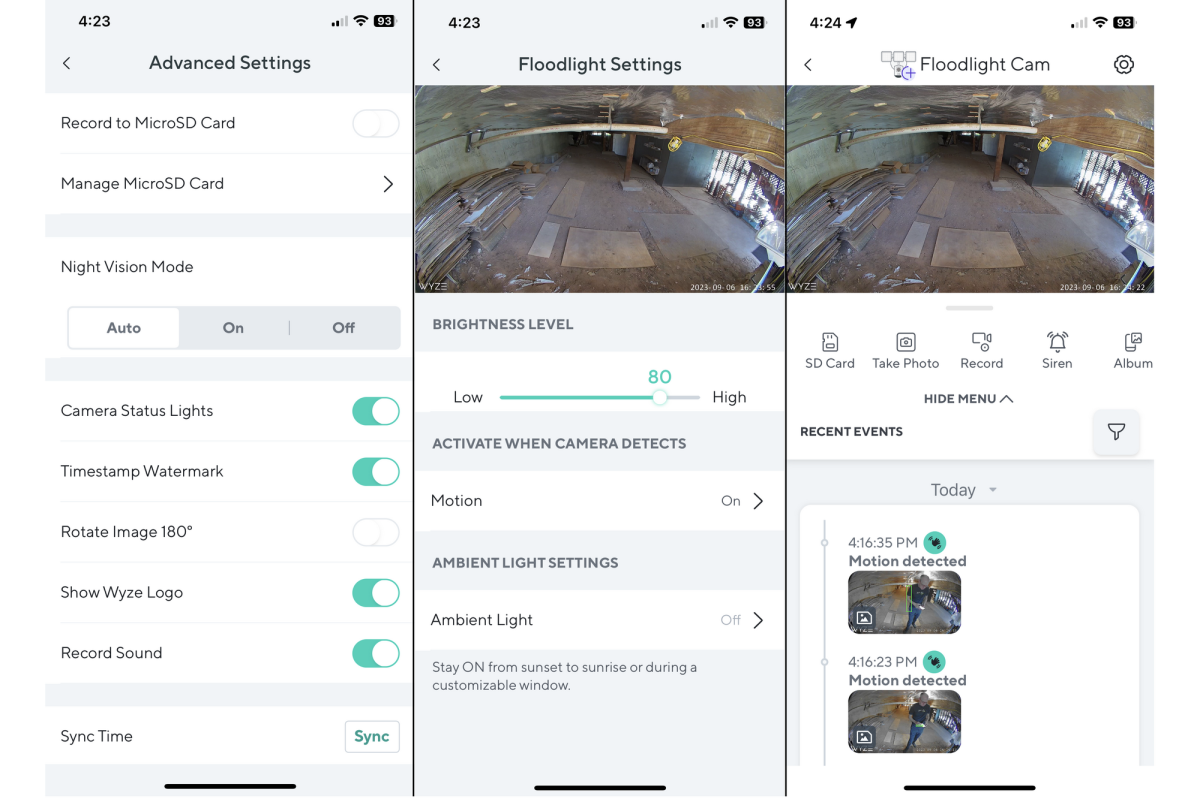 Christopher Null/Foundry
Video quality is very good in daylight, under the spotlights, or when using the standard monochrome infrared mode, although I ultimately felt I would have sacrificed some of that bulbous viewing angle for a clearer picture.
As with other Wyze cameras, users can record to a local microSD card (sold separately) or use one of Wyze's cloud services to store video. Wyze Cam Plus is one of the cheapest cloud options around: $20/year or $3/month for one camera, $99/year or $10/month for unlimited cameras. If you want more, Wyze's Cam Protect plan ($40/year or $4/month per camera) adds professional monitoring and emergency dispatch to the mix.
To encourage you to choose one plan or the other, the local-storage-only option enforces a cooldown time of 5 minutes between successive motion detection events. That's enough time for an intruder to get in and out before a second clip even has time to trigger.
Should you buy the Wyze Cam Floodlight Pro?
The Wyze Cam Floodlight Pro isn't the most advanced product in its class. That distinction goes to the Ring Floodlight Cam Pro, with its radar-based motion detection. But Wyze's product delivers a higher resolution camera, a third floodlight, and its subscription is truly optional; all with a price tag $100 less than Ring's top-shelf device.